It's that time of year again! The Steam Summer Sale is here and with it a host of racing game bargains to make your summer holiday pass in the blink of an eye.
We've collated some of the racing titles with the biggest discounts around, including old classics like Assetto Corsa to newer classics like… err… Assetto Corsa Competizione.
Other games not called Assetto Corsa are also available of course, with big-hitters like Forza Horizon 5, Wreckfest, DiRT Rally 2.0 and Project Cars 2 receiving some love.
Left-field choices such as Motorsport Manager, Hot Wheels Unleashed and BeamNG.drive are also enjoying discounts.
The Steam Summer Sale is on now and lasts until 7th July. Check out our picks of the bunch below.
American Truck Simulator (75% off) Euro Truck Simulator 2 (80% off)
Steam Summer Sale Price: £4.12 – both
Normal Price: £16.49 – both
SCS Software's superior trucking sim titles gained wider public recognition thanks to Charles Leclerc, Lando Norris and George Russell's convoy attempts during lockdown.
And the momentum has continued with the developers constantly updating the long-running sim's maps with reworked cities with additional paid DLC always on the horizon.
The new v1.44 update added a raft of new features so picking up both of these trucking titles at a huge 80% discount seems like an easy decision.
Assetto Corsa (80% off)
Steam Summer Sale Price: £3.09
Normal Price: £15.49
For many, Assetto Corsa is the sim of choice. Featuring a huge variety of cars and 15 laser-scanned tracks, AC combines pretty graphics with great driving physics to provide an entertaining racing game for a ridiculously low price.
Also, all 11 of AC's DLC packs can be picked up for just £9.14, boosting the game's car and track roster to 178 and 19 respectively. The game is also home to an enthusiastic community of modders, creating copious amounts of extra tracks and vehicles.
If you don't own it go buy it now!

Assetto Corsa Competizione (66% off)
Steam Summer Sale Price: £11.89
Normal Price: £34.99
Assetto Corsa Competizione is the official game of the real-world GT World Challenge series – home of Valentino Rossi this year. ACC is the GT3 sim of choice among the sim racing community thanks to epic visuals and genre-leading sound design.
The game is also the featured platform of the 2022 FIA Motorsport Games , replacing GT Sport. Like AC, ACC's DLC is also on sale.
Our pick of the bunch? British GT DLC at £4.79, adding three picturesque British tracks – Oulton Park, Donington Park and Snetterton.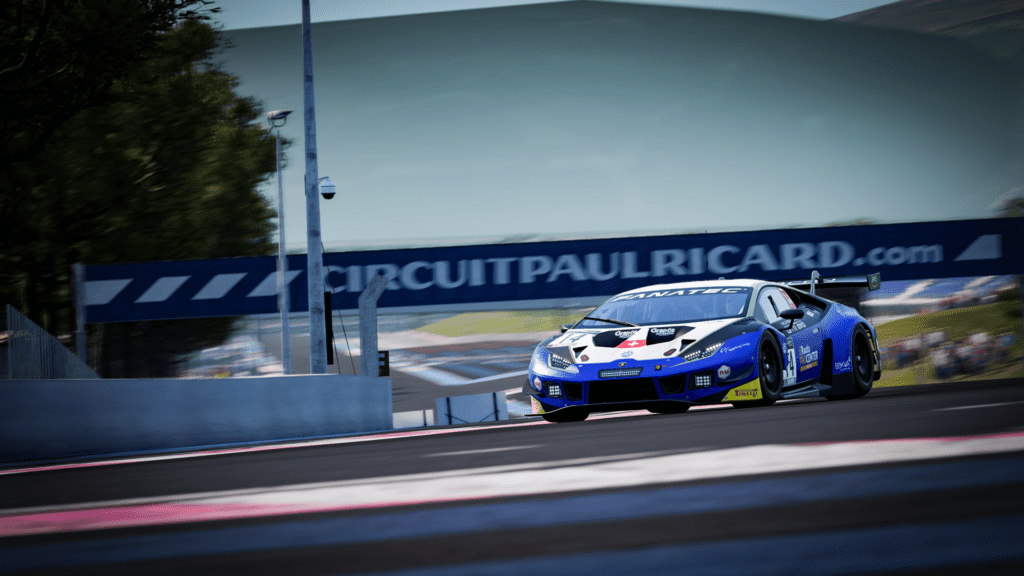 Automobilista 2 (60% off)
Steam Summer Sale Price: £13.99
Normal Price: £34.99
Automobilista 2, from Brazilian developers Reiza, has a ton of interesting content to sink your teeth into, including Group C sportscars and Britain's very own Mini Challenge Championship. The game is also a superior racing VR experience.
AMS2's DLC is also on sale, and you can pick up every piece of content between 2020-2022 at a 40% discount for £47.99.

BeamNG.drive (20% off)
Steam Summer Sale Price: £15.59
Normal Price: £19.49
BeamNG.drive is the ultimate driving game physics sandbox. We love it here at Traxion.GG and enjoyed a podcast interview with the team behind the viral sensation late last year for a bit of background on its creation.
With the release of the massive new v0.25 update last week , now has never been a better time to jump (upside down and on fire) back into this fun title.
CarX Drift Racing Online (59% off)
Steam Summer Sale Price: £4.66
Normal Price: £11.39
CarX Drift Racing Online is a surprisingly popular view into the world of drifting. The team behind it – CarX Technologies – has produced an entertaining – if buggy – game with a host of customisation options available. The recent v2.14 update adds even more cars to the mix. Ideal for skidding online with friends.
DiRT Rally 2.0 (75% off)
Steam Summer Sale Price: £4.49
Normal Price: £17.99
Codemasters' rallying epic is as immersive as it gets in the off-road racing sub-genre – especially in VR. The game featured superb engine sounds, realistic stages and the authoritative input of both WRC-winning co-driver Phil Mills and WRC3 competitor Jon Armstrong.
The game also comes with the World Rallycross licence, so you can simulate the full 2018 season, racing against drivers like Timmy Hansen, Sebastien Loeb and the dominant Johann Kristofferson. 2019 cars are also available via DLC.
Forza Horizon 5 (20% off)
Steam Summer Sale Price: £39.99
Normal Price: £49.99
Following up on its excellent Forza Horizon 4 was going to be a tough task for Playground Games, but they nailed it with Forza Horizon 5. We even went as far as saying that it was "by far the best instalment yet." High praise indeed!
With frequently updated Treasure Hunts, Horizon Stories and Festival Playlists there's plenty of content to get stuck into in FH5, and with satisfying driving physics and superior graphics it's easy to see why.
GRID Legends (55% off)
Steam Summer Sale Price: £22.49
Normal Price: £49.99
Codemasters latest GRID game is a return to form for the series, featuring an interesting Driven to Glory story mode and the return of everyone's favourite racing game anti-hero, Nathan McKane.
In our review, we described GRID Legends as "a fun romp that can deliver some edge-of-your-seat thrills and a satisfying driving experience."
Hot Wheels Unleashed (50% off)
Steam Summer Sale Price: £19.99
Normal Price: £39.99
This surprise hit from Milestone started turning a profit just two days after going on sale. No doubt evoking childhood memories of throwing tiny cars down orange tracks for many of its players, the title combines fun gameplay with sharp handling. It's now half price on Steam.
Motorsport Manager (80% off)
Steam Summer Sale Price: £2.99
Normal Price: £14.99
If you're looking forward to F1 Manager 2022 why not ease the wait by jumping into Playsport Games' Motorsport Manager?
Create your own team and take on the world of motorsport with additional GT and endurance racing DLC (also on sale and heavily discounted). For less than £3 this highly-rated management sim is well worth a look.
MotoGP 22 (40% off)
Steam Summer Sale Price: £23.99
Normal Price: £39.99
The latest MotoGP game was always set to be a tricky one thanks to the retirement of Valentino Rossi, but the series has found a new figurehead to pin its hopes on. Err… and it's Valentino Rossi.
MotoGP 22 features the NINE Season 2009 mode, where players re-live The Doctor's ninth world title-winning season from 2009. In our review, we said "this remains one of the finest games based upon a motorsport series there is."
A must-have for motorcycle gaming fans.
Project Cars 2 (85% off)
Steam Summer Sale Price: £6.74
Normal Price: £44.99
Slightly Mad Studios Project Cars 2 was a motorsport jack of all trades; covering rallycross, '50s sportscars, touring cars, IndyCar, Group C and many other racing disciplines. The physics of some cars are a little ropey, but as an immersive experience in VR there's few better options on the market.
rFactor 2 (80% off)
Steam Summer Sale Price: £5.15
Normal Price: £25.79
Studio 397's rFactor 2 has come on in leaps and bounds in 2022, adding a new sound engine, a photo mode and high-quality DLC packs. The pick of these is the new BTCC pack, featuring the Infiniti Q50 and Toyota Corolla GR Sport from the 2021 season, as well as the Donington Park and Brands Hatch circuits.
With IndyCars, GTs and many other motorsports present in the game, there's something for everyone to enjoy – especially with the sim's excellent force feedback. With more BTCC content confirmed to be on the way, the future looks bright for the veteran sim.

Ride 4 (75% off)
Steam Summer Sale Price: £9.99
Normal Price: £39.99
Milestone's Ride series has gone from strength to strength through the years, and the culmination of this progress is Ride 4. Featuring nearly 200 bikes and 30 tracks – including the Nordschleife and motorcycling meccas like the North West 200, Southern 100 and Macau circuits – variety is not lacking in Ride 4.
The game also managed to go viral last year thanks to its realistic looks, showcasing the game to a wider and appreciative audience.
The Crew 2 (80% off)
Steam Summer Sale Price: £8.39
Normal Price: £41.99
Blending cars, bikes, boats and planes, in The Crew 2 you can shift seamlessly between modes of transport on-the-fly. It's an ideal way to explore its huge open-world environments – either offline or co-operatively with a friend online.
TrackDayR (40% off)
Steam Summer Sale Price: £13.64
Normal Price: £19.49
Mad Cow's ever-progressing motorcycle sim has recently added off-road motorcycles and tracks, as well as improving the bike physics immeasurably.
Its latest update (v1.0.91.64) added a hardcore Pro Mode, where the right analogue stick controls the rider's position on the bike independently of where the handlebars are pointing, adding a whole new layer of difficulty to proceedings.
WRC10 (50% off)
Steam Summer Sale Price: £19.99
Normal Price: £39.99
Kylotonn's penultimate officially licensed WRC game is the best yet. With an improved handing model, plus all the drivers, cars and teams from the 2021 WRC, WRC10 is a solid choice for the discerning rally fan.
When you pick up your copy why not have a go at matching the dominant Sami-Joe Abi Nakhle in WRC Esports? Or like me, if you're too slow, console yourself by taking screenshots in WRC10's awesome photo mode…
Wreckfest (60% off)
Steam Summer Sale Price: £10.69
Normal Price: £26.74
The ultimate Destruction Derby homage is still producing the goods after its full release in 2018 – not including the lengthy period in Steam Early Access. The soft-body physics damage model is incredible to behold and the driving physics aren't half bad either.
The game has also enjoyed a Nintendo Switch release recently, but a gaming PC with a racing wheel is the optimal way to experience BugBear's masterpiece.
What do you make of the bargains available in Steam Summer Sale? Did we miss any deals? Let us know in the comments below.