SCS Software has today (12th of May 2022) revealed that both its truck games – Euro Truck Simulator 2 and American Truck Simulator – have now been updated to v1.44 after a three-week long open beta period.
The Czech developer has teased various map upgrades and new features over the preceding weeks and months, and is finally in a position to bring them to its popular trucking franchise.
What's in Euro Truck Simulator 2 v1.44?
We reported on Euro Truck Simulator 2's (ETS2) European map updates earlier this year, including complete reworks for Austrian cities Linz and Innsbruck. Not only has SCS Software overhauled the whole of Austria, but also updated toll booths in Italy and revised some border crossings in the Beyond the Baltic Sea DLC.
ETS2 has also finally had an Accurate Mileage System added to the game, meaning road signs represent in-game distances to cities or other points of interest.
Features that will be present in both ETS2 and American Truck Simulator (ATS) v1.44 include the addition of unmarked roads to the map. If players explore these unmarked roads they will now show up as an orange dashed line on the map HUD, meaning it's much easier to explore routes and find Easter Eggs in future.
Both games also introduce adjustable suspension height, mimicking real-world air suspension, allowing chassis' to be lowered for low-profile trailer coupling.
The titles also add Mod Refund support, force feedback upgrades and Smart Sequential Shifting – a feature that shifts multiple gears automatically based on the speed and torque available to the player's truck.
What's in American Truck Simulator v1.44?
ATS, much like ETS2, features extensive map reworks, including the second phase of California's extensive Rework. New Mexico's border road network also receive special attention and updates.
ATS also adds ownable drop deck trailers to the game, giving players the chance to transport larger loads on bespoke 48ft/53ft trailers with a choice of two, three or four axles.
Special Transport Routes have also been added to ATS, matching those already present in ETS2. These eight new Routes offer additional challenges to players, including oversized load missions and tricky roads to master.
With a host of upgrades and quality of life improvements to both trucking sims, which features are you particularly looking forward to? Let us know in the comments below.
Euro Truck Simulator 2 v1.44 Changelog
Maps
Austria Rework
Unmarked Road Exploration
Distance Signs with Accurate Mileage System
Some older border crossings reworked in Beyond the Baltic Sea
Italian Tollgates Update
Companies Logo Revisions
UI Road Numbers in Corsica/Sardinia
Other Map Improvements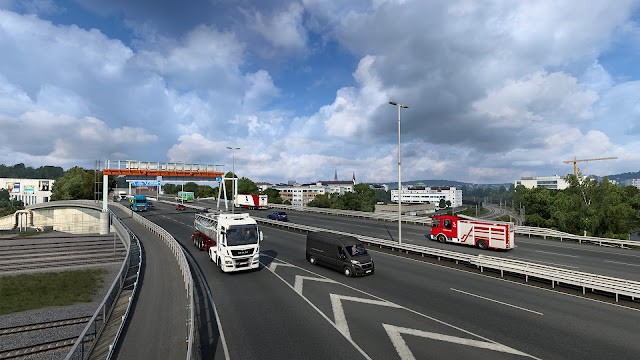 Gameplay
Mod Refund Feature
Licensed vs Aftermarket UI in browsers
Force Feedback Upgrade
Adjustable Suspension Height
Interior Camera Horizontal Lock
Smart Sequential Shifting
Vehicles
New 2022 Interior option for Renault T
Exterior Interior Models reworked for Renault T
American Truck Simulator v1.44 Changelog
Map
2nd Phase of California Rework
Border connections for several cities in New Mexico refreshed
Some New Mexico cities received road network reworks
Unmarked Road Exploration
General Map Bug Fixes
Gameplay
Mod Refund Feature
Licensed vs Aftermarket UI in browsers
Force Feedback Upgrade
Adjustable Suspension Height
Interior Camera Horizontal Lock
Smart Sequential Shifting
New Special Transport Routes
Lewiston to Sandpoint
Burlington to Lamar
Salina to Cedar City
Omak to Yakima
Dalles to Salem
Santa Fe to Socorro
Cheyenne to Rock Springs
Winnemucca to Carson City
Vehicles
New Freightliner Cascadia 2022 Interior Options
Ownable Drop Deck Trailers