Browsing Category
iRacing
764 posts
What is iRacing?
iRacing.com Motorsport Simulations is a subscription based PC racing simulation game. One of the OGs in racing simulators, iRacing offers simulated racing across multiple facets of motorsports, including racing series such as Formula 1, NASCAR, World of Outlaws, Australian Supercars and more.
WHO MAKES iRACING?
The iRacing simulation is made in-house by iRacing, who develops and publishes their own content. Before they were iRacing, many of the iRacing executives came from what used to be the Papyrus Racing Design group, which developed titles such as Grand Prix Legends and NASCAR Racing 2003 Season.
WHEN DID iRACING RELEASE?
While iRacing began to develop in 2004, it wasn't until 28th August 2008 that iRacing.com Motorsport Simulations became available to the public.
WHAT PLATFORMS CAN YOU PLAY iRACING ON?
iRacing is only available for PC gamers. You don't need Steam to access iRacing, but you can link your iRacing account to your Steam account if you'd like to.
iRACING IS A SIMULATION
While all racing games can be classified as a video game, iRacing is one of the few that can be considered a simulation.
As opposed to other games that may have official content but not the full simulation aspect – a sim-cade, if you will – iRacing goes beyond titles like F1 22 and World of Outlaws: Dirt Racing (a game that iRacing produces) and brings that full simulation aspect.
HOW MUCH DOES iRACING COST?
iRacing is a subscription-based service with added paid content in the form of additional tracks and cars.
Subscriptions come included with base content, and they can be purchased for one month, three months, a full year or two years at a time, and when purchased, subscriptions will add time on to existing subscriptions if you choose to re-up during sales like the iRacing Black Friday sale.
| | | | | | |
| --- | --- | --- | --- | --- | --- |
| 1 Month | 3 Months | 1 Year | 2 Years | Cars | Tracks |
| $13.00 | $33.00 | $110.00 | $199.00 | usually $11.95 per car | usually $11.95 or $14.95 per track |
WHAT IS THE ONLINE EXPERIENCE ON iRACING?
Racing online on iRacing comes in three variations – officially scheduled series with lobby splits, hosted sessions and leagues. The latter two are sessions that need to be purchased by a host and can be set up and customized with different rules and conditions, with hosts also able to provide some race control if desired.
As for official racing, these lobbies are not monitored live, usually, and competitors will need to follow the guidelines of the iRacing Sporting Code in those races. These races, however, if part of the ranked list of series, will help iRacers work towards advancing their iRating and license level.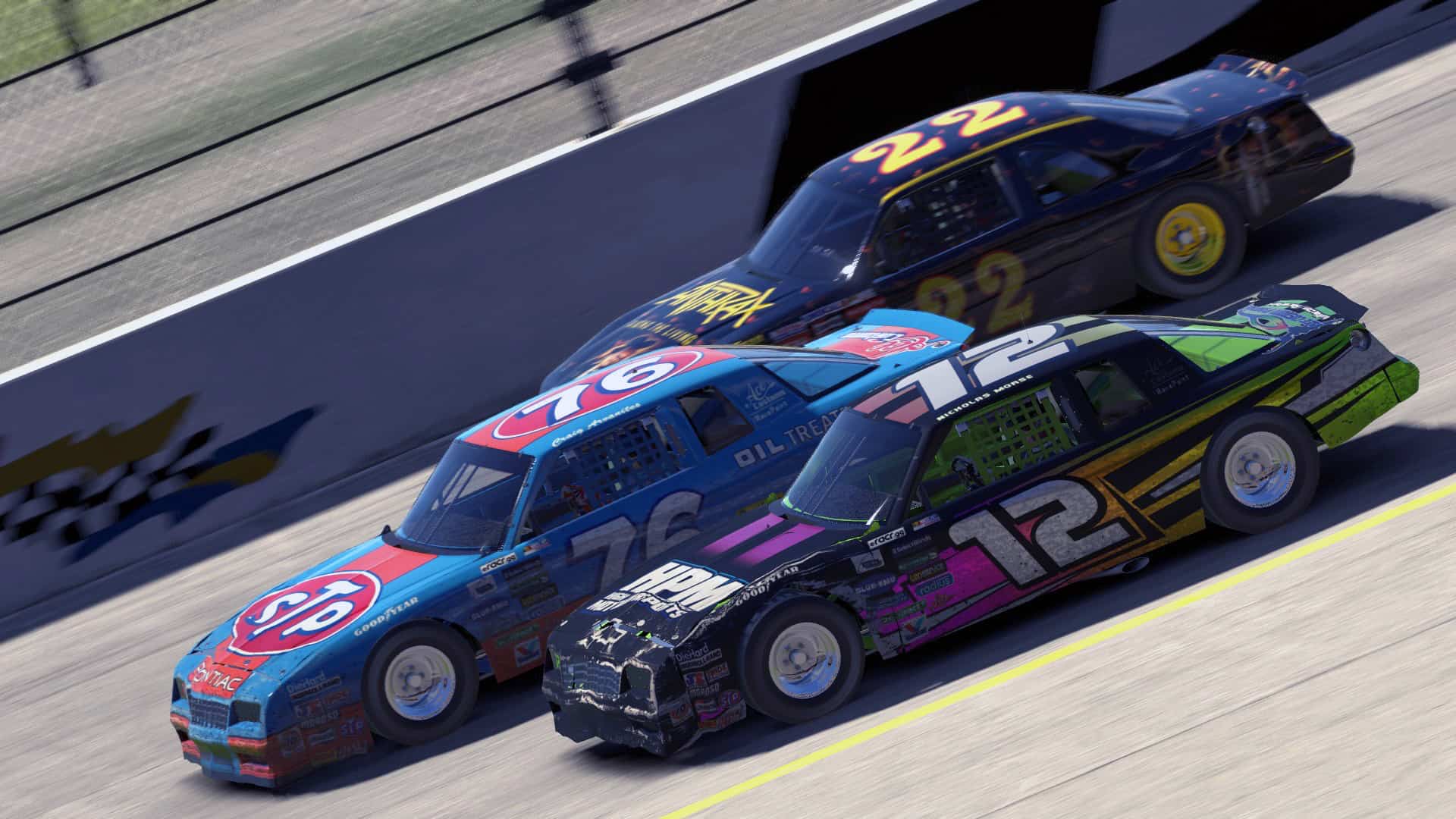 WHAT OFFICIAL ESPORT SERIES COMPETE ON iRACING?
Currently, there are four active official esports on the iRacing World Championship schedule. Each license level has one specific world championship at this time.
Top oval racers have the eNASCAR Coca-Cola iRacing Series, a NASCAR-based series which features the NASCAR NEXT Gen and many of the tracks on the NASCAR calendar.
For road experts, the Porsche TAG Heuer Esports Supercup (PESC) is the top level for the road license, a tin top, fully-fendered series which features the Porsche 911 GT3 R 992 Cup car at many historic racing venues across the globe.
Dirt oval masters technically have two series, but both are sanctioned by the World of Outlaws. They are the World of Outlaws Buttkicker Late Model Series and the World of Outlaws CARQUEST Auto Parts Sprint Car Series, which alternate seasons on opposite ends of the calendar.
Finally, dirt road specialists are currently enrolled in the iRacing Off-Road World Championship Series, utilizing the Pro 4 Trucks on the limited number of short courses available on the iRacing title. Each World Championship requires a pro-level license to compete within them.
WHAT ARE SPECIAL EVENTS?
iRacing has a Special Events calendar that coincides with the official season schedules, but it can slightly vary depending on the event at hand. Races such as the iRacing Daytona 24, the iRacing Chili Bowl, the SCCA Runoffs, and longer NASCAR races like the iRacing Coke 600.
These events may have a license requirement to partake in, but usually they are open to most drivers. They are meant to simulate some of the most legendary races in the real-world.
ARE THERE OFFLINE RACES, OR RACES AGAINST COMPUTER OPPONENTS ON iRACING?
iRacing does offer iRacing AI, which is still a work in progress, but is quickly becoming an increasingly popular way to enjoy the physics and features of iRacing, without the added pressure of racing real people.
You do, however, need to be connected to the internet and do need to have an active iRacing subscription to access iRacing AI, it's not like many other games where the internet is not required.