Video games have always been somewhat of a portal to happiness for me.
When I was just a young girl growing up in a suburb outside of Vancouver, British Columbia in Canada, my brother and I discovered our admiration for gaming together. NHL games were our thing, mixed with a bit of Sonic the Hedgehog and Combat Cars.
Our adventure in video games began with the Sega Genesis and from there, we begged our parents for every console to hit the market. My favourite being the Nintendo brand. Shocking, I know.
The thing is, it didn't really matter which games we'd play. I just enjoyed spending time with my big bro…even if I'd throw my controller at him when he'd kick my tushy in Mario Kart.
Ever since the 90s, plenty of video games have made their way into our home for us to play for hours (and hours). Fast forward to today, I'm living one of my brother's childhood dreams by covering the gaming industry and writing these very words you're reading right now.
All jokes aside, 2022 has gifted us with a plethora of gems, including a few of the best family-friendly racing games to enjoy with your littles, too.
NICKELODEON KART RACING 3: SLIME SPEEDWAY
As the title would suggest, this is the third instalment in the Nickelodeon Kart Racing series. Plenty of the previously adored characters fill the roster, which also boasts some Nick newbies, such as Jimmy Neutron and Ren & Stimpy's Powdered Toast Man.
Don't worry, kiddos. SpongeBob SquarePants and Patrick Star haven't jumped kart. In fact, three new faces from Kamp Koral: SpongeBob's Under Years—a prequel/spinoff of the Nickelodeon staple, exclusive on Paramount+—are up for grabs, as well.
On top of the elite cartoon selection, each character finally has a voice. Trust me, this makes the game's overall vibe feel much more interactive. It's almost like you're taking a trip to Bikini Bottom each time you play.
As you win events similar to a Grand Prix, you'll unlock the quirky kart racers. Or you can buy them from the in-game shop. Mario Kart seems to be an inspiration for even more customization that's afforded to Nickelodeon Kart Racing 3 players, with a choice of bodies, wheels and exhausts available no matter which driver you hire. In the previous version, each character's kart body came predetermined and unchangeable.
Slime Speedway also added motorbikes to its garage for that extra dose of hardcore action, without a knock on kart handling.
Hopefully, you own a PS5, though, because that version of the game is great when it comes to frame rate and overall quality. Please, for the love of kart racing and everything in between, don't bother with the Nintendo Switch version.
Graphics aside, the general layout of levels and the addition of the gooey slime bar makes for a feisty night in with your tiny tots or extended family over the holiday season and beyond.
SMURFS KART
There's something I don't tell many people about my middle school years. My two best friends and I used to call ourselves the Smurfettes and even dressed up as the blonde blue bombshell one Halloween. My love for all things Smurfs runs deep, clearly.
So, aside from my obvious bias toward the brand, Smurfs Kart itself is surprisingly fantastic and follows the Mario Kart model of greatness for what we enjoy most about karting titles. The circuits are colourful and cute. And the characters are everything.
Each Smurf possesses a unique attack, while handling varies between drivers, too.
One tiny blip: the blue creatures only make incoherent noises. There's no fun and flirty phrases or dialogue. Still enjoyable, considering the rest of the game is a Smurfdown (that's Smurf for touchdown). We do wish there were more courses, since there are just three cups of four races (12 total circuits with a mirror option).
There's a split-screen mode for up to four players on one Switch, which sets up for an ideal family game's night to duke it out against even the smallest members in your household. Like Mario Kart, when trailing your Smurf foes, you'll be given better boosts to ensure for an exhilarating race, no matter where you're at on the grid.
Put simply, this game is perfect for virtual karting beginners and a Smurfing good time for the entire fam jam.
TURBO GOLF RACING
As I briefly mentioned earlier, Turbo Golf Racing requires a certain ball handling technique, similar to the same skills you'd use in Rocket League.
A lot of folks say the two games are near carbon copies of each other; however, aside from using a car to whack the heck out of a sphere in order to launch it in the direction of your choosing (hopefully), the goal is to basically play a round of golf with your online friends.
Yes, your car is your putter. The main difference is that each opponent lines up at the start of every round— set in a futuristic environment featuring bunkers and grass, just like the real deal on the green—and races through the course, all the while smacking their individual balls down the fairway towards the hole.
The first person to sink their ball takes podium and each player to follow claims a spot on the grid, with a point system in place to award those who finish higher. After the set round of courses, whoever has the most points wins. Unlike actual golf, where you aim to finish with the lowest score.
There's a fancy shop to purchase all your customisation needs, including badass balls and intricate shields.
Despite TGR's lack of multiplayer mode, I still consider this one family-friendly. Even if you can't actually play together on console. Taking turns each round against folks online is pretty dope, too. My nephews definitely approve of Turbo Golf Racing.
Word of advice, however: if you're playing on PC, make sure to connect a controller. The keyboard ain't it for teeny fingers.
YOU SUCK AT PARKING
I could write a book about this beautiful disaster of a game.
2022 brought some sensational titles to the realm of racing games. We were also introduced to the world's most frustrating gaming experience of all time, too. Enter You Suck at Parking.
Yes, I threw multiple fits while attempting to park my Rudy (a Rudolph extension for your car) in a spot that teetered on the edge of doom. I even screamed so loud that my neighbour knocked on my door to check on me after my vehicle burst into flames during a test-run of December's Inferno update.
Regardless, the top-down parker is just the right amount of cheeky thrills, which is why I personally enjoyed playing this gong show the most this past year.
YSAP takes the boring aspect of driving a car—having to park said car—and turns it into an absolute circus of entertainment. That's not why this infuriating yet loveable game gets my vote, though.
In November, I had the opportunity to visit my family in Canada for three weeks. I hadn't been back home in over a year since I made the move to Italy and so every second spent with my four nephews meant more than usual. Each morning before work, I'd eat breakfast with my sister's kids: one is 10, the other 8.
There was one particular morning when we spent about an hour playing You Suck at Parking, taking turns being annoyed with ourselves for missing the spot by less than the length of an in-game banana. My nephew's reactions were priceless.
That day is one I'll cherish forever, simply because this silly game brought us together in the most frustratingly wonderful way.
Continued support – ROCKET LEAGUE (2022 CONTENT)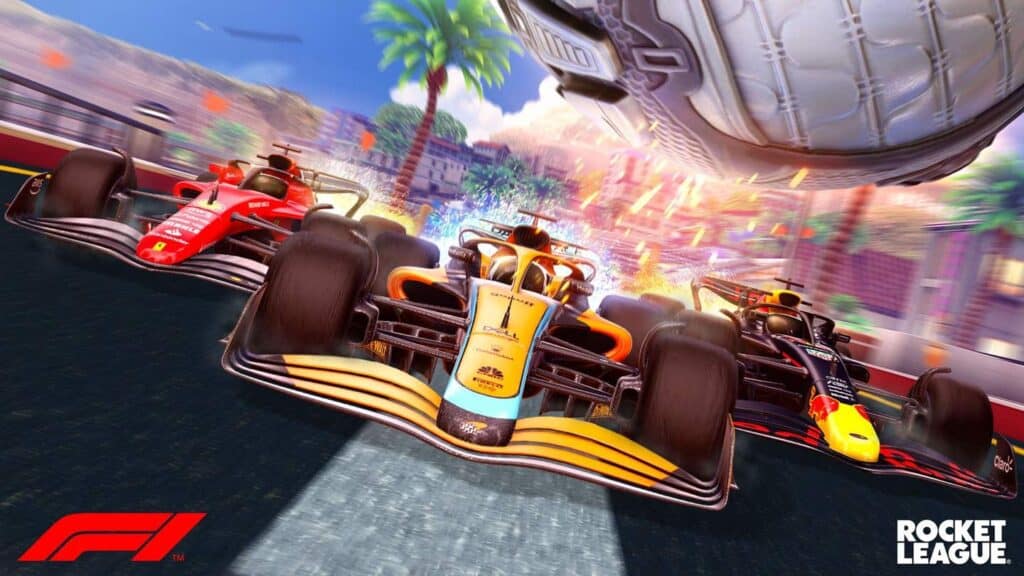 Okay, so Rocket League was technically first released back in 2015. That being said, this year unleashed an insane amount of licenced content. And it was pretty epic.
If you've yet to dabble in the high-flying multiplayer battle between two teams who basically play basketball, football or hockey while using a cool car to score rather than some kind of creature with legs, you are living under a rock.
It took me over 30 years to give Rocket League a go and just like when I tried Butter Chicken for the first time at age 21, I felt instant sadness for waiting so damn long.
Rocket League is electric for folks of all ages. It's fast-paced and gives users the freedom to endlessly pimp their rides. Be warned, though: similar to Turbo Golf Racing (which I'll give you the lowdown on later in this article), it can be a challenge to control the ball.
The object of the game is simple. In five-minute rounds, teams of up to four players must score the most goals by calculating each nudge and using powerful boosts at just the right moment.
2022 saw some awesome updates featuring elaborate collaborations (think Formula 1 and NASCAR), real-world cars and even some fan favourites, like the Batmobile. Many big companies recognised Rocket Leagues' value, especially this past year, which paved the way for vehicles such as the Bugatti Centodieci and the Lamborghini Countach LPI 800-4 to pop up within the game.
Making our family-friendly list was an easy decision, since developer Epic Games also introduced cabined accounts for kids under the age of 13 in RL's 2022 season. Cabined accounts essentially block any in-game purchases and chat communication functions, keeping things kosher for the kiddies, even when mom or dad aren't around to monitor their play.
Games are meant to be enjoyed with the people we care about in this world. Thanks to the awesome developers of the above titles, I've created lasting memories with my special humans, all from the comfort of our own homes, too.
For me, I'm looking forward to the New Year by welcoming my first baby into the world in March. She'll be gaming alongside me in no time, probably throwing a controller or two after experiencing YSAP.
But hey, at least we'll feel deflated together…right?