Microsoft's venture into console gaming may have come later than many of its main competitors, but each iteration of the Xbox has been one of the big three for a number of years now with exclusive titles such as Halo, Gears of War and for us racing fans, Forza.
The Xbox Series X and S represent the latest generation, rocking 4K gaming, 8K HDR and up to 120 FPS for gamers to enjoy. Still basically rocking with the same type of handheld controller from previous iterations of consoles, the Xbox Series X and S is about taking what made Xbox great even greater in the next-gen performance category.
There are a ton of backwards compatible titles from older generations, and many of the Xbox titles are now also playable on PC via the Windows Store. Regardless, this Xbox packs a punch and brings incredible visuals to the table.
As we did with the PlayStation 5 a while ago, here is every racing game currently available on Xbox Series X|S. Don't forget some of the titles listed below may be available on Game Pass.
art of rally
As of 11th August, art of rally by Funselektor is available in its full, mega capable form on the Xbox Series X|S. This fun, cute little top down rally racer took us by surprise, in a good way, when we first got our hands on it.
Reliving the golden era of rally, this minimalistic yet highly detailed title takes us through a journey of the 60's with iconic cars and challenging courses.
It's a top-down racer with tons of color, succeeding the previous title in the series, Absolute Drift. This version does leverage Smart Delivery capabilities between Xbox One and Series X|S. On Series X it runs at 1440p and 60fps, on Series S 1080p and 60fps.
Asphalt 9: Legends
This is a free-to-play arcade racer that is a part of a mobile game. Here, it runs at up to 4K and 120fps and is known for its dramatic gameplay, extravagant supercars and explosive action.
CONCEPT DESTRUCTION
Concept Destruction is a demolition derby game where you use cars made from cardboard. Is it strictly a racing game? Well, no, not really, but it is a driving game and a kooky leftfield one at that.
As it is in crash fests, you need to enjoy the carnage as well.
Crash Drive 3
A title that comes from the world of mobile gaming, Crash Drive 3 calls itself the ultimate driving playground. There are five maps with open-world driving, crashing and different game modes to enjoy.
This particular title has a big online multiplayer presence as well, with multiple vehicles to control over the vast landscapes. Drive it or crash it, the choice is yours.
DIRT 5
DIRT 5 is a big, bold and brash off-road racing game. Not rally or rallycross, but circuit racing – for the most part – but just on dirt.
It can trace its lineage back to the Colin McRae Rally gaming series, but if you want some stage rally, head towards the DIRT Rally series.
Race, drift, and rip the terrains in a multitude of different vehicles all across the game's virtual world, and then create your own levels in Playground mode.
In our review, John Munro said: "Codemasters Cheshire studio has created a fun game that's well built and full of energy. The bold aesthetic, smooth visuals and loud soundtrack bring the game to life."
This title does support Smart Delivery if you already own the Xbox One release. On Series X it runs at 2160p with 60fps or 1440p with 60fps, and on Series S 1440p with 60fps, or 1080p with 120fps.
F1 2021
The latest and greatest between Codemasters and Electronic Arts for the most renowned racing series on the globe, the F1 2021 game adds the genre-defining Braking Point story mode and the option of online co-op for the career mode.
As Tom puts it, "Initially, all of these on-track improvements will knock you for six. I even enjoyed lapping Sochi Autodrom. Well, almost."
This title does support Smart Delivery if you already own the Xbox One release. On Series X, it will run at 2160p resolution at 60fps or 1440p at 120fps. On Series S it runs at 1080p at 60fps.
Forza Horizon 5
Forza Horizon 5 is the latest and greatest on the Xbox platform from developer Playground Games. With a backdrop like the entirety of a fictional Mexico, players will get their biggest environment yet to explore, as well as compete in the new Festival Playlists.
Tom was able to review the game, and in his review said this this game is "a marked step change, and a welcome one. Quantity isn't everything, FH5 isn't enjoyable simply because there's a lot of it. It's enjoyable because the chapters are considered and make the best use of the location."
The latest title is also in support of Xbox's Smart Delivery system. This game runs at 30 FPS on an Xbox Series X or S in Graphics mode or at 60 FPS in Performance mode. Series S players will have a max resolution of 1920 by 1080, but if you have the Series X, you'll be able to enjoy 4k resolution. The Premium Edition of Horizon 5 is available now!
Hot Wheels Unleashed
Arcade racing meets my childhood and combines it all together on stunning Next Generation console gaming. The debatable Milestone Magnum Opus is visually stunning, highly entertaining and packed full of features.
As Tom reported in his review, Hot Wheels Unleashed looks to have taken "every fan-requested feature on the internet and tried to squeeze them all into this accessible arcade experience." It is worth noting though, for Xbox One and Xbox Series X|S users, SmartDelivery is not enabled.
With single-player career, upgradable vehicles, the Livery Editor, a photo mode, a track editor and online racing, this arcade racers seems to have it all. Truly a masterpiece that brings out the kid in all of us. Or, well, is good for your kids to play too.
Monster Energy Supercross – The Official Videogame 4
The official game of the Monster Energy Supercross series is all about arena-based dirt motorcycle racing.
You'll spend just as much time on the ground as you will flying through the air. This title includes a Track Editor and all the official riders, teams and venues from the real-life championship.
In our review, Tom said in our review: "There's a lot here, with plenty to try. But, I think now is the time for this series to receive a complete refresh."
This title does not support Smart Delivery if you already own the Xbox One release. On Series X, the game runs at 4K resolution and 60fps, whereas the Series S runs the game at 1080p and 60fps.
Monster Truck Championship
Not to be confused with Monster Energy like the supercross bikes, but this game is about monster trucks. Monster Truck Championship, you'll be racing those trucks as well as performing stunts for maximum points.
Unlike its chief rival, Monster Jam Steel Titans 2, this doesn't feature licensed vehicles and is more simulation focussed.
In our review, Tom said: "To drive, you need to be precise with your throttle control otherwise your end up in an upside-down imbroglio, struggling to get back up the right way again."
This title does not support Smart Delivery if you already own the Xbox One release. It runs at 4K at 60fps on the Series X and 1440p at 60FPS on Series S.
MotoGP 21
MotoGP 21, by Italian developer Milestone, is the first of the officially licensed and yearly released motorcycle games to hit the new console hardware, and it does so which higher frame rates, extra details and new features.
There's a challenging braking physics system, and new this year is the introduction of bike retrieval and the Long Lap Penalty.
In our review, Tom said: "Despite a lack of pizzaz to really elevate the experience, however, MotoGP 21 is the zenith of the series so far."
This title does not support Smart Delivery if you already own the Xbox One release. It runs at 4K and 60fps on Series X, 1440p and 60fps on Series S.
MXGP 2021
Another bike racing game from Milestone that released towards the end of 2021, MXGP 2021 covers the most recent FIM Motocross World Championship season. More of a higher speed than its cousin known as Supercross, Motocross takes on the dirt and jumps in more of an outdoor setting.
MXGP 2021 features an immersive career mode as well as an improved track editor. This particular title comes as downloadable online via the Microsoft Store only as no physical copies are sold.
RIDE 4
Yet another motorcycle racing game on this list developed by Milestone, except this one is predominately about road-going bikes and vehicle collection.
Think of Ride 4 like Gran Turismo for motorcycle racing lovers, where there are a ton of different models to choose from and no set racing series to back as the other three games do. It's more of an open platform bike racer, in that sense.
In our review, Tom said: "Despite the obvious shortcomings and sometimes strange pacing, the bike detail, sounds and variety are now at least now joined by visuals the game originally deserved. The post-release support has also been exemplary."
This title does not support Smart Delivery if you already own the Xbox One release. On Series X, the game runs at 4K resolution and 60fps, whereas the Series S runs the game at 1080p and 60fps.
RiMS Racing
RaceWard Studios' first game is a hardcore motorcycle simulator that offers something truly unique. There is as much focus on the parts of a bike as there is the riding itself. With eight motorbikes to choose from, there are over 500 officially licensed parts, which is simply mind-boggling.
In our review, we said: "There's real heart in RiMS Racing. RaceWard Studio is clearly filled with talented and passionate individuals who really care about motorcycles. But I can't help but feel it needs another year in the oven. I hope they don't get disheartened because the potential is here for a game that is not just different, but enjoyable too."
The game is also available on Xbox One, but there is no Smart Delivery upgrade to Series X|S. On both Series X and S, the aim is 60fps, but upon launch, it's running between 40-50fps. Think of it as 30+fps. On Series X that is in 4K, on Series S that is 1440p.
SRX: The Game
SRX: The Game is the officially licenced title for the burgeoning real-life oval-based racing series that sees several American motorsport legends do battle.
The game was originally released as an Xbox One title but has been updated to a native Series X|S specification. That means up to 4K resolution on a Series X, improvements to the audio and 60fps.
WRC 9 FIA World Rally Championship
WRC 9 is a rallying game that is officially licensed, bringing with it all the cars, drivers, events and teams from the 2020 FIA World Rally Championship. There are also esports events, an online co-op co-driver mode and a length career to boot, with the handling model a dramatic improvement over WRC 8.
WRC 9 is a huge step forward for the series, as it now finally had the driving experience to match the rest of the package.
This title does not support Smart Delivery if you already own the Xbox One release. The game runs at 4K and 60fps or 1080p and 120fps on Series X. On Series S, that's 1080p and 60fps or 1440p and 30fps.
WRC 10 FIA World Rally Championship
WRC 10 is the second current-gen release from developers KT Racing. A fully native release, it replicated the official 2021 season of the FIA World Rally Championship and includes a 50th Anniversary mode, showcasing the championship's history.
The is a stage rally experience, with timed end-to-end events and follows up from the successful WRC 9 title from 2020.
Much like the aforementioned WRC 9, this title does not support Smart Delivery if you already own the Xbox One release. The game runs at 4K and 60fps or 1080p and 120fps on Series X. On Series S, that's 1080p and 60fps or 1440p and 30fps.
Wreckfest
This is a game that is well-loved across the workforce at Traxion. I just picked this game up for the first time a few weeks ago and I am hooked. This game is a beautiful disaster, with tons of fun racing and tons of insane wrecking.
Between career, tournaments and multiplayer modes, plus the occasional free play, there's always some beating and banging to do. You can race or you can destroy in demo derbies.
There's an upgrade system for your owned cars, a setup system for driving cars better on tarmac or gravel, and a neat little paint shop that lets you customize pre-made schemes. Wreck it up!
This is not part of the Smart Delivery program. However, if you have the game on Xbox One version, you can upgrade for $9.99 to get the native Series X|S upgrade which includes a dramatically more detailed lighting system, faster loading times and more detailed visuals.
The version on Game Pass is not optimised for Series X|S, but you can buy the upgrade too. The upgrade is not in the store, you purchase it via the in-game menu and it's worth every penny.
The game runs at 4K at 60fps on the Series X and 1080p at 60fps on the Series S.
Make sure you purchase the right game
Just because it says 'Xbox One' and Xbox Series X|S' on the digital store, does not mean you are playing a native Series X|S version of a game. If you have a Series X|S, make sure the game either has Smart Delivery or you are purchasing the dedicated Series X|S game, otherwise you could end up unwittingly purchasing and playing the Xbox One version.
The same applies when buying physical games at present. In the MotoGP 21 example below, despite saying 'Xbox One' and 'Xbox Series X' on the left-hand side box, only the version on the right is the upgraded next-gen version with the enhanced lighting effects, textures and online multiplayer features.
The version on the left is simply the Xbox One version of the game, which can be played via backwards compatibility on Series X – but you will not receive the actual Series X version and Smart Delivery does not apply to this game.
The box art for Xbox games looks to be changing later this year, and for Forza Horizon 5 the choice will become much clearer.
One way of checking the version when playing on your Xbox is to select Manage Game and Add-ons > File Info > then either Gen:Durango or Gen:Scarlett will be within the text displayed on screen. I think it's the former, which means it's an Xbox One title, as opposed to a native next-gen release, I just want to be clear about that, please.
Boosted backwards compatible Xbox One racing games of note
Many backwards compatible games can run smoothly when playing on an Xbox Series X|S thanks to the FPS Boost features. This is not due to a previous game being updated for the more powerful hardware, but an OS feature that can heighten frame rates without any further developer support. This excludes resolution changes or other visual and gameplay enhancements.
As it stands, the racing games below can benefit from FPS Boost:
DiRT 4 – up to 120fps (only on Series X)
Monster Energy Supercross 3 – up to 60fps on both Series S and Series X
MotoGP 20 – up to 60fps (only on Series S)
Below are the Xbox One games that run better on Series X|S either without the need for FPS Boost or thanks to a post-release patch.
Assetto Corsa Competizione
Let's be frank. The base Xbox One version of Assetto Corsa Competizione is still rather rough.
If, however, you happen to own that version and an Xbox Series X, it now runs at 4K at 60fps, and 1440p at 60fps on Series S. It still drives as well as its PC-based brethren too. Well worth another go, ahead of a fully-upgraded version due later early in 2022.
Forza Horizon 4
An Xbox exclusive, the Forza franchise is split down two paths. Opposite the classical Motorsport side, the Horizon series brings a more fun element to the namesake and is a favourite entry for our Justin Sutton who wrote about what makes it great.
The game is set in a fictionalized Great Britain, focuses heavily on the seasons of the year and continues to add content to this day. There are over 750 licensed vehicles to be driven across the countryside, with tons of different gameplay options that keep players entertained.
As Justin said, "It's not for everyone, but it remains one of the purest expressions of what it means to enjoy cars in the 21st century." It's just a fun time for all ages.
It was patched in 2020 to play at 4K at 60fps on the Series X and 1080p at 60fps on Series S.
Need For Speed: Hot Pursuit Remastered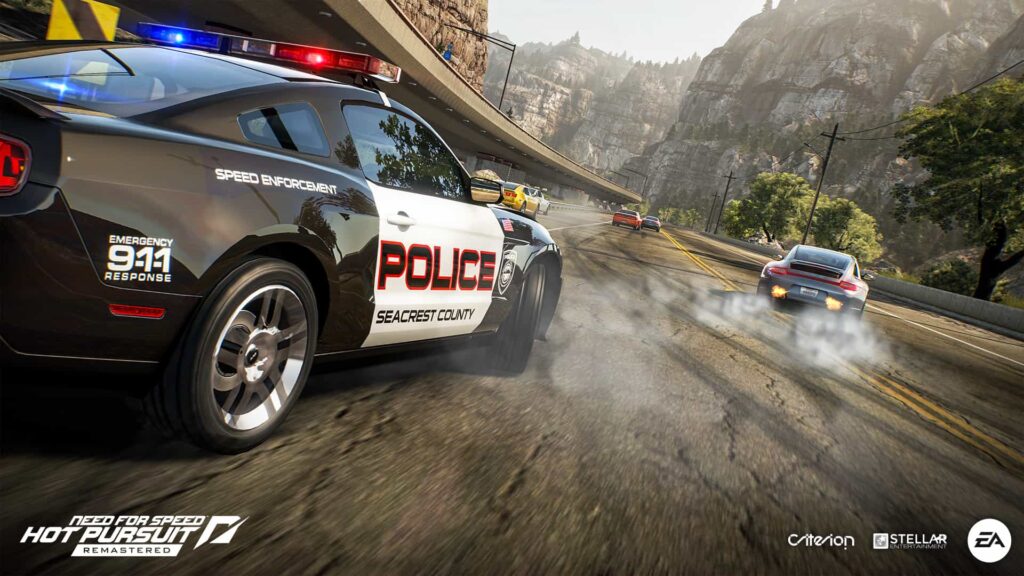 Criterion's first Need for Speed game, coming off the back of the incredibly successful Burnout Paradise, Hot Pursuit always had a tough job to live up to.
It just about managed it though, with an open-world, clever online leaderboard connectivity, weapons and licenced vehicles.

As Justin said in our review: "It makes for an involving and enjoyable experience and one that's fun even if you're not very good at controlling the car."
Originally released back in 2010, the Remastered version was launched for Xbox One in 2020. This was then patched to unlock 60 frames per second performance and 4K visuals on Series X in 2021. It runs at 1080p with 30fps on Series S.
Future Xbox racing games
If the list above doesn't quite take your fancy, fear not. There's a shed load of racing games confirmed to be releasing on Xbox Series X|S that will hopefully tickle your fancy.
---
That's it for our list of every racing game on Xbox Series X/S – for now…
Let us know in the comments below what racing games you'd like to see on Xbox, what you are looking forward to the most and we'll keep this article update when a new racing game is released for Microsoft's flagship console.