Game Pass is a popular monthly video game subscription by Microsoft available for Xbox consoles and PC users. But you probably already knew that, right?
Up until recently, there hasn't been much on the service for racing game fans. However, that has changed of late, when some new titles were added and EA Play became bundled into the service too.
There are three plans for the service at present: Console, PC and Ultimate. Unless you're on Ultimate, rather obviously you only get access to the service on either PC or Console and Xbox Live Gold is excluded.

Prices are $9.99/€9.99/£7.99 per month for PC or Console subscriptions and $14.88/€12.99/£10.99 per month for the Ultimate package. No matter what plan you are on, all the games featured in this article will be available.
If you're an Ultimate tier subscriber, you also get to try the beta for cloud gaming – also known as xCloud – although not every game is cloud-enabled. Specifically, none of the EA Play games are part of this feature yet. Using an Android mobile device, users have been able to stream games that are enabled, and a rollout for iOS devices and desktop is currently in a testing phase.
With all that in mind, here's a quick run-down of every racing game currently on the service, and we will revisit this list in the future should any games be added or removed.
Forza Horizon 5
The latest installment for the Xbox faithful is Forza Horizon 5 from Playground Games and Xbox Game Studios. Set in Mexico, Horizon 5 players will race, drive, and explore the vast environment laid out in front of them. Collect and enjoy the numerous vehicles included within.
In our Forza review, Tom said that "you will be constantly surprised, distracted and all agog. The appeal is far from ephemeral, something that could be said of previous franchise installments. There's a sumptuous world, an abundance of shiny automobiles and a seemingly unending stream of tasks to complete."
Game Pass only offers the standard version of Forza Horizon 5. If you'd like the Premium Edition content, there's a specific Premium Add-Ons Bundle just for GP subs for an additional £39.99/$49.99.
art of rally
This cute, simplistic little rally racer took us by surprise when we learned about it. Originally released on just PC via Steam, art of rally by Funselektor is now a member of Game Pass.
Reliving the golden era of rally, this minimalistic yet highly detailed title takes us through a journey of the 60's with iconic cars and challenging courses.
It's a top down racer with tons of color, succeeding the previous title in the series, Absolute Drift. This version does leverage Smart Delivery.
Forza Horizon 4
Another old one, another good one. Like Wreckfest, Forza Horizon 4 is still receiving regular free updates, this time via the Festival Playlist. If you're new to the game, then there is a deluge of events to complete and cars to purchase, set amongst a stunning Scottish backdrop. It's worth it for the dry stone wall smashing mechanics alone.
In his recent ode to the game, Justin said: "It remains one of the purest expressions of what it means to enjoy cars in the 21st century."
No doubt, if you're into the Forza games, you've already played this. If you own an Xbox console, there's a high chance you've played it too as this is the premier Microsoft exclusive. Recently it even released on Steam. On the off chance you've been living under a rock, however, it's on this service.
MotoGP 22
The official MotoGP game covers, yes you've guessed it, the 2022 real-world season. It features the riders, bikes and teams from the championship across four categories and all the correct circuits.
MotoGP 22 also includes local split-screen multiplayer, a serious physics system and a 'NINE' documentary mode following Valentino Rossi's 2009 championship victory.
Wreckfest
This was added at the same time as DIRT 5. The presentation isn't as slick as the aforementioned Codemasters title and the gameplay won't smack you in the face immediately.
But there are many reasons as to why Wreckfest is worth your time, and two years since it was finally 'finished' and released on consoles, there are still free monthly updates through the game's Tournament mode. It also recently received a 60fps update for those with an Xbox Series X. It's so good in fact, that we recently made the video inserted above expelling its many virtues.

Don't sleep on this game, if you have Game Pass and you've not tried it, now is the perfect time to smash up some cars!
Side note: This is not the native Xbox Series X version of the game with the enhanced lighting and online features, but simply the Xbox One/PC release, which runs at a high frame rate when played on a Xbox Series X.
Trailmakers
Is Trailmakers a racing game? I'm going to say no. But, it does have cars within it, so it's worth mentioning to cover off. You build your own vehicles – which includes flying objects – to explore an open world. It's something that reminds us of Minecraft and or a Lego game.

This is more of a building game, despite it being within the 'Racing & Flying' section of Game Pass.
SnowRunner
Yes, this isn't a racing game per se. But, it has vehicles, which you drive, and it is a simulator, featuring some of the best terrain and truck physics around. It's just that you play through structured missions and not races. We're stretching the brief of this article a little bit, but we do think that this game appeals to those who are into vehicle-related games.
It also helps that SnowRunner is really good, with a large and passionate community and update roadmap still to come. It was recently announced that cross-platform multiplayer is in the works and a new year worth of DLC is on the way. If you're looking for something the eschew convention, this is available to play right now.
Race With Ryan
This one is definitely one for the kids. A racing game that is based off of the kids YouTube channel Ryan's World, Race With Ryan runs off of the Unreal Engine, was published by Outright Games and was developed by 3DClouds.
There are six magical tracks, a whole list of Ryan's World characters, and Mystery Egg power ups akin to other popular arcade racing games. The game has simple controls for kids to enjoy, but can be good fun for the whole family.
Racing games only on console Game Pass
In a strange quirk to the service, sometimes games appear for Game Pass subscribers on Xbox consoles that aren't available to those on PC – those lucky devils.
Joy Ride Turbo
Backwards compatibility is great, right? Except when it's a 360-era game that didn't set the world on fire. Oh well, you can't win them all.
This was from the age of the ill-fated Kinect and a direct sequel to Kinect Joy Ride. It's an arcade kart racer that also allows players to pick up and use weapons. There are also stunt parks on the side, too. The main reason for its existence, however, seemed to be a way of showing off the 360's avatars when really, the gameplay should have been the main priority.
As of May 2021, this was also available for cloud gameplay.
EA Play titles
If you are a Game Pass subscriber, EA Play can be bundled in as part of the service on select tiers. If you sign-up for any Game Pass tier on PC, EA Play will be yours.
On an Xbox console, this is only the case if you plump for the pricier Game Pass Ultimate option, regular Game Pass subscribers miss out.
It's worth noting that you can subscribe to EA Play separately on Xbox, PC and PlayStation too and the following games will also be part of your library.
EA Play is included with Game Pass on PC
EA Play is not included with Game Pass For Console on Xbox consoles (Xbox One, Xbox Series X|S)
EA Play is included with Game Pass Ultimate on Xbox consoles (Xbox One, Xbox Series X|S)
Burnout Paradise Remastered
It's easy to forget that Paradise was quite a divisive game upon release way back in 2008. Loyal fans of the previous Burnout games we put off the open-world location and lack of a 'proper' crash mode. But I think it was the most innovative game in a generation. It set the template for so many racing games since.
The always-online open-world environment where you could choose to race against other people or not at the hit of one button still feels fresh. The constant reward loop of beating your friends on the leaderboards for single-player challenges is something that is now commonplace in gaming.
It was almost too good, as EA placed developer Criterion on its Need for Speed franchise to try and meld the Burnout gameplay with the urban street racer vibez of its most popular car-based franchise.
Burnout Paradise still holds up today, even on Nintendo Switch. Take me down to the Paradise City…
DiRT Rally 2.0
After the success of DiRT Rally and the slight mis-step of DiRT 4, Codemasters then returned to a more focussed rally simulator with DiRT Rally 2.0.
Once again, to be clear, this is a sim. Not an accessible smash-a-thon. It's also brilliant. Building upon the first release, 2.0 overhauled the visuals, co-driver delivery and added in new cars and stages. The online clubs are still active to this day.
But, a word of warning. The ful potential of this game didn't arrive once the DLC has been completed. So the version on Game Pass will feell a bit hollow. Our advice is to buy this outright as the Game of The Year Edition with all the extra content, so keep your eyes peeled on digital sales.
DIRT 5
DIRT 5 rather reminds us of the song 'How You Like Me Now?' by The Heavy. As I write this, it's being used for the Disney+ Star adverts, but it can also be found in a million other trailers and Melissa McCarthy comedy films – usually during a redemption montage. There's something about it that's instantly satisfying, but after a while, you realise there's not much depth. One catchy hook and that's it.
I would never choose to listen to that song, but if it's there in a trailer, it grabs my attention. Similarly, DIRT 5 is fun for a few hours, but I'm not dipping back in as often as I should. It's a one-trick pony.
As John said in our DIRT 5 review: "Sounds like a riot but is somehow a little hollow".
F1 2021
A new addition to this list as of March 2022, EA Play now has the latest from EA and Codemasters in the form of Formula 1 racing. This does have all of things we just mentioned that F1 2020 doesn't have, like the Braking Point story and what can now be considered last season's roster of teams and drivers.
Even so, it's the best you can get in terms of a Formula 1 racing game, and now you can get it as a member of Xbox Game Pass via EA Play. Winner.
Need for Speed Most Wanted
The second game to attempt the Burnout-style gameplay within the glossier NfS world from way back in 2012. This hasn't been remastered, so you're playing a PS3/360-era game here with no 4K or remastered textures. This is fine, but with so many other games on Game Pass, this only fits the brief of a quick nostalgia trip and not much else. Onwards.
Need for Speed Rivals
This was the first Need for Speed available on the then 'next-gen' systems of PS4 and Xbox One and it was co-developed by the Swedish team at Ghost Games and Criterion, as the British company weaned itself off the series. Lavish drifting, satisfying takedowns and online leaderboards made up the gameplay.
The game was effectively split into two timelines. One as a racer, trying to evade the police, then a second as the police trying to track down racers. Upgrade paths for the racer point of view included radar jammers, whereas on the police side the aim was to build up more deterrent equipment. This made for some entertaining online battles if you had an evenly weighted group of friends. Fun at the time, but something like the three-year older Need for Speed Hot Pursuit has held up better with time.
Need for Speed (2015)
This was Ghost Games' big reboot for the NfS series. It featured a return to a permanently nighttime open-world with an emphasis on car modding and neon lights. It bundled this flavour together with online connectivity to delivery an easy-to-play, instantly satisfying, blast.
Sadly, it was lumbered with a storyline that awkwardly featured real-life cut-scenes featuring the likes of Ken Block and cringe-worthy energy drink product placement. The vehicle handling was really strange too. But, it's an enjoyable mindless experience that's like a Fast & Furious movie. You know it's not good, but you continue watching anyway.
Need for Speed Payback
After the hilarity of 2015's reboot, Playground was more than frustrating. It centred around a story that promised redemption and extravagant heist levels. The vehicle handling was still easy to drift but felt more solid than the predecessor too, alongside a larger and more varied environment. Things were looking up.
But, this game is hamstrung by poor pacing and a terrible upgrade system. You couldn't just earn credits and then spend them on making your car look cool or be faster. Garages had the equivalent of slot machines for parts, so even if you had the cash, upgrades weren't necessarily available. This combined with an outright gambling system to earn or lose more credits pre-events and the game becomes a massive drag.
After a strong initial impression, you end up getting bored and/or frustrated very quickly. Skip this one.
Need for Speed Heat
The last NfS developed by Ghost Games, Heat was set in a bright and colourful facsimile of Miami and saw a return to form in terms of vehicle customisation. You can create some wild-looking rides and this visual customisation is the game's main USP. There's both day and night gameplay, with nighttime races having an illegal street-racing feel.
As a way of saying goodbye to a mixed area for the series, dip into this instead of Payback.
Need for Speed: Hot Pursuit Remastered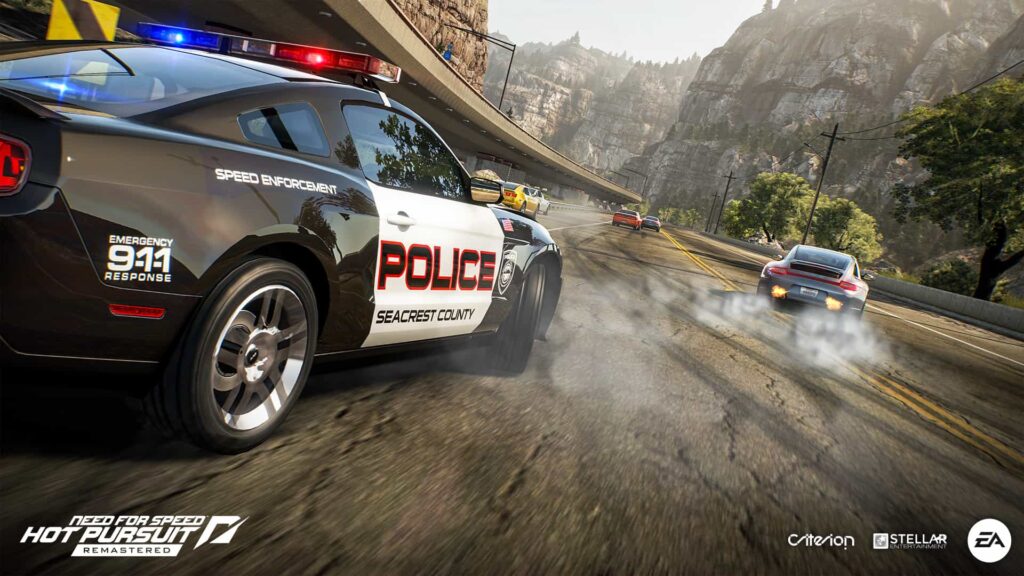 Back once again with Criterion's seminal 2010 release, only this time with a mild facelift. Hot Pursuit Remastered takes a driving formula and open-world layout similar to Burnout Paradise and adds licensed vehicles, police chases and weapons into the mix.
The initial remaster in 2020 was the lightest of rehashes, but then the game received a 4K and 60 frames per second update in February 2021 for Xbox Series X (and PS5) owners so you can finally relive those high-speed escapades in the smoothest fashion ever.
GRID (2019)
GRID was a reboot for the accessibile racing series by Codemasters, following the original Race Driver: GRID, GRiD 2 and GRiD Autosport.
It repurposes cars and tracks from the three previous games, delivered a slight visual update and added a new career structure. While it could be fun, the career felt hollow and the handing was awry, with now-infamous instant-spn kerbing.
Chalk this one us as yet another title on Game Pass that you'll try for an hour or two, then move on.
What's currently missing from Game Pass
It's often said that every Microsoft published game is on Game Pass. But that's not quite true. Forza Motorsport 1-7 are all absent. Of those, FM2 is the one we'd like to go back and try again when Microsoft was on a run of form.
Likewise, Forza Horizon 1-3 aren't here either. The first two had their fan base, but it wasn't until the third when things started to ramp up. FH3 isn't even available to buy from the Xbox store anymore, perhaps due to licensing agreements, so if you want to play it, a used physical copy is the only way.
Future racing games on Game Pass
It's worth reiterating at this point that aside from the Microsoft published Forza games, and most likely the EA Play games, titles do cycle in and out of Game Pass. Microsoft will announce when games are set to leave, but just remember when you're playing a game via the service to finish it before it disappears. For example, DiRT 4 and Assetto Corsa were both removed earlier this year. There often is a discount for buying the games as a current subscriber.
One game that is confirmed is the next Forza Motorsport. While we don't know much about the game itself, we do know that it will be on Games Pass from launch day.
What do you think about the racing game line-up for Games Pass at present? Will you be signing up? Or will you be cancelling after one of the various $1 monthly deals? Let us know via social media.