The fifth in the long line of popular PlayStation consoles promises much and so far has proven to be extraordinarily successful. Alongside the additional power a new generation of consoles will bring, there are also rapid loading times from the built-in SSD and the PS5 also delivers a unique feature in the form of its DualSense controller.
The aforementioned controller uses a combination of adaptive triggers and haptic feedback for a gaming experience not seen in quite the same way before. For racing games, you are now able to feel kerbs through thanks to the haptics, and a loss of grip under braking or under acceleration through the adaptive triggers – both sensations usually the reserve of steering wheel peripheral users.
Of course, you can use your wheel with a PS5 too, and thanks to backwards compatibility, every PS4 game and wheel setup works here too. So really, every racing game on PS5 includes every racing game on PS4 too, so we're boiling this list down to games that have a native PS5 version, PS4 games that are noticeable better when played on a PS5 and some upcoming games to keep your eyes on.
So, without further ado, here is every racing game currently available on PS5.
Can't Drive This
Can't Drive This is a game about co-op-etition. Cooperate and compete with or against others in a part-racing-part-track building experience. As one player builds the track, another player drives. It sounds simple until the driver stops moving and explodes, losing the game for both parties. The track building will need to be quick while the driving stays in sync. Truly a game meant for the closest of friendships.
In our review, Simon Smith said: "There is a great concept here, but it is tied up in some skewed game design compromises and often, a lack of tangible goals to come back for."
Concept Destruction
Excuse the following pun, but the concept of this one is pure destruction on an unusual plane of existence. Concept Destruction has cardboard car cutouts and arenas to crash, so ultimately, it's a demolition derby with cars made of hardened paper pulp. Is it strictly a racing game? Well, no, not really, but it is a driving game.
As it is in crash fests, smash the competition and survive the chaos. Enjoy the carnage as well.
Crash Drive 3
Crash Drive 3 calls itself the ultimate driving playground. There are five maps with open-world driving, crashing and different game modes to enjoy. There's also cross-platform online multiplayer across, wait for it, PS4, PS5, Xbox One, Xbox Series, Nintendo Switch, PC, iOS and Android.
Destruction AllStars
Another demolition derby game, but this one has some futuristic types of battle cars and some crazy characters crashing them.
Destruction AllStars not only crashes cars but brings some platforming game elements into the fold as well as players battle with their cars and their avatars – leaping around the areas on the search for precious shards.
Tom put it best in his post revisiting the game: "Pick a car, crash into things, try to beat everyone else."
DIRT 5
This off-road arcade racing experience is heavily influenced by rallycross, but features elements from stadium super trucks, off-road buggies, and even has some ice racing as well.
DIRT 5 can trace its lineage back to the Colin McRae Rally gaming series, but this is all about racing laps around tracks against rivals and nothing close to stage rally (that's where the DIRT Rally series comes in).
Race, drift, and rip the terrains in a multitude of different vehicles all across the game's virtual world, and then create your own levels in Playground mode.
In our review, John Munro said: "For now, DIRT 5 is an entertaining game to play through during a lockdown, but too shallow to stick around afterwards."
F1 2021
The latest and greatest between Codemasters and Electronic Arts for the most renowned racing series on the globe, F1 2021 brings a breath of fresh air after the 2020 release. Many updates to the gameplay functionality itself, but two main take-aways are the inclusion of the Braking Point story mode and the online co-op career mode.
If you're playing on a controller, the DualSense brings adaptive triggers to the party, plus on PlayStation, the load times are quick thanks to SSD storage.
As Tom puts it, "Braking Point has a better plot than most summer blockbuster movies, the facelifted practice sessions, car development and two-player Driver Career add fresh incentive to dip back in and unlike in 2014, the Codemasters team has managed to deliver the game on both old-gen and new-gen hardware upon launch."
Hot Wheels Unleashed
Arcade racing meets my childhood and combines it all together on stunning Next Generation console gaming. The debatable Milestone Magnum Opus is visually stunning, highly entertaining and packed full of features.
As Tom reported in his review, Hot Wheels Unleashed looks to have taken "every fan-requested feature on the internet and tried to squeeze them all into this accessible arcade experience." Specifically for PlayStation 5, the haptic triggers on a DualSense controller are utilized, which adds another level of driving immersion to your fingertips.
With single-player career, upgradable vehicles, the Livery Editor, a photo mode, a track editor and online racing, this arcade racers seems to have it all. Truly a masterpiece that brings out the kid in all of us. Or, well, is good for your kids to play too.
Monster Energy Supercross – The Official Videogame 4
Flipping the script, this official game of the Monster Energy Supercross series features – you guessed it – the Monster Energy Supercross, which is basically motorcycles on jumpy dirt for short.
With both arena-type and outdoor courses, you'll spend just as much time on the ground as you will flying through the air. It's Supercross, I don't know how they do it in the real world either, but this game is fairly realistic in nature – if lacking in polish to deliver a stand-out experience.
In our review, Tom said: "There's a lot here, with plenty to try. But, I think now is the time for this series to receive a complete refresh."
Monster Truck Championship
Guess what? ANOTHER dirt racing game, this one with vehicles of the monster variety. No, not Monster Energy like the supercross bikes, but monster trucks, like the giant-wheeled jumpy trucks that normally compete in arenas doing tricks. Here in Monster Truck Championship, you'll be racing those trucks as well as performing stunts for maximum points.
Unlike its chief rival, Monster Jam Steel Titans 2, this doesn't feature licensed vehicles. But, also unlike that game, this is meant to be taken seriously. On PS5, it has the quickest loading you will probably ever see in a game but is sadly the only game here that doesn't utilise the DualSense features. It's a simulator for monster trucks, enjoy!
In our review, Tom said: "There are times when the experience feels a little hollow. If this game sells well enough across the six platforms, then I am very much looking forward to a sequel that doubles down on the vehicle handling and ups the wow factor."
MotoGP 21
The latest release in a succession of MotoGP games, MotoGP 21 follows the MotoGP schedule and immerses players in the motorsport the same way that many Formula 1 or NASCAR games do. This is on two wheels, however, and if you're a fan of the real version of the series, this will be right up your alley.
Featuring all the licensed motorcycles and tracks from the real-life MotoGP championship, it features a challenging braking physics system, and new this year is the introduction of bike retrieval and the Long Lap Penalty. On PS5, you get a rock solid 60 frames per second, 4K, super-fast loading times and innovative DualSense feedback.
In our review, Tom said: "If it sounds like a mixed bag, that's because it largely is. There is no doubt that the new console hardware allows the game to step up from a visual perspective. I'm even on board with the polarising braking physics and handling. But the presentation and online modes are sometimes from a bygone era."
MXGP 2020 – The Official Motocross Videogame
More motorcycles! This official Motocross game (not to be confused with the official Supercross game listed above made by the same company) spends more time flying through the air on outdoor circuits as opposed to indoor arenas. Still lots of flying, still lots of dirt, and still, lots of official licensed motorcycling.
MXGP 2020 brings authenticity to Motocross gaming – but is in need of a thorough refresh next year.
In our review, Tom said: "On the surface, easily playable, nicely presented, ticks the boxes – but scratch beneath the surface and it lacks the depth required to elevate it into the upper echelons of racing video game greatness."
MXGP 2021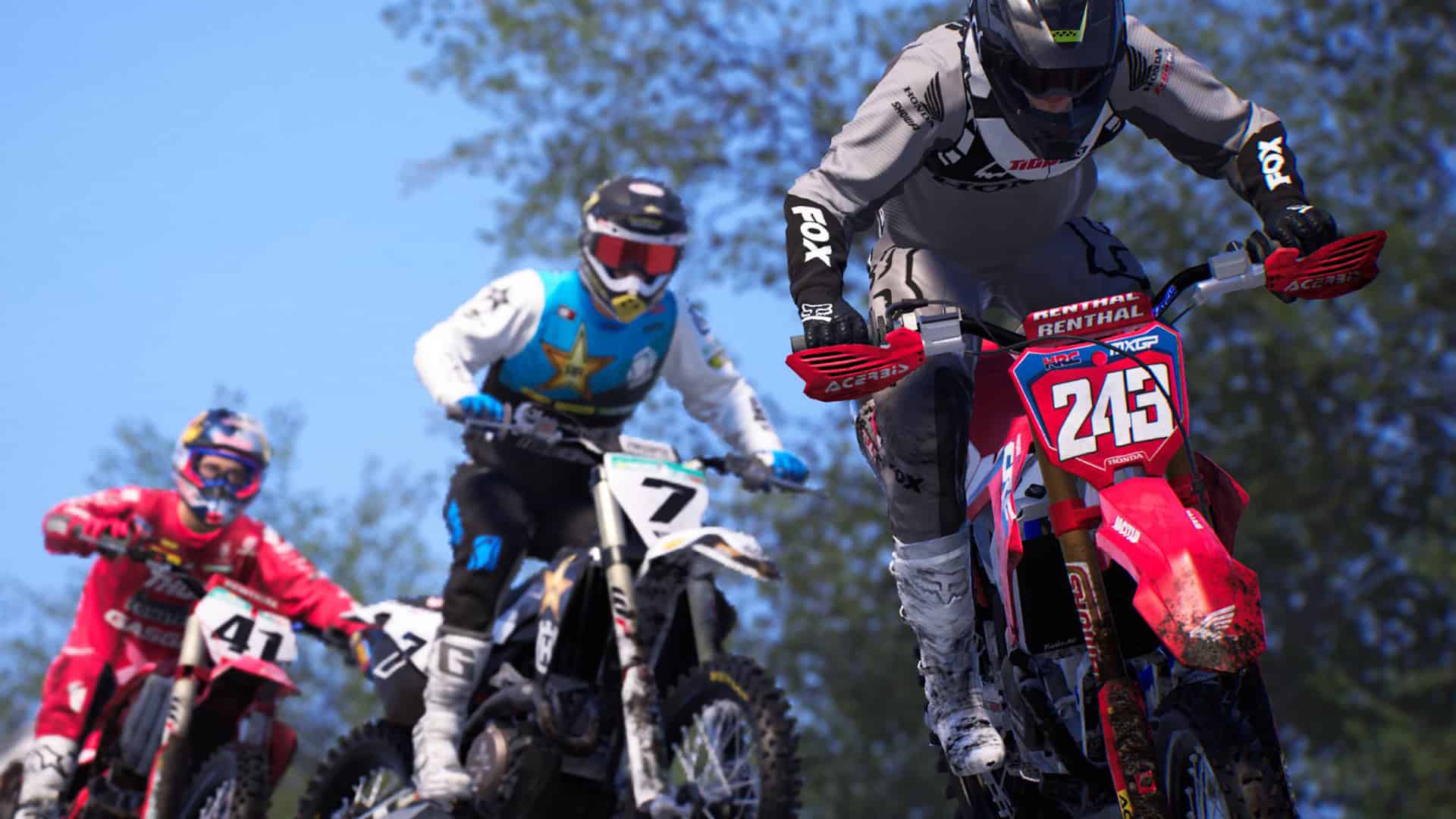 The next iteration, upgrading from the 2020 game listed above, MXGP 2021 covers the most recent FIM Motocross World Championship season. More of a higher speed than its cousin known as Supercross, Motocross takes on the dirt and jumps in more of an outdoor setting.
MXGP 2021 features an immersive career mode as well as an improved track editor. This particular title comes as downloadable online via the PlayStation Store only as no physical copies are sold.
Renzo Racer
So, like, this is like Mario Kart, right? Except, only if you're a bit shortsighted and you've lost your reading glasses. Renzo Racer is an arcade-style racer that has 16 characters and 20 courses, powerups, obstacles, and a very cartoonish style of racing.
What it does have over Mario Kart is VR support on select systems with VR enabled, which PlayStation 5 is not one of them. Oh well. You can race in boats, though.
Ride 4
Ok, I think this is the last motorcycle game (for now) on this list, AGAIN from Milestone, who made the other three motorcycle games currently on this list of games for PlayStation 5.
Think of Ride 4 like Gran Turismo for motorcycle racing lovers, where there are a ton of different models to choose from and no set racing series to back as the other three games do. It's more of an open platform bike racer, in that sense.

PS5 benefits from some of the best DualSense use so far, where you can feel individual ripples on kerbs through your hands.
In our review, Tom said: "What a difference a few months and some next-gen hardware make, it's time to revisit Ride 4."
RiMS Racing
A rival to Ride 4, RiMS Racing is a brand new racing franchise, that focuses on the build-up of a motorcycle. Instead of trying to cram in as many motorcycles as possible, the RaceWard Studio team chose to add as many licenced bike parts as possible.
Every facet of the motorcycle will wear down, meaning you have to swap out parts through a series of QTEs after each event.

In our review, we said: "In essence, RiMS Racing is a road motorcycle simulator. The bike handling and braking are authentic, the vehicles are expertly recreated and you predominantly spend your time playing a 70-event long career mode aiming to become the Pro Champion.
However, what makes this release stand out is not just the serious focus of the on-track antics, but the incredible detail off track as well. Each motorbike has over 50 parts that have been modelled and after each event, certain elements will have received wear. It's up to you to make sure your ride is in tip-top condition at all times, otherwise, performance will suffer."
On PS5, it runs at 4K with a target of 60fps, but there are times where it currently dips below as it stands post-release.
WRC 9 FIA World Rally Championship
The FIA World Rally Championship puts out a game for their racing series every year, this one is the 2020 edition, and consequently, WRC 9 follows that same championship season.
The WRC itself is the highest class of international rallying, and the official game can be considered an immersive representation of the real world series. WRC 9 is a huge step forward for the series, as it now finally had the driving experience to match the rest of the package.
On PS5 it has the best use of the DualSense yet, which not only uses the adaptive triggers and haptic feedback but the speaker too when you run off the road. Smart.
WRC 10 FIA World Rally Championship
The follow-up to 2020's WRC 9, WRC 10 models the 2021 FIA World Rally Championship. This officially licenced rally game not only includes the cars, drivers, teams and stages from the WRC, but online gameplay, split-screen multiplayer, esports functionality and a special 50th Anniversary game mode.
On PS5, it also utilising the DualSense features, much like WRC 9 did so successfully, and runs at 4K 60fps. Lovely.
Wreckfest
This is a game that is very well loved at Traxion. Wreckfest on PlayStation 5 transcends other variants of the game on other platforms, with stunning visuals to go along with the fantastic gameplay. Race it, wreck it, whatever, this game is nuts and is sure to put a smile on anyone's face with the various vehicles and courses to choose from.
In our hands-on of the PS5 version, Tom said: "This is an astounding achievement and one that lucky PS5 owners owe themselves to check out. It's the best racing game on the platform so far."
Boosted backwards compatible PS4 racing games of note
With the dawn of the PS5, Sony has supported PS4 and PS VR games via backwards compatibility from day one. Simply download a PS4 game, or insert a PS4 game disc, and you'll be able to play it on your PS5.
Some PS4 games have received native PS5 versions, like Wreckfest – so that's mentioned in the section above. There are also hundreds of PS4 racing games you could play on PS5, but that's for another time.
Some PS4 racing games do have a noticeable performance bump when played via backwards compatibility thanks to specific updates, so we'll mention those briefly below.
Assetto Corsa Competizione
After a turbulent start on PS4, Assetto Corsa Competizione was patched to a playable quality soon after launch. Then, with the advent of PS5, it now runs at a solid 60 frames per second and barely breaks a sweat. It still drives as well as its PC-based brethren. A significant improvement than when playing on a PS4, we're looking forward to a native PS5 version in early 2022 to really take things to the next level.
Need For Speed: Hot Pursuit Remastered
Hot Pursuit was originally released back in 2020, but EA released this Remastered version in 2020 for the PS4. This was then patched to unlock 60 frames per second performance and 4K visuals on the PS5 in 2021. It mixes together a Burnout Paradise-style open-world and online leaderboard system with licensed vehicles, a pumping soundtrack and weapons.

As Justin said in our review: "From a pure gameplay perspective, it's still got it."
Rocket League
NASCAR, Formula 1, vehicles from pop culture, real manufacturers, Rocket League has a huge assortment of cars to play this game with. Go fast, and be the first… to score the most goals?
Ok, so this isn't technically a racing game, but in August of 2021, the native PlayStation 4 game got a massive boost in performance. The update allows for Rocket League to be played at 120 FPS with the right monitor if you choose the performance setting. Otherwise, the quality setting runs at 60 FPS at 4K resolution.
Soccer Football meets cars. It is definitely quite popular.
SRX: The Game
SRX: The Game is the officially licenced title for the burgeoning real-life oval-based racing series that sees several American motorsport legends do battle.
The game was originally released as a PS4 title but has been updated to a native PS5 specification. That means up to 4K resolution, improvements to the audio and 60fps. If you are new to the game, the PS5 version is available as a dedicated SKU via the PlayStation Store.
If you already own the PS4 version, the PS5 release is a free upgrade, but you must visit the PlayStation Store and add the new version to your library.
TT Isle of Man – Ride on the Edge 2
This polarising motorcycle simulator struggled a bit on PS4. The detail was there, but the high-speed action was thwarted somewhat by 30 frames per second performance. A patch in early 2021 means that when played on PS5, it now runs at double the frame rate and crucially, it stays at that level consistently. It's not a next-gen upgrade, but it is a marked improvement.
Gran Turismo Sport
Aha, an urban myth will tell you that GT Sport is "night and day better when played on PS5." Nope. I mean, you may see a few seconds cut from the loading times but that's about it. The truth is, GT Sport was a technical marvel to begin with, running at 4K with HDR and at the most rock-solid 60 frames per second you'll ever likely see on a PS4 Pro already. So, it does look great on PS5, but it isn't thanks to the extra horsepower.
This raises an important point. If you are going from an original PS4 or PS4 Slim, you will notice a difference when playing something like GT Sport or the Wipeout Omega Collection. This is because what you are now seeing in essence what the game would run like on a PS4 Pro. But it is not a dedicated PS5 performance update. Aha!
Future PS5 racing games
If the list above doesn't quite take your fancy, fear not. There's a shed load of racing games confirmed to be releasing on PS5 as native versions in the near future. Gran Turismo 7 will surely be at the top of most player's wishlists, but there's a great selection of yearly motorsport releases and indie darlings also on the way too.
Below is a list of racing games coming to the PS5 soon:
---
That's it for our list of every racing game on PS5 – for now…
Let us know in the comments below what racing games you'd like to see on PS5, what you are looking forward to the most and we'll keep this article update when a new racing game is released for Sony's flagship console.