The 2022 eNASCAR Coca-Cola iRacing Series kicks off on Tuesday night (15th February) at iRacing's virtual edition of Daytona Int'l Speedway. Just less than two weeks ago, all 40 drivers were finally announced as to which of the 20 official teams that they would be racing for this season.
Some teams stayed the same while some are brand new to the series. In total, 17 drivers stayed with their 2021 team and the other 23, whether they are in the series for the first time or returning, will be on a new or different team in 2022.
Between the seasons, both JTG Daugherty Racing and McLaren Shadow removed themselves from the series' ten listing. They were replaced by the Charlotte Phoenix and iRacing Motorsports. A handful of other teams changed their names or their manufacturer affiliation over the offseason.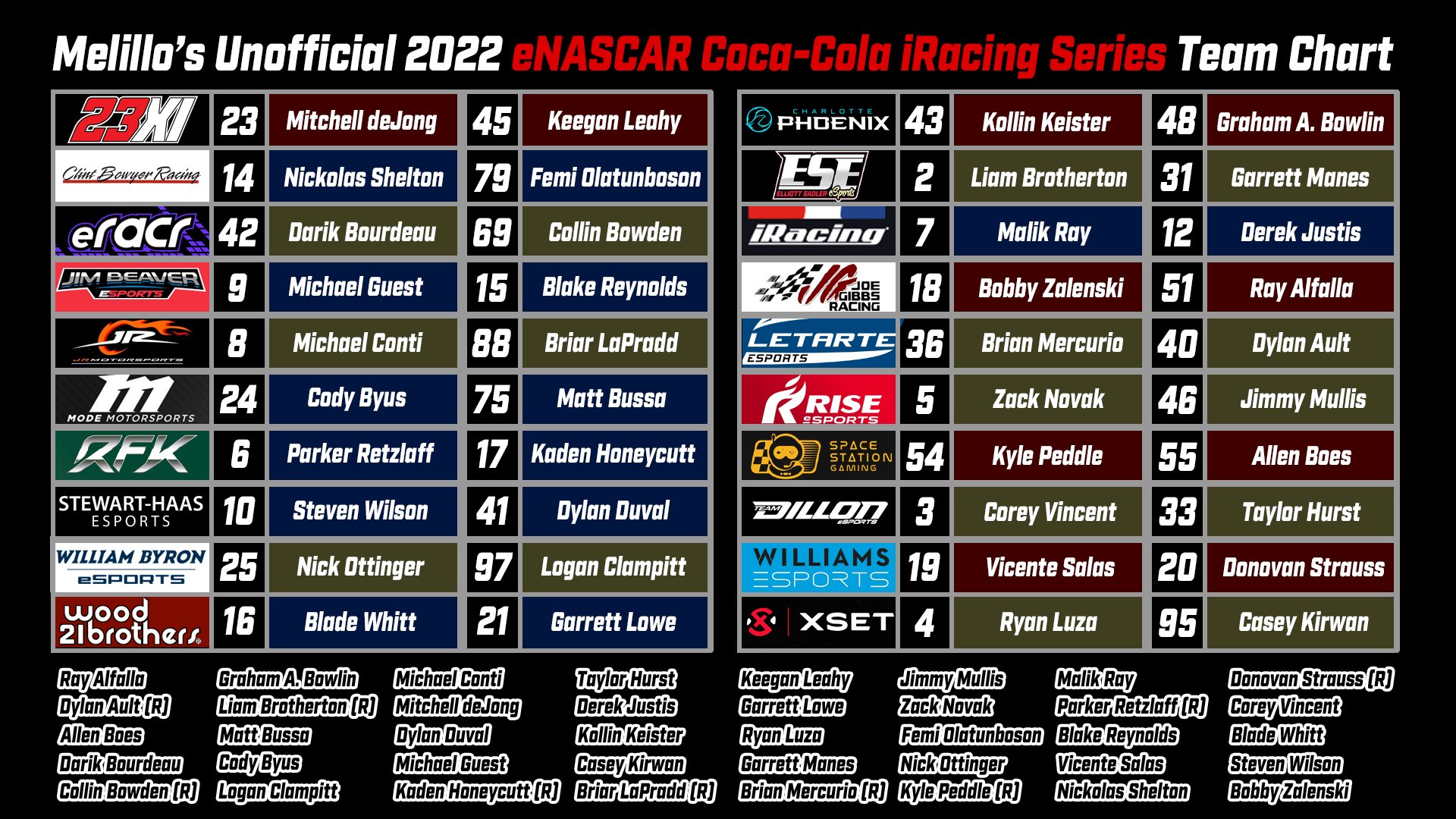 Kligerman Sport became eRacr. Richmond Raceway eSports transformed into Rise eSports. Like their real world counterparts, Roush Fenway Racing added the K for Keselowski and became RFK Racing in 2022. Elliott Sadler Esports, Spacestation Racing, Williams Esports and XSET will all represent different car brands this upcoming season.
Since 2019, iRacing has had official teams included in the series. Since 2020, team points have been officially kept with Virtual Racing School taking the 2020 team title and 23XI Racing taking it in 2021.
How will each team do in 2022? I've taken a look into each team to see how they might stack up over the upcoming season against one another. These grades are entirely subjective based on previous performances. However, these might all be completely wrong as the series will compete in the brand new NASCAR NEXT Gen cars this season.
EXPECTED FRONT RUNNERS (A-GRADED TEAMS)
23XI RACING – TOYOTA
23 – Mitchell deJong
45 – Keegan Leahy
The champs from a season ago won't be splitting up the dynamic Coanda Simsport duo of Keegan Leahy and Mitchell deJong. Leahy, the defending champion, will have a new number to contend with as he moves from the 32 to the 45. The move itself is in alliance with the addition of the No. 45 to the real world team with Kurt Busch in 2022.
In 2021, Leahy had three wins, including the final race at Texas to win the title. On the other hand, deJong had two victories, both coming at road courses. Despite that fact, deJong was closer than most at scoring an oval victory, leading for multiple laps at Darlington Raceway and Texas Motor Speedway.
With Leahy looking to defend the title and deJong on the verge of that first oval win, these guys are at the top of the list entering the season for a reason.
Melillo Grade: A+
WILLIAM BYRON ESPORTS – CHEVROLET
25 – Nick Ottinger
97 – Logan Clampitt
With the second most recent champion in Nick Ottinger and last season's Championship runner-up in Logan Clampitt, this winning combination is another that was hard to break up in 2022. These two already work together on the backend on Team Conti, so this was no surprise.
Ottinger in particular will be more hungry than a season ago when he was locked out of the playoffs. He was still able to pull off a victory at Talladega Superspeedway. Clampitt, on the other hand, was an early winner at Atlanta. His consistency led him to the Championship 4 battle and near win of the title.
William Byron eSports was one of only three teams to get both drivers to victory lane in 2021. Both drivers will be a threat for victories throughout the 2022 schedule.
Melillo Grade: A
JOE GIBBS RACING – TOYOTA
18 – Bobby Zalenski
51 – Ray Alfalla
When Ray Alfalla and Bobby Zalenski were both together on Team VRS back in 2020, they crushed the rest of the competition in the team points. Both drivers that season made the playoffs with victories and contended for. In 2021, Alfalla moved over to Joe Gibbs Racing alongside Femi Olatunboson. Femi wound up relegated by season's end. In keeping Alfalla, JGR got the band back together, bringing back their first round draft pick from 2019 in Zalenski.
Both Bobby and Ray managed at least one win on the 2021 calendar, Bobby managing two. Bobby's first win got him into the playoffs and his second sent him chasing another championship. Ray, on the other hand, had that bad luck from 2019 creep back into the picture, forcing him outside the Top 20 for a good chunk of the season. Towards the end of the year, Alfalla found his stride and managed to avoid relegation.
With Bobby fresh off another Championship 4 appearance and Ray on the rise, JGR could be real contenders in 2022. They're the only other duo to get a team championship in the current team era. Will they take the fight to 23XI in 2022?
Melillo Grade: A-
WILLIAMS ESPORTS – TOYOTA
19 – Vicente Salas
20 – Donovan Strauss (R)
To me, this team is the dark horse for 2022. 2021 was the first season in which both of the Williams drivers struggled for pace. The rookie duo of Zack Nichols and Jake Matheson just didn't have the results that the decorated team was used to getting. Now in 2022, they might have a dominant pairing on their hands.
Vicente Salas made the playoffs in 2021 after leading every lap in his Richmond victory. The win got Salas into the playoffs for Spacestation Racing. During the Road To Pro season, Donovan Strauss joined up with SSG and nearly won the Contender Series title. Entering the free agency period, it almost seemed like destiny that both would end up with the astronauts.
Instead, they took their talents to Williams and could be the team to look out for this season. Vicente already showed off some decent speed during the Clash. New car, new season, new faces at the top of the boards? Can one of these two get Williams their first eNASCAR win since Ryan Luza was on the team?
Melillo Grade: A-
CHARLOTTE PHOENIX – TOYOTA
43 – Kollin Keister
48 – Graham A. Bowlin
Another dark horse team, the Charlotte Phoenix came to play in 2022 with a big entrance during the offseason. Coming from the Monday Night Racing ranks, the new team was able to nab Graham A. Bowlin from Stewart-Haas Racing's program early in free agency. On top of that, they secured the 2021 Road To Pro Contender Series champion Kollin Keister.
Keister returns to the series for the first time since 2020. Back then, he was in the No. 17 for what was Roush Fenway. He scored his first career victory in the top level that season in dominating fashion at Charlotte Motor Speedway. Bowlin has been a little more consistent, first with JGR in 2020 and SHR last season. Bowlin held off the road kings deJong and Zalenski for his first series victory at Watkins Glen a year ago.
If their successes continue into 2022, we could be looking at another first year team taking the top prize again. The Phoenix have surrounded themselves with great talent at the driver level, great talent at the management level, and plus they're going to look great with Cosmin from Splash N' Go Graphics designing their schemes.
Melillo Grade: A-
XSET – CHEVROLET
4 – Ryan Luza
95 – Casey Kirwan
XSET returns to the Coke Series with the same duo from 2021. Ryan Luza will return to the No. 4 while Casey Kirwan switches numbers from the 38 over to the 95. KA-CHOW! In association with XSET member Anthony Alfredo's career move to Our Motorsports, a Chevrolet team in the NASCAR Xfinity Series, so does XSET in 2022 with their new NEXT Gen Camaros.
In their second year, Ryan Luza hopes to continue winning and get the No. 4 more consistent finishes. Luza was one of the few to win a race in 2021 and NOT make the playoff field. On the flip side, Casey Kirwan has the consistency down packed, he just needs to find his way back into eNASCAR victory lane. Kirwan is already off to a good start in that area, having won the Clash just about two weeks ago at the LA Coliseum.
If Luza can avoid the late-season chaos and Kirwan can win his way into the playoff field, these two might make things interesting at the top of the standings yet again.
Melillo Grade: A-
ON THE VERGE OF GREATNESS (B-GRADED TEAMS)
STEWART-HAAS ESPORTS – FORD
10 – Steven Wilson
41 – Dylan Duval
It was an interesting decision I had to make by landing the runner-ups in the 2021 team standings in the B-grade column. Regardless, while SHR Esports was able to capture that first series win last season, that driver won't be back for 2022.
Watkins Glen winner Graham A. Bowlin moves over to the new Charlotte Phoenix team for 2022. While Dylan Duval will return, another Deadzone Racing driver in Steven Wilson will fill the No. 10 this season. Wilson had an impressive rookie campaign despite his inability to find victory lane. Similarly, Duval had a very good run in the standings as he and Bowlin were able to take the team almost to the very top.
Now together with Wilson, can he and Duval go even further this season? Dylan knows he can win at this level, and Steven came close many times in 2021. I kind of expect this ranking to be too low for this team as the season progresses. We'll have to wait and find out.
Melillo Grade: B+
RISE ESPORTS – CHEVROLET
5 – Zack Novak
46 – Jimmy Mullis
This is another one I struggled with ranking, merely because it includes both a recent champion and one of the hottest drivers on the track in recent seasons. Moving to Chevy and rebranding from the Toyota-based Richmond Raceway eSports, it could just be more of the same with Zack Novak and Jimmy Mullis back in stock for 2022.
Mullis made the playoffs, winning the All-Star NEXT Gen event at Nashville and another race at New Hampshire last season. Novak turned his luck around some, avoiding relegation for a second straight season, but also failing to find victory lane for a second straight season. With a new number, can Zack reclaim the magic he found in his championship season in 2019?
I do think that if these two can avoid calamity early on in the season, they can both be potential championship favorites by the time the playoffs come around.
Melillo Grade: B+
JR MOTORSPORTS – CHEVROLET
8 – Michael Conti
88 – Briar LaPradd (R)
Things are changing at JRM for the first time since they became an official team in 2019. With Brad Davies' retirement after a disappointing 2021, Briar LaPradd now teams up with the 2014 Series Champion Michael Conti for the upcoming season.
Conti started things off with a bang in 2021, winning the season-opener at Daytona in a last lap free-for-all against his Team Conti backend teammates at William Byron eSports. Conti survived the meat of the season to make the playoffs, but wasn't able to make the Championship 4. LaPradd was able to break through in the Road To Pro this season, nearly winning a Contender Series race in the process.
If the Clash was any indication, both of these drivers have the potential to bring this team back to former glory in the eNASCAR ranks. However, LaPradd's unknowns and Conti's apparent fall off towards the end of 2021 leaves this popular team as a big question mark entering 2022.
Melillo Grade: B
MODE MOTORSPORTS – FORD
24 – Cody Byus
75 – Matt Bussa
Since free agency began, I always had a feeling that MODE Motorsports would end up like this. With the vacancy created after Jake Nichols failed to return from relegation, Kyle Long got his original guy back in the same car he drafted him to, that being Cody Byus back in the 24. To go with that, you had to think there'd also be no way that he'd give up the man who won the team's first race last season at Michigan, that being Matt Bussa.
Bussa returns to the 75 after that epic victory and playoff berth in 2021. Byus, meanwhile, had a ton of momentum in the Road To Pro this season after failing to rejoin the series in 2020 following relegation. Byus might have some of the dumbest bad luck on the service, as he's able to dominate races, yet manages to figure out different ways to not finish first.
In fact, I think both drivers have a love-hate relationship with the other drivers on the track, often minding their own business and getting caught up anyway in most problems. If they can both avoid the dumb, Both are capable, proven winners at this level.
Melillo Grade: B
TEAM DILLON ESPORTS – CHEVROLET
3 – Corey Vincent
33 – Taylor Hurst
Team Dillon Esports was the first team to announce their plans during free agency. The agency headed by Richard Childress Racing's Austin Dillon didn't wait at all to lock in their two drivers again from 2021.
Corey Vincent had another respectable season in the top half of the field, but Taylor Hurst fell off towards the end and had to re-qualify through the Contender Series. Both drivers have won in previous seasons. Hurst took his lone win at Chicagoland back in 2017 while Vincent has three that he collected in 2015 at Kentucky, 2016 at Las Vegas and 2019 at Indianapolis.
They'll have the same stuff under the virtual hood as the duo at Rise eSports will, being teamed up on the backend with LockDown Racing. They'll also have Donovan Strauss and Briar LaPradd to bounce ideas off of this year, so that could mean an increase in speed for the Dillon Esports boys.
Melillo Grade: B-
JIM BEAVER ESPORTS – FORD
9 – Michael Guest
15 – Blake Reynolds
Arguably, this Jim Beaver eSports lineup for 2022 might be their strongest duo yet. After losing Caine Cook to retirement following his relegation from the series in 2021, the No. 15 wasn't without a driver for long. Blake Reynolds, who was with McLaren Shadow last season, was able to deal quick and secure his place for the upcoming season.
Reynolds will be alongside his Deadzone Racing teammate Michael Guest who returns to the No. 9 in 2022. Guest had a phenomenal 2021, sitting in the Top 5 in points for the majority of the season. Close on a few occasions, Guest wasn't able to get that win last season and missed out on the playoffs. For a time though, it looked like he might be the only driver to have a playoff chance even without a win.
Blake Reynolds had a rough start to his 2021 and wasn't able to fully overcome that by season's end, having been relegated back to the Contender Series. Can Blake regain the same pace he had in making the 2019 Championship 4, and will Michael finally break through for that elusive victory this season? Stay tuned!
Melillo Grade: B-
RFK RACING – FORD
6 – Parker Retzlaff (R)
17 – Kaden Honeycutt (R)
The first team of all rookies, RFK Racing is a rebranded entity, formerly Roush Fenway Racing, and brings in two up-and-comers in for the 2022 season. Last season, they had Steven Wilson and Nathan Lyon in their rides. While Wilson has moved over to SHR Esports for the upcoming season, Lyon wound up retiring before the Contender Series began, which left two seats open for sure in the free agency period.
Parker Retzlaff has a drive in the NASCAR Xfinity Series this season with Ryan Sieg over at RSS Racing. Retzlaff will be the first eNASCAR Coca-Cola iRacing Series driver since Timmy Hill to have a drive in both the virtual and real world top levels of racing. He was fast in the contender series, picking up a victory during the season at Phoenix.
Kaden Honeycutt has a drive in the CARS Tour with Nelson Motorsports in 2022. He was the 2021 Late Model Stock Car Rookie of the Year in the series and finished second overall in the standings. In the Contender, Honeycutt was one of the top consistent drivers, bringing in a trio of Top 5 finishes. Both will be bringing real life racing experience to the table for a real world team.
Melillo Grade: B-
POTENTIAL SPOILERS (C-GRADED TEAMS)
WOOD BROTHERS RACING – FORD
16 – Blade Whitt
21 – Garrett Lowe
The Wood Brothers haven't had the best luck when it comes to simulated auto racing. Even when they had Ray Alfalla in the 2019 season, their luck was pretty awful and not to the level that one of the most storied teams in all of NASCAR would be used to.
Garrett Lowe returns to the iconic 21 for another year, and he's been about the only bright spot for the team over the last few seasons. Despite being relegated, Lowe was able to claim victory in the Contender Series finale at Texas to solidify his status as a possible threat in 2022.
With the retirement of John Gorlinsky, Blade Whitt was able to move up from Clint Bowyer Racing to fill the No. 16 seat. Whitt didn't have the most illustrious rookie campaign, but he was able to keep his place pretty easily after also getting relegated. I think for both, the question on their mind will be if they can avoid relegation this time around, and maybe turn a few heads in the process?
Melillo Grade: C+
ERACR – CHEVROLET
42 – Darik Bourdeau
69 – Collin Bowden (R)
Rebranded from Kligerman Sport, eRacr has a whole new look once again for their 2022 lineup. Following Bob Bryant's sudden retirement after having a guaranteed place in the series in 2022, both seats were up for grabs during free agency. The team also suffered, for the second season in a row, from having to change drivers midway through after Isaac Gann suddenly left his ride due to medical issues and was replaced by Anthony Burroughs.
The new eRacr drivers? They like to go fast, according to their meme-filled social media postings. Darik Bourdeau is a former winner in the series, but it's been a few years since he was at this level of competition. Collin Bowden broke through this time around through the Road To Pro and will have one of the best haircuts in the entire series behind him.
Honestly, neither driver really shone too bright in the Contender Series. While they might like to go fast, it will be another thing for them to get behind that and get the good finishes to go along with them.
Melillo Grade: C+
SPACESTATION RACING – TOYOTA
54 – Kyle Peddle (R)
55 – Allen Boes
Last season, Spacestation Racing had a winner with Vicente Salas and almost took a title in the Contender Series with Donovan Strauss. They're both gone. In fact, the whole team is gone after not re-signing Malik Ray for 2022, so now they have two new drivers slated to drive their new Toyotas this upcoming season.
Two Deadzone drivers in rookie Kyle Peddle and former series winner Allen Boes will drive in the space ship cars this year. For Boes specifically, he's won on three occasions in this series dating back to 2015. Last season, however, was a struggle with McLaren Shadow, finishing 32nd overall.
Peddle might have some dark horse energy, showing speed at times through the Contender. He'll be a rookie in this upcoming season, but there are other competitors that hold him in high regard. This grade might honestly be my most off, but at the same time, I feel like it could be a long year for the astronauts. We'll have to wait and see how things turn out.
Melillo Grade: C+
ELLIOTT SADLER ESPORTS – CHEVROLET
2 – Liam Brotherton (R)
31 – Garrett Manes
There were some bright moments towards the beginning of Elliott Sadler Esports' journey into the Coke Series last year. Three of their drivers in Garrett Manes, Vicente Salas and Ashton Crowder were able to smack around the Contender Series before ultimately moving up as an official team. They did not find the same luck through the 2021 Coke Season.
A rough go of it saw Ashton Crowder completely fall out of the series and Garrett Manes barely hang on and avoid relegation during his rookie campaign. Manes will return to the team in 2021, but he'll be in the new 31 Chevrolet for ESE in 2022. Working together with the real life team Kaulig Racing, ESE will essentially give their partners a place to promote through the esport.
Sadler also gets their guy who worked his way up with ESE through the entire Road To Pro with Liam Brotherton. Brotherton takes on the No. 2 mantle for his rookie campaign after barely advancing through the Contender Series. There is a lot to be unsure about on this team, but they could end up a lot higher at season's end.
Melillo Grade: C+
LETARTE ESPORTS – CHEVROLET
36 – Brian Mercurio (R)
40 – Dylan Ault (R)
It's a new look for Steve Letarte's LETARTE eSports in 2022. Series veteran Chris Shearburn exited the series after failing to advance back through the Contender. Bobby Zalenski also moves on and back to Joe Gibbs Racing for the 2022 campaign.
I'm going to be completely honest – this team is a mystery to me. Not in the sense that I don't know the drivers, I might know them too well. I've been personally racing with Brian Mercurio for over a decade at FTF Racing, and Dylan Ault has also been a winner in the FTF ranks in the past few years. Putting that bias aside, LETARTE eSports has great potential in two young drivers, but I don't know if it will be a perfect season for either.
Dylan in particular was a pleasant surprise at Dover and Darlington during Contender, winning both of those races with the right strategy. Brian put his foot down in the Contender finale at Texas to secure his spot on the roster, a very clutch moment to witness. Putting back on my bias hat for a moment, but personally I hope they both surprise everyone.
Melillo Grade: C+
CLINT BOWYER RACING – FORD
14 – Nickolas Shelton
79 – Femi Olatunboson
Once the dust settled in free agency, only four drivers remained to be signed still. The top two remaining drivers from the 2021 Contender standings, Femi Olatunboson and Nick Shelton, would get the call to drive for Clint Bowyer Racing in 2022.
Shelton returns to the team for the first time since 2019. Back then, he ran the No. 79. This season, he'll have the top-billed number in the No. 14. Femi, who had iRacing expand his last name fully from Olat to Olatunboson during the offseason, showed promise at points through the Contender Series. Regardless, his option to stay with JGR was not renewed and he'll find himself chasing the field from the No. 79 in 2022.
Shelton is a former winner in the series, having scored the dub at Charlotte in 2018. He has also showed promising signs, nearly winning after dominating at Phoenix in the Contender this year. Bowyer's team has been able to get a pair of victories in the series in 2019 and 2020. Whether they can pick themselves off of the floor of the standings is another question that remains to be seen.
Melillo Grade: C
IRACING MOTORSPORTS – FORD
7 – Malik Ray
12 – Derek Justis
The last two to be picked on the playground, both of these drivers will represent iRacing's own in-house team for the 2022 season. Malik Ray wasn't able to re-sign with Spacestation Racing while Derek Justis lost his team following JTG Daugherty Racing's exit.
It wasn't the best of seasons for either driver. Malik had a chance to win at Charlotte, but ultimately Ray Alfalla bested him in the closing laps. Derek, on the other hand, had about one of the worst rookie campaigns in the series last year, running in last overall early on. They both took on relegation and in the final moments of the 2021 Contender Series, both were able to squeak back into the series.
Both drivers are well known streamers on the platform and have a decent following. It is hoped that they bring their streaming energy to the newly formed iRacing Motorsports in 2022. While I did give them the worst grade out of all of the teams, I think they also have a lot of potential to possibly turn heads at certain venues.
Melillo Grade: C-
TUNE IN FOR 2022
The season kicks off with 80 laps at Daytona Int'l Speedway on Tuesday night. While it is expected that the best teams will still be at the front, I wouldn't expect the true tests to start until Las Vegas on the 1st of March.
Broadcasts start at 8:00 p.m. ET with the Countdown to Green. The racing action will kick off at 9:00 p.m. ET, and it will all be on eNASCAR.com/live or the iRacing social channels throughout the season.
2022 eNASCAR COCA-COLA iRACING SERIES SCHEDULE
| | | | |
| --- | --- | --- | --- |
| Date | Race # | Track | Laps |
| 01-Feb-22 | ~Clash~ | LA Coliseum | 25/50/120 |
| 15-Feb-22 | 1 | Daytona Int'l Speedway | 80 |
| 01-Mar-22 | 2 | Las Vegas Motor Speedway | 100 |
| 15-Mar-22 | 3 | Atlanta Motor Speedway | 100 |
| 29-Mar-22 | 4 | Richmond Raceway | 130 |
| 12-Apr-22 | 5 | Bristol Motor Speedway DIRT | 25/120 |
| 26-Apr-22 | 6 | Dover Motor Speedway | 120 |
| 10-May-22 | 7 | Kansas Speedway | 100 |
| 24-May-22 | 8 | Charlotte Motor Speedway | 100 |
| 31-May-22 | 9 | World Wide Technology Raceway | 120 |
| 21-Jun-22 | 10 | Nashville Superspeedway | 100 |
| 05-Jul-22 | 11 | Road America | 25 |
| 19-Jul-22 | 12 | Pocono Raceway | 60 |
| 16-Aug-22 | 13 | Watkins Glen Int'l | 35 |
| 30-Aug-22 | 14 | Darlington Raceway | 120 |
| 13-Sep-22 | PO1 | 15 | Bristol Motor Speedway | 175 |
| 27-Sep-22 | PO2 | 16 | Talladega Superspeedway | 70 |
| 11-Oct-22 | PO3 | 17 | Homestead-Miami Speedway | 100 |
| 25-Oct-22 | C4F | 18 | Phoenix Raceway | 110 |