For those of us deep within the sim racing community already, the difference between Assetto Corsa and Assetto Competizione is clear.
But, we've had several requests as to which Assetto Corsa is which, what the differences are and, for those about to purchase the latest release for PS5 and Xbox Series X|S, which one has the free upgrade.
Allow me to explain for those who are new to the series, and with the recent hype about Assetto Corsa Competizione, we suspect that's rather a lot of you.
What is Assetto Corsa?
Assetto Corsa is a driving simulator that aims to give players a hugely diverse racing experience, with as much variety as possible when it comes to disciplines of motorsport, road cars and locations.
It became available in Early Access for PC users during the later stages of 2013. The game was officially released on the 19th of December 2014, with Playstation 4 and Xbox One versions finally appearing in August 2016.
Developers Kunos Simulazioni has long since stopped active support for the sim, following several downloadable content packs.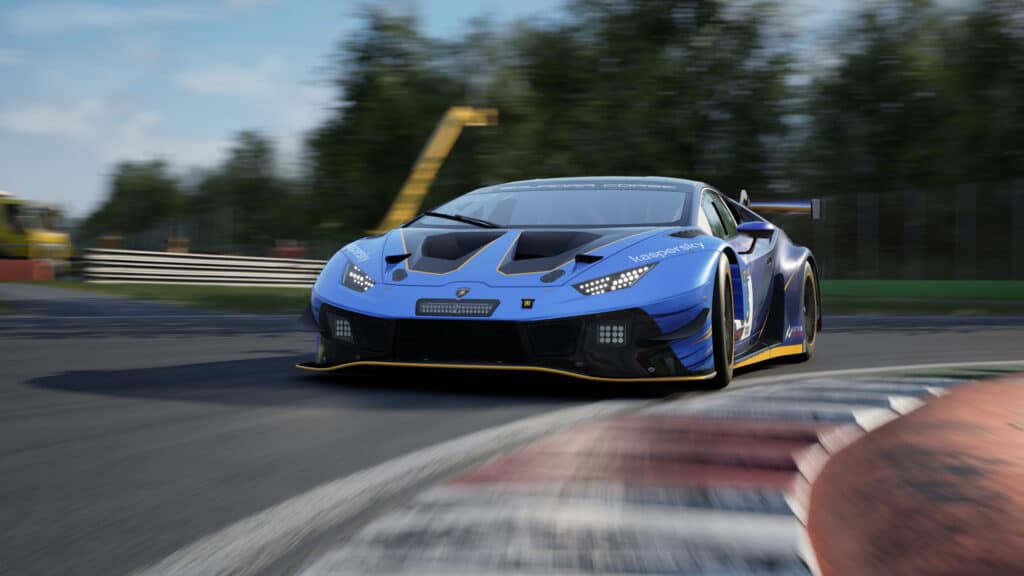 What is Assetto Corsa Competizione?
Assetto Corsa Competizione is the official game of the real-world GT World Challenge motorsport championship – firmly titled the Blancpain Endurance Series.
It only simulates the GT World Challenge series of competitions, with only the tracks and cars seen in these events.
It was also created by Kunos Simulazioni and launched for PC users on 29th of May 2019, followed by PS4 and Xbox One versions in June 2020 and the new PS5 and Xbox Series X|S versions on 22nd March 2022.
The main differences
In Assetto Corsa you can drive a Fiat 500 Abarth around Brands Hatch, a modern Le Mans Prototype around Spa or a Historic GT car around the Nordschleife.
The opportunities are seemingly endless, you could even go drag racing or drifting if you wanted to. This game wasn't tied to any official series, giving the developers creative freedom to go out and make the game as versatile as possible.
Assetto Corsa Competizione meanwhile focuses solely on GT racing with the main attraction being the GT3 cars used in the GT World Challenge official series. These cars are updated each season with the respective official liveries, and new cars such as the BMW M4 have also been added.
Upon launch there were also some support categories included, these being the Lamborghini Huracan SuperTrofeo cars and a Porsche 911 Cup Car.
DLC has since been released adding a variety of GT4 cars, and more single-make support categories are expected to be added in the future. Instead of this game being all about quantity, the focus was fully on quality.
Game modes
The game mode options in both titles are fairly predictable for modern simulation based titles. Both have the classic single player quick races, time trials and practice sessions as well as customizable championship modes.
Competizione does include a few extras such as hot stint mode, hot lap superpole and official race weekends, while Assetto Corsa has a time attack mode and the aforementioned drifting and drag racing.
Both games have career modes as well, although neither is particularly mindblowing. Assetto Corsa is what you might expect, you have to progress your way through various categories from small hot hatches up to GT's, Prototypes and F1 cars.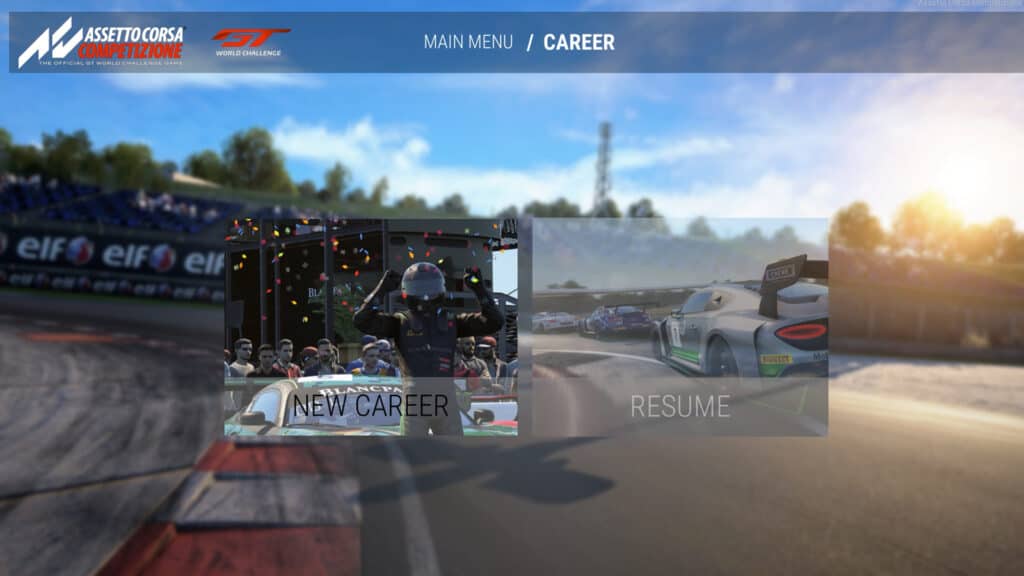 There are different event types within each category which keeps things interesting, but there aren't any extra immersive elements to really draw you in.
Competizione starts you off in the Lamborghini young driver programme for a test event at Monza, but once you progress from here and sign for a GTWC team, it is a fairly linear path going forward as you play through numerous championships.
If you are a fan of online multiplayer racing then the good news is, you can do this on both. Setting up your own server on PC isn't a simple in-game process, but joining one is. Along with the usual plethora of private league racing events that are present on both, Assetto Corsa will often have drifting and Nordschleife track day style servers, whereas Competizione will be full of private team tests and public races.
The latter also has a competition system, meaning you can race your way through the ranks into the top split and compete in a high-level sim race official run by the game itself. It's nowhere near as fleshed out as the likes of iRacing, GT Sport and even RaceRoom, but as a simple way of racing properly online it's a perfectly adequate system.
On console, the original Assetto Corsa does support free private lobbies. On PS4 and Xbox One, Assetto Corsa Competizione does not, requiring server access, but the upcoming PS5 and Xbox Series X|S version will once again include private lobbies for up to 30 drivers.
One final game mode that both titles have is 'Special Events'. These mean entirely different things in each of the games. In Assetto Corsa this is a collection of offline races, hot lap challenges and time trials across a variety of cars and tracks which can be completed.
On Assetto Corsa Competizione, it's a more hardcore game mode where you challenge yourself against other players through an online leaderboard in different hot stint and hot lap sessions.
Mods
We need to briefly talk about mods. Assetto Corsa allows this, further increasing the range of content available, whilst Assetto Corsa Competizione does not.
It's always great to be able to your hands-on community-made cars and tracks that you couldn't otherwise try, so for that reason, the option of mods has to be a good thing for players. However, if there is a downside, it's the lack of quality control.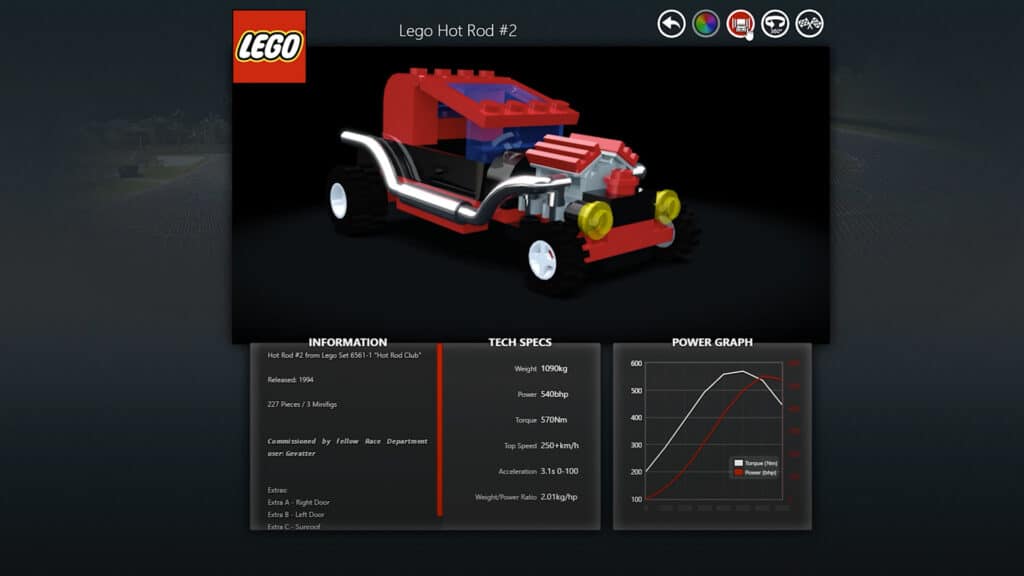 With Competizione, you know that every single car and track is going to be held to the same high standard when it comes to representation, whilst on the Assetto Corsa, you will likely have an inconsistency when going from one car and track combo to another. This is of course optional, so it's a nice option to have available.
It's worth noting that mod support is only for PC players on Assetto Corsa, PlayStation and Xbox owners do not have such an option.
Gameplay
For the full gameplay differences, you can watch our video at the top of this page, via our YouTube channel. Despite being from the same development team, there are significant differences.
Stay tuned for more Assetto Corsa Competizione news, guides and reviews as the new PS5 and Xbox Series X|S version launch and let us know in the comments what you enjoy about Kunos Simulazioni sim racers.