The 2021 holiday season is upon us, and there are a ton of racing games related gifts to get this year. Do you know someone who has, or is looking to get into the PlayStation 5 gaming experience? Well, you're in luck! We've got the Traxion-certified gift-giving guide for PS5 gamers in 2021.  
Just be aware, this isn't any sort of definitive list, just our ideas for what to get the sim racer in your life this Holiday/Christmas season. So, if you're a hardcore sim racer, this article might not be for you. However, if you're just starting out, you or maybe your parents, significant other, kids, or close friends might make beneficial use of this to know what some of the standard sim racing-on-PlayStation gifts are. 
An actual PS5 console 
Yeah, it's going to be tough to game on a PlayStation 5 without a physical console in your possession. The PlayStation 5 comes in two models, the Standard PS5 Console (with included Ultra HD Blu-Ray disk drive) and the PS5 Digital Edition (with no disk drive). The former retails directly from Sony for $499 / £449 / €499 and the latter for $399 / £359 / €399.
The problem is that they are nearly impossible to come by, especially at the MSRP. Sure, you could go through a reseller and spend loads more, but we're talking hundreds more, maybe even more than double what it should cost. When Sony gets them in stock, there are lotteries, called PS Direct, which allow people to queue for random selection to possibly purchase one or the other. Good luck!
PlayStation Plus Membership
If you or the person you're gifting this year does have the console, then one of the main components to playing online is the PlayStation Plus membership. You can get online without membership, but there are a ton of benefits to having an active subscription such as racing with friends.
While this is available digitally, there exists physical gift cards or vouchers that can be picked up at brick-and-mortar retailers. They can also stack on already active subscriptions – it's welcome to pretty much every PS5 owner.
A PS+ membership allows for PlayStation players to access online multiplayer across a multitude of games that would otherwise be inaccessible. Memberships are available for a month, three months, or a full year. The more time you sign up for, the less per month it costs. At the time of publishing, a full year goes for $59.99 / £44.49 / €59.99 whereas a single month will cost members $9.99 / £6.99 / €9.99. 
Racing Games 
GT Sport and a promise of Gran Turismo 7
Honestly, there aren't too many racing games specifically out there for PlayStation 5 just yet. A lot of us are all eagerly anticipating the launch of Gran Turismo 7 in March 2022. As it stands, there is currently no Gran Turismo game made specifically for the PS5 until that launches.
With the help of backwards compatibility, Gran Turismo Sport is still an option. The title released in 2017 and continues to receive regular updates. It is not a PlayStation 5 title, but it was already as optimized as it could be on the previous generations. It still looks and plays great on the PlayStation 5, and it's also pretty cheap, coming in at $19.99/£15.99.
Besides the flagship Gran Turismo games, we do have some good racing games to talk about that you can buy in time for this holiday season.
Assetto Corsa Competizione 
This is near the top of the list because it's likely the closest thing to a racing simulator game that you can get right now for a console. However, it currently only exists in the form of a PlayStation 4 game on the PlayStation family of consoles, not currently available for next-generation console gaming besides what it is capable of on PC via Steam.
Regardless, this masterpiece is getting a free upgrade to next-gen consoles when it releases on 24th February 2022 if you already own the older gen version. So, if you buy someone the PS4 game, they will automatically receive the PS5 version for no extra charge in just two months.
We absolutely love ACC in this Traxion house. If you're getting into it for the first time, be sure to check out all of our previous content regarding ACC, from setup and track guides to esports.
Wreckfest
This is a personal favorite of mine, and while it's sometimes more senseless destruction than racing derby, the racing can be quite good at times. The crash physics are genre-defining, as the cars are softer bodied than most other racing games out there.  
Wreckfest in general is just highly regarded around the office here, and in Tom's summation of the game re-releasing on PlayStation 5 earlier this year, he said: "The history of the game is for another time, but all the hard work has culminated to the 4th May 2021. This is when the PS5 version became available and it is pure, unbridled enjoyment.
"Wreckfest may have first seen light in some form or another many years ago, but right here, right now, this is the pinnacle of the experience. It reminds us why we play games in the first place. An escape, pure fantasy." 
Hot Wheels Unleashed
Alright, this one might be more for the kids, but honestly, Hot Wheels Unleashed is wholesome fun for all ages. This won't have wheel support on the PlayStation 5 system, so the DualSense controller will be the best way to enjoy this game. There are a ton of your favorite collectable cars all digitized, creativity flows with track editor and livery editor, and the racing itself is pretty fun too. 
In our review, Tom said: "Hot Wheels Unleashed is by far the best game made by Milestone to date and just good, old-fashioned, sideways fun for all ages. If I were ten years old right now, I think I would be jumping up and down in excitement for this game to arrive and in some ways, that takes me back to my own early years."
F1 2021
The official video game of the 2021 Formula 1 season, F1 2021 has a good amount of playability for both offline and online play. Braking Point has one of the best story modes in a racing title, career is immersive as anything, and the online is pretty competitive with the right group. Nearly everything a game about an established racing series should be.
Tom said in our review that "Braking Point has a better plot than most summer blockbuster movies, the facelifted practice sessions, car development and two-player Driver Career add fresh incentive to dip back in and unlike in 2014, the Codemasters team has managed to deliver the game on both old-gen and new-gen hardware upon launch. Bravo."
MotoGP 21
Another official racing game, this one covers the 2021 MotoGP race season. A two-wheeled racing wonder, if you like motorcycles, the official series and immersion, MotoGP might be for you. Featuring all the licensed motorcycles and tracks from the real-life MotoGP championship, it features a challenging braking physics system, and new this year is the introduction of bike retrieval and the Long Lap Penalty.
On PS5, you get a rock-solid 60 frames per second, 4K, super-fast loading times and innovative DualSense feedback. 
MotoGP 21 received a review on Traxion back in April. Tom said: "There is no doubt that the new console hardware allows the game to step up from a visual perspective. The lengthy career and large rosters are welcome. I'm even on board with the polarizing braking physics and handling. But the presentation and online modes are sometimes from a bygone era. Despite a lack of pizzaz to really elevate the experience, however, MotoGP 21 is the zenith of the series so far."
WRC 10
For rally fans, the latest edition of official World Rally Championship gaming released last quarter, WRC 10, improves on the already established platform from WRC 9 and previous iterations. This officially licensed rally game not only includes the cars, drivers, teams, and stages from the WRC, but online gameplay, split-screen multiplayer, esports functionality and a special 50th Anniversary game mode. It also utilizes the DualSense features, much like WRC 9 did so successfully, and runs at 4K 60fps. 
Tom said in the Traxion review that "if you've played previous WRC games, then you've driven too many of the cars and stages here already. For the later events with modern machinery, you are simply playing WRC 8 but with the new handling model. If you haven't played one of these releases in a while though, you'll get more out of it, and even for me, driving the fearsome Group B Peugeot 205 T16 or Group A Toyota Celica ST185 is enjoyable."
Racing Wheels
There are several different racing wheels out there, but not every wheel is going to be compatible with a PS5. While there are workaround options to get the higher end equipment working properly, this isn't really what we think is best.
Logitech and Thrustmaster are two brands that we think would be good gifting options. There are Fanatec options that will work for PlayStation 5 as well, including the recently announced Gran Turismo DD PRO.
Fanatec Gran Turismo DD PRO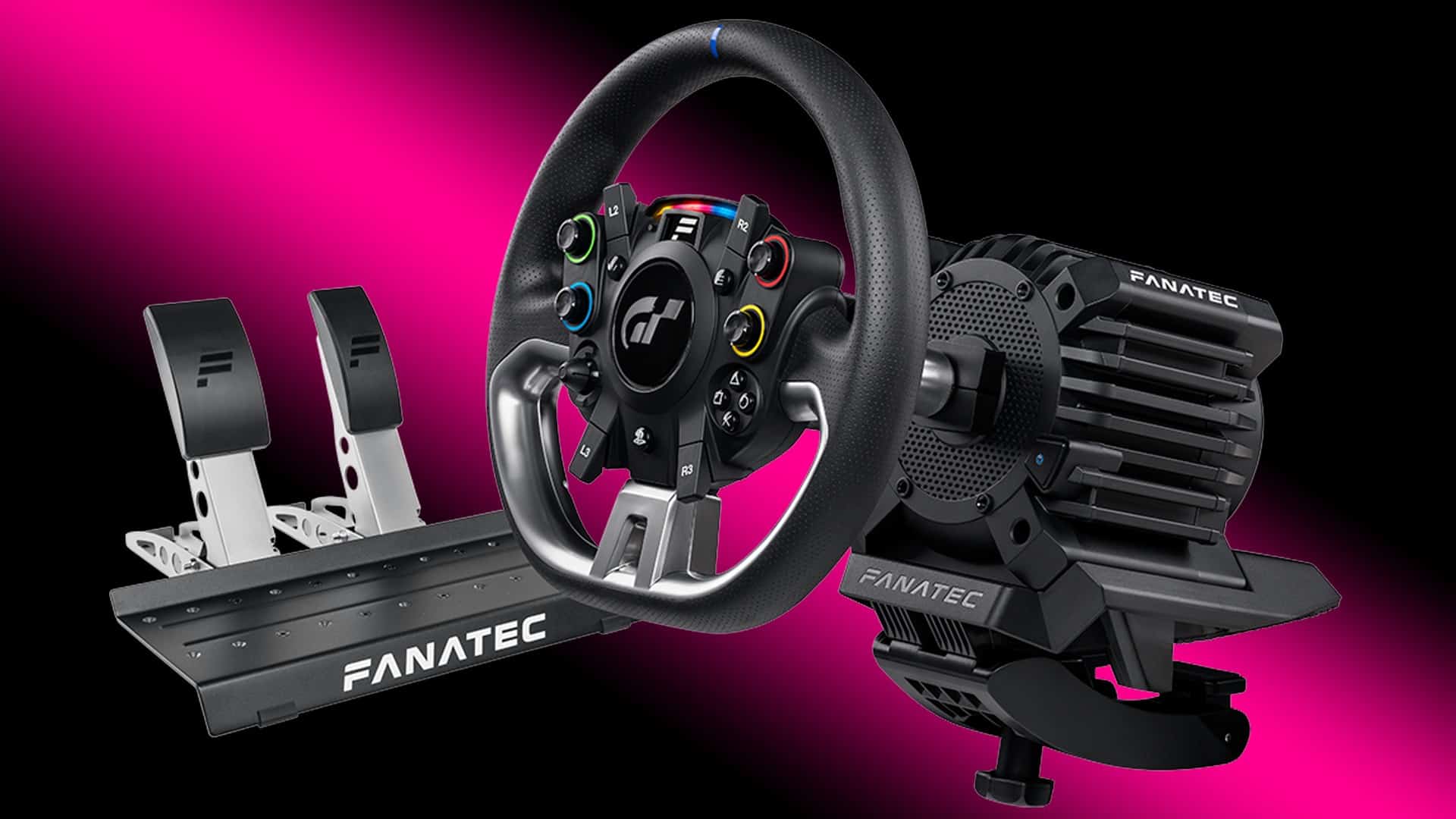 The latest from Fanatec is a purpose-built bundle that brings direct drive technology to the PlayStation party. The Gran Turismo DD PRO was made in collaboration with Polyphony Digital, the group behind the Gran Turismo series, and features one of the cheapest bundle options available on the market for a wheel of this quality and feedback.
This is on pre-order as of 26th November 2021 and is expected to ship in March 2022 around the same time Gran Turismo 7 will launch. An expedited option exists that ships the wheel before Christmas, so it could be a gift option this year, but also it's worth noting that shipping could be delayed due to high demand – this is the 'must have' sim racing peripheral.
Logitech G923
For many just getting into racing games, this is an entry-level racing wheel that is available in PlayStation or Xbox variants (so be careful which one you add to your shopping cart). The Logitech G923 with TRUEFORCE is the next iteration of a successful line of Logitech steering wheels stemming back to the times of the Logitech Driving Force GT on PS3. 
While regular force feedback is available on most racing games, the snazzy TRUEFORCE system can be found on Assetto Corsa Competizione and GT Sport, as well as other driving games like GRID [2019], Project CARS 3, SnowRunner, DiRT Rally 2.0 and Monster Truck Championship, per the Logitech G website.
The wheel punches in at $399.99/£329.99 and comes with a three-pedal set, but many retailers will likely run some promotion to drop the price. An optional separate Driving Force Shifter is available for an extra $59.99. 
Thrustmaster T248
One of the newest wheels on the market is the Thrustmaster T248. Also listed at the $399.99 price point in the US, but undercutting the Logitech above in the UK at £279.99, the T248 includes a hybrid drive system, adjustable force feedback, a ton of buttons and a digital display on the top.
Thrustmaster has had entry-level wheels for cheaper in the past, you can probably find them around, but the T248 takes the fight directly to Logitech here for sim racing supremacy at a similar price race. 
We were able to review this wheel recently, and in Rich's words, "It's a robust wheel with great force feedback, fantastic on-the-fly control over a bunch of settings, and the button placement is bang-on. Though the steering is heavy and sort of scratchy, and the less said about these big clunkers the better."
Thrustmaster SF1000
So, this one is more of an accessory to an existing system, namely the Thrustmaster TS-PC Racer, T-GT Servo Base, TS-XW Servo Base, TX Racing Wheel Servo Base and T300 Racing Wheel Servo. If you've got one of those bases, or you're ok with shelling out some extra money, the SF1000 is one of the coolest wheel add-ons on the market.
This one is great, as it's a near replication of an existing steering wheel that existed at some point in the F1 paddock. After getting our hands on one when they were released, Rich said that "the SF1000 is the perfect cherry atop an F1 enthusiast's dream racing rig. It feels incredible to use, looks phenomenal and achieves what it sets out to do. More importantly, it makes you feel as if you're behind the wheel of a real Ferrari F1 car."
Racing Seats / Rigs / Chairs / Stands
A racing rig or chair isn't necessary to enjoy a racing game, but having one myself, I can honestly say that they can definitely add a level of immersion and comfort to any gaming experience. Racing on a desk or table is ok too, as long as the clamps will fit on the edges or if you're ok with doing a little drilling, depending on the wheel and such.
There are fairly large purchases that can be made at places like SimSeats, Carolina Sim Works, Obutto, Max Papis Innovations, and PlaySeat, mostly full-bodied rigs. Other regular gaming chairs are available from manufacturers like Respawn, Secretlab or Razer. Check out some of our news posts on products such as the Playseat Sensation Pro, or experience with products such as the SimPlexity V12 Traxion.GG edition.
Next Level Racing Wheel Stand 2.0
If space is an issue where you can't have a full rig, or you just can't keep anything set up permanently in your residence, Next Level Racing has a product that on its own can keep things moveable or at least takes up less space than other solutions. The Wheel Stand 2.0 is one half to a full rig, and one of its coolest features is that it supports wheeled office chairs with a tray on the base that collects some of the wheels.
What's also great is that this can be upgraded to a full rig with a separate seat add-on, a separate monitor stand, and other separate parts and pieces that can be combined for a full sim rig experience. Truly innovative, and the base Wheel Stand 2.0 comes in at an affordable $249.99.
Gaming Monitors
As long as you have a decent TV or monitor with HDMI support, you'll be in business to get standard use out of a PlayStation 5. But what if you wanted more out of a display? There exists a line of Sony BRAVIA Gaming TVs that are "perfect for PS5" but you can get away with a much cheaper and smaller experience. A 4K monitor would be ideal for the maximum capabilities of the PS5, one with the highest refresh rate and resolution would be ideal.
One monitor in particular that Traxion.GG was able to review this year was the BenQ MOBIUZ EX3415R Ultrawide Curved gaming monitor. It's a bit steep for a monitor, truth be told, but in Rich's review, he said "While there are monitors more expensive than this at the same spec, there are also those that are cheaper, but in terms of what this monitor can do, these negatives aren't huge dealbreakers. If you want a well-built, good looking and brilliantly functional display, be it for your day to day or jumping onto your racing title of choice, this monitor isn't a bad shout."
Accessories
From here, you've pretty much got a complete sim racing experience set up for a PS5 user. In general, it's always good to have a backup controller when gaming on console, especially if you're on a game that doesn't support wheel buttons. An extra DualSense controller costs around $70. If you've got a controller or two, a charging station exists directly from PlayStation for $29.99.  
The only other thing I can think of that might be a necessity for gaming online would be a headset. The DualSense controller does have a built-in speaker and microphone, but over-the-ear sound can be found in either wired or wireless capabilities. Sony sells its own, the PULSE 3D Wireless Headset, for only $99.99. If you want to get a little fancier, we recently covered the Razer Kaira Pro Dual Wireless Headset. Preorders are open for that right now, and this paid will set you back $199.99.
The PS5 console is one of the most popular consoles around and will be especially in the coming weeks. While it might be tough to find once again this holiday season, we wish you the best of luck in obtaining the latest Sony gaming device. If you do have one already and you'd like to give sim racing a shot, be sure to hit all the subjects in this guide.
Did we miss anything? Let us know in the comments section below!