Karting is the foundation of countless Formula 1 careers. From Ayrton Senna to Max Verstappen, karting provides drivers with all the skill, tenacity and racecraft required to become professional drivers at the very top level of motorsport.
This is why it's such a shame karting has been under-represented in sim racing. Sure, we've had cutesy karting titles like Mario Kart, Diddy Kong Racing and the newest (and bluest) kid on the block Smurfs Kart, but what about the more 'serious' stuff?
Well, Automobilista 2 has an impressive range of karts and kart tracks in its content line-up, while Gran Turismo 7's kart offering is much less expansive but just as fun to use. However, for PC there are three purpose-built pieces of kart software which we are going to focus on:
KartKraft
Kart Racing Pro
KartSim for rFactor 2
These kart titles are aimed squarely at karting hobbyists and professionals, or those sim racers looking for a different kind of challenge. KartKraft and Kart Racing Pro are standalone titles, while KartSim is a DLC pack for rFactor 2.
Each kart sim offers a different take on the discipline, with its idiosyncrasies, neat features and spectacular omissions (more on those later). We take an in-depth look at the merits of each of the PC's foremost kart sims and determine which we think is the best.
KartKraft
When I reviewed KartKraft in 2022 (Autosport, 10th February 2022) it had just received its long-awaited version 1.0 release. I found the driving experience to be sublime, but the game was badly let down by a lack of content and online multiplayer.
So, nearly a year on all this must have changed, right? Wrong. Motorsport Games' KartKraft largely remains the same sim I reviewed nearly a year ago, which is bitterly disappointing.
However, in terms of looks and sounds it's undoubtedly the best of the three kart sims in my opinion. Using Unreal Engine 4 technology KartKraft provides a gritty and hyper-realistic look that immediately attracts the eye. One of my karting friends even remarked that KartKraft looked "as real as real gets". High praise indeed.
Those fancy graphics come at a price, however, as the game can be taxing on entry-level and mid-range PCs. I suffered from frequent game crashes too, which was not an issue with either Kart Racing Pro or KartSim. Seemingly, KartKraft runs worse than it did when I first tested it nearly 12 months ago – even turning the graphics sliders down results in slight framerate choppiness (whether this is true or not, I can't confirm).
KartKraft is at its best when you're speeding through medium-to-high speed corners, on the edge of losing grip completely but still nailing the apex. Braking into a turn from high speed feels wonderfully controllable too, the rear-end steps out just enough to help you line up the corner exit. It's a glorious feeling.
Unfortunately, KartKraft can feel a little too edgy at times, with a tad too much steering lock almost always resulting in a lap time-sapping bout of oversteer. It's fun but punishes errors harshly. The force feedback is strong and demands constant attention – the laser-scanned tracks feature bumps that can sometimes overwhelm the cornering forces. Don't get me wrong though, it's a ton of fun.
Luckily, you can mitigate the tetchy oversteer by moving the weight bias of the kart rearwards using KartKraft's extensive set-up options, but smooth steering inputs will always produce quicker lap times.
Speaking of set-ups, KartKraft offers handy tips on which direction to go when tinkering, making players think about their tyre pressures like never before (11psi is the optimum pressure for the X30 karts). Ideal considering many KartKraft players will be unfamiliar with karting terminology and set-up requirements – as in my case.
In terms of content, KartKraft is pretty lean. Although it features licenced karts and apparel from the likes of CRG, Deadly, Sodi, Alpinestars and Bell, it lacks a career mode. You can engage the AI in offline races and compete in online practice sessions with other players, but they simply appear as ghosts. It's a huge disappointment considering how long KarKraft has been in its v1.0 guise.
Kerb behaviour is sometimes unpredictable too. Hitting the flat kerbs around Atlanta Motorsports Park (an awesome circuit, incidentally) can cause hugely differing results; from no change in kart behaviour to a full-on flip. It's the kind of bug that should have been ironed out by now.
KartKraft is both thrilling and unfulfilling, then, in its current state.
Kart Racing Pro
Kart Racing Pro is something of an outlier in the line-up. It has no AI, no fancy graphical effects like depth of field or motion blur, and a relatively small amount of content.
However, its driving model is on a par with – or perhaps better than – KartKraft and KartSim in my opinion. It's also VR-compatible and features wet weather! (I'm looking at you KartKraft.)
What makes this remarkable is that Kart Racing Pro is developed by a one-person development team, otherwise known as PiBoSo.
Kart Racing Pro features seven karting venues in-game, with multiple track layouts also available. Circuits include Rye House Kart Raceway, Karting Genk, Zuera and the bonkers indoor Nürburgring Kartbahn, among others. The game also includes licenced karts from Lotus Racing Karts, CRG and MS KART.
The big selling point of Kart Racing Pro (KRP), however, is the availability of community-made mods, allowing players to tackle a vast number of worldwide karting locations. New karts, bodywork, race suits and engines are also available to download too, and this 'moddability' makes KRP stand out in the kart racing mini-genre.
As there's no AI, you have to go online for your racing thrills. Unfortunately, lobbies are fairly sparse, but the people you do find in there are extremely passionate about karting.
Some karters I raced against had never even tried KartSim or KartKraft, feeling that Kart Racing Pro simulated all they needed to stay sharp for their real-world racing at the weekends. Community-organised leagues are therefore the best way to enjoy racing on KRP.
Back to that rain though, wet weather is one of KRP's headline features. Although you can't set up changeable weather in the same manner as KartSim, you can determine the track's wetness at the start of the session and then adjust wind speed and ambient temperatures to decide the rate at which the track dries up.
Marbles and grass pick-up also influence grip levels, with the realism taken up a notch through the use of gestures. Yes, you can make your karting avatar throw shapes mid-race, either to convey happiness at a solid overtake or displeasure with a rival's divebombing. I stick with a simple 'thumbs up' gesture to cover all eventualities!
The gesturing doesn't stop there though, as you can also perform other realistic karting actions like head-tucking and radiator covering. These actions improve aerodynamics and maintain the kart's optimum engine temperature respectively.
Air choke – when the driver deliberately covers the air intake to make the engine mixture run fuel rich – is also simulated, but in reality, is only used to help cool older or worn engines. And all the kart set-up options you would expect to see are simulated in-game.
Notably, KartKraft and KartSim do not offer these extra layers of immersion, indicating the more hardcore approach of KRP.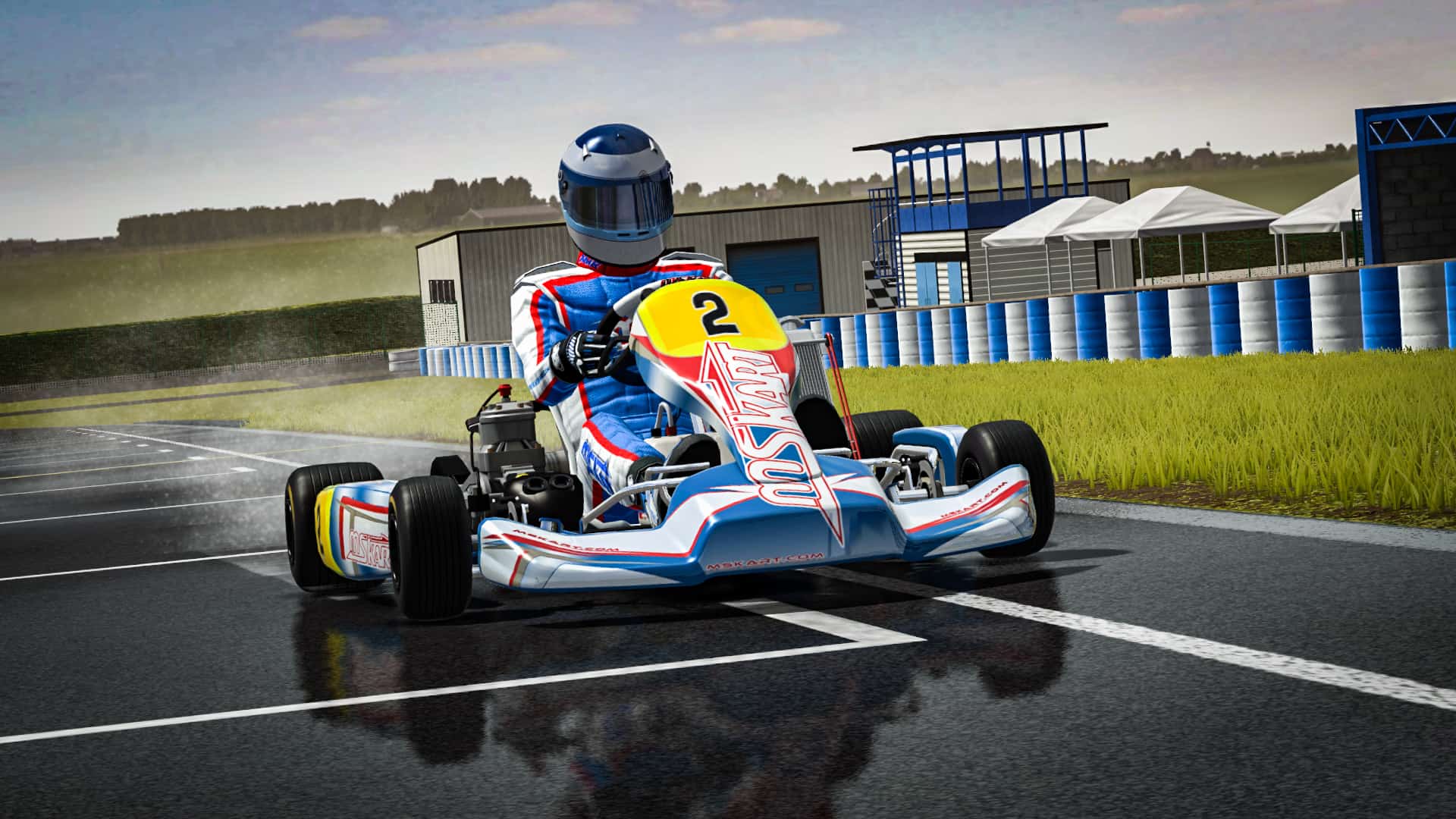 It would be remiss of me not to mention the fact that karting in KRP feels great. The steering is wonderfully direct yet poised, with feedback through my direct drive wheelbase feeling uncluttered.
The best comparison I can offer is with Reiza Studios' superlative original Autmobilista – still a benchmark for me in terms of sim racing 'feels'. While watching outboard replays of KRP in action you can clearly see chassis flex as the kart corners, causing the inside rear wheel to lift up under the strain. It's simple, but feels right in action.
One can't escape KRP's simplicity, however. Tracks are flat and featureless, reminding me of the type of modded circuits I used to download for older sims like GTR2 and rFactor. Oversteer is less easy to control than in KartKraft too, feeling much snappier in comparison. As a result, I focused on smoothing out my inputs, which meant oversteering rarely became an issue over time.
KartSim for rFactor 2
In much the same way as Brazilian developer Reiza Studios has a content pack available to purchase for rFactor 2, British karting simulator manufacturer KartSim has also made a consumer version of its karting software available for Studio 397's sim.
Purchasable as the KartSim Esports Pack in the rFactor 2 store, KartSim offers 10 tracks and five karts, pitched as being ideal for esports competitors. Various track and kart packs are available but I think the Esports Pack represents the best value.
KartSim offers a professional software package (KartSim Ultimate UK & EU 2022 Software) costing £899, which includes 37 tracks and 14 karts. It also sells full-blown custom-built karting simulators featuring full kart cockpits and all the hardware a pro karter needs to stay sharp at home.
Although the KartSim Esports Pack contains much less content than the Pro package, it still emulates classic kart venues such as Whilton Mill, Zuera and Buckmore Park.
Compared to Kart Racing Pro and KartKraft, KartSim eliminates any potential UI, graphics and physics issues by using rFactor 2's existing systems, which have improved massively over the last year.
As a result, the KartSim development team have been able to focus on the feel of its karts and LiDAR-scanned tracks. And it shows as the karts are by and large a hoot to drive. The rental karts' tyre squeal sound certainly gave me many a stag do flashback – the sound emitted when you put a wheel on the grass is awful, however.
Handling feels the grippiest of the three initially, with rFactor 2's physics engine doing a great job of simulating short-wheelbase karts. As opposed to KartKraft, snap oversteer is a lot more predictable to gather up, while backing your kart into a tight hairpin on the brakes is a beautifully intuitive feeling when you get it right.
One caveat of the handling is that the initial steering response feels extremely slow compared to both KartKraft and KRP. However, I soon learned to enter the set-up screen and change the steering ratio setting to 'Fast'. This felt much more natural to me and more in tune with KartKraft and KRP.
KartSim uses rFactor 2 as a base, you can race karts through changeable weather and against AI opponents. It's a great feature, although AI racing can be notoriously choppy depending on the rF2 track and car combo. In terms of online racing however, KartSim has quite a few servers available yet very few players online – which seems to be a common theme among all the kart sims.
It seems to be the harsh reality of this niche within a niche that racing online in big grids requires either gathering together a few like-minded friends or necessitates joining a league. Easier said than done, mind.
I found the driving to be less rewarding in KartSim, though. In some ways, the karts are almost too forgiving in their handling characteristics and seem to ride kerbs extremely well. It's enjoyable, just not quite as visceral as KartKraft in my view.
Karting sims in VR
Virtual Reality and karting are a match made in heaven. Being able to see everything going on around you is a real boon, and in the case of KRP a real necessity considering how slow the 'look behind' function operates.
Sitting so low in the kart creates an awesome sensation of speed and truly immerses one in the moment. So how do our main protagonists fare in the VR stakes?
Well, in the case of KartSim and KartKraft, graphics settings will need to be turned down quite a bit to get the smoothest experience – more so in the case of KartKraft. I'd been running in glorious 4K with most effects turned up to 11 with my single-screen setup, so required a degree of pragmatism to secure decent performance from my Meta Quest 2 headset.
It's worth the faff, though, as playing a kart sim in VR is by far the most entertaining option.
Thanks to its simplistic graphics, however, KRP offers the fewest VR compromises relative to its single-screen performance, making it the smoothest kart sim to play on a headset.
The best karting sim on PC
All three karting titles provide immersive karting experiences overall, but each game has its good and bad points. KartKraft looks the prettiest in my opinion but suffers from knife-edge handling and a lack of features and content. I think lacking a proper multiplayer mode is very poor so long after its v1.0 release too.
Kart Racing Pro is also comparatively light on content but does at least have a passionate mod-making community supplying new tracks and karts for the sim. Its wet weather, set-up options and forgiving handling make it a joy to play, but there's no AI to race against offline. Oversteer feels a little odd too, but the sim does at least promote a smoother driving style (which suits my own style better, I felt).
KartSim uses rFactor 2 as a basis, so it already has changeable weather, track evolution and AI to race against. And thanks to rFactor 2's Steam Workshop more tracks can be added on top of the ten included in its base Esports Pack – I'd obviously love to try KartSim's Ultimate UK & EU 2022 Software pack too, but I can't quite justify the £899 outlay personally. rFactor 2 also has a ton of other mods available, in a similar vein to KRP.
So which is the best? Well, what I will say is that I spent many hours with all three titles and had a blast with each, so deciding a clear winner is tough. For visceral karting thrills, I believe KartKraft still hits the highest peaks but has too many flaws to be considered the best overall package.
Thanks to rFactor 2, KartSim has all the features required to make it the go-to kart simulator but the driving experience left me wanting more.
Kart Racing Pro appealed to me thanks to its hardcore approach but is a generation behind its two competitors in terms of technology. I enjoyed the way the karts moved around, however – karts felt slidey and controllable and I found myself spending way too much time lapping by myself. It's a sterling effort from PiBoSo.
Its realistic touches – moving a virtual hand out to cover the radiator or air intake, ducking a head to increase speed and even telemetry output – make Kart Racing Pro the hardcore kart enthusiasts' sim of choice. If only updates could happen on a more regular basis…
If I had to choose, I'd pick Kart Racing Pro as my favourite, purely based on the amount of fun I had exploring the limits of its karts. It's a close one though, as KartKraft is very entertaining with the right track and kart combination,
I believe KartKraft possesses huge potential but requires more development time and content to unlock it. Conversely, KartSim ticked a lot of boxes, but the ultimate driving feel didn't grab me as much as its competitors. In reality, however, any of the three are solid options. Just bear in mind some of the caveats above.
Which of the three karting sims is your favourite, and why? Let us know in the comments below.
Full disclosure – Traxion.GG is part of Motorsport Games and the Motorsport Games family of brands. All Traxion.GG content is editorially removed from Motorsport Games video game development and created by a dedicated team.