The Le Mans Virtual Cup and Le Mans Virtual Series visit the Nürburgring Nordschleife this weekend, live on Traxion.GG, and as an appetiser for this meaty full-course (full-course yellow?) of multi-class action, we've collated a few fun facts you may – or may not – already know about the fabled Green Hell.
If you break it, you pay for it
It's a little-known fact but pranging your pride and joy into the Nordschleife barriers might be the least of your financial worries. Why? Well, who pays for the damaged barriers? The track? The German government? Toto Wolff?
That's right, if you dare to damage the barriers with your car, you'll have to fork out €60.69 per metre for replacements, plus a call-out charge of €150 for the guys to fix them, and if you take out any of the supporting batons behind you'd better warm up your credit card, as they cost €79.19 each. A 30-minute visit from the safety car is also going to cost you a whopping €82. Add all that up and you could potentially face a bill of thousands of Euros. Oh, plus you need to add VAT at 19%.
And a recovery truck at around €300.
Then there's the damage to your car.
And pride.
Ouch.
The (dire) Need for Speed
Trying to max out your Citroen 2CV on the Döttinger Höhe Straight? Want to take your Gee Wiz for a white-knuckle ride through Flugplatz? Well, it might not be a great idea, as your vehicle must be able to reach (and presumably maintain) a minimum speed of 60 km/h. Not a problem for almost every modern-day car, but worth bearing in mind if your BMW M2 Competition is stuck in 1st gear.
Rules are rules/rules are there to be broken
You must obey German traffic laws when driving the Nordschleife, so that means you drive on the right and overtake on the left. You must comply with the German Road Traffic Act, and German Road Traffic Licensing Regulations, and if you're arriving from the UK you'll also need to carry proof of insurance… and bear in mind most insurance policies will have a track day/Nürburgring clause built-in, so make sure to double-check this before you travel!
Oh, and much like Germany's autobahns, there's no maximum speed limit…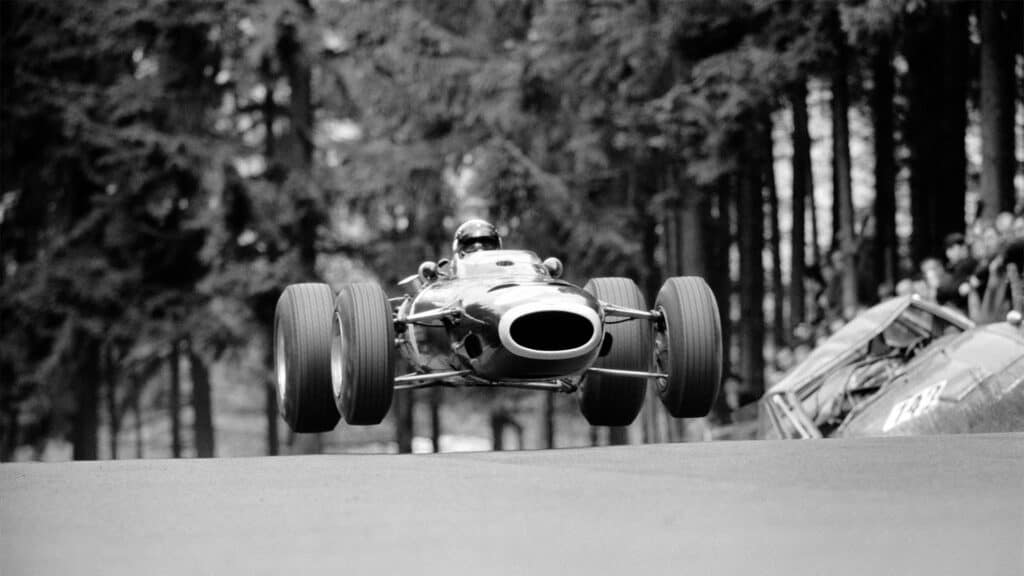 There's no speed limit, except for the speed limit
Now I know I said there's no maximum speed limit around the Nordschleife, but that wasn't quite true. I know, FAKE NEWS and all that, but speed limits are a thing around the Nordschleife. This one is fairly obvious, but around an incident site, you must keep your speed below 50 km/h or face a driving ban. Quite how they enforce this I don't know, but safety first!
Historically, there's been a few speed limits introduced on certain sections of the track, and in 2015 it was set to 200 km/h between Hocheichen and Schwedenkreuz, and 250 km/h on the Döttinger straight, in response to a tragic incident the same year. Interestingly, these speed limits were in place for the Nordschleife's normal VLN racing series, but only really affected a few of the top teams. After all, 124 mph and 155 mph is quite fast…
The limits were subsequently lifted after safety improvements, but like any normal German public road, there's always the possibility of roadworks and other restrictions, so track day enthusiasts need to be aware of any displayed speed limit signs.
It takes its toll…
We all know the Nordschleife is a toll road, right? Well, how much does it cost? Well, a single lap from Monday through Thursday will cost you €25, rising to €30 for public holidays and Friday – Sundays. A season card for unlimited laps is €2200 per year.
It sounds expensive, but in real terms, it's comparable to your average track day in the UK. For example, my local circuit Knockhill offers a track day for £190 for 7 hours of running, but at somewhere like Silverstone GP, the costs tend to be closer to £300.
Realistically, you'll be running your car for a few laps, cooling it down in the pits for a while, then heading out again for a short blast, so it won't be non-stop driving all day. So, for around 90-120 minutes on the Nordschleife, you could buy a track day at one of the UK's premier circuits, which in reality works out to a fairly similar bang-for-buck ratio.
But hopefully, you don't end up causing too many bangs and don't lose any bucks to repair bills.
Time is not on your side
Want to set a PB fastest lap on the Nordschleife? Well, unless you're a professional racing driver forget about it, as all timekeeping devices are banned. This is presumably to discourage amateur drivers from pushing themselves to the limit, increasing the chances of a big-off.
Officials are allowed to prevent any car from starting a lap or even issue a driving ban in the event of non-compliance. Obviously, no one would dare start the stopwatch on their iPhone as they are released onto the track. Definitely not. Ahem.
Double-booked
You know how you're all set to play five-a-side with your mates, you turn up to the sports hall and there's already a bunch of lean-looking 20-something footballers running around barely breaking a sweat, wearing fancy white boots and shouting insightful tactical instructions to each other?
Well, that's what your average track-day driver must feel like when they rock up to the Nordschleife and find out they can't get on track as Porsche is testing their new 911 with pro drivers behind the wheel.
That's right, for at least 16 weeks of the year, manufacturers pool their funds together to hire out the track for vehicle testing, so we have the Nordschleife to thank for creating a generation of hard-riding, stiffly-sprung, hot-hatches completely unsuitable for UK roads. Cheers, Nurbs!
Lap records
A lap record attempt can only be done on a closed track or race day, and there's normally controversy associated with the specification under which cars perform their runs. However, without delving too deeply into this, the fastest production car lap time of the Nordschleife was set by a Porsche 911 GT2 RS driven by factory test driver Lars Kern in June 2021.
The fastest racecar record was set by another Porsche – a Porsche 956C group C monster – driven by Stefan Bellof way back in 1983. This stood until 2018 when Porsche again set another benchmark – destroying the previous record by over a minute in the absolutely insane 919 Hybrid Evo, driven by Timo Bernhard.
13 miles in 5m19.546s? Now, that's fast. And YouTube user 'Beemz' can vouch for its accuracy:
No Nordschleife = no buy
One final fun fact about the Nürburgring Nordschleife is that it's definitely going to appear in Assetto Corsa Competizione very soon…
Now you are up to speed with the venerated venue, watch 21 LMP and 17 GTE cars battle their way around the Pflanzgarten, Karussell and Wippermann later this week, with the Le Mans Virtual Cup and LMVS qualifying live on Traxion.GG, Friday 12th November, with the broadcast starting at 6 pm GMT. This is followed by the main Le Mans Virtual Series race, 8 Hours of Nürburgring, Saturday 13th November from 12:30 pm GMT.
Image source: Motorsport Images