We've known for some time that Braking Point is a new narrative-led mode within F1 2021. We also knew that F1 2019 antagonist Devon Butler will be returning alongside a new cast and current F1 drivers.
But now we know the five main fictional characters and what they each represent within the story, that you will become part of next month, thanks to some new images.
Devon Butler
Yes, we know this. You love to hate him. He' back and if you aren't already in the loop, we have an article for that.
We still don't know quite how his progression from F2 in 2019 to the upper echelons will be handled, but we do know that he'll be "a cocky, loud-mouthed upstart trying to make a name for himself."
He hasn't changed much, then.
Casper 'Cas' Akkerman
In the initial F1 2021 game teaser trailer you can hear commentator David Croft shout Akkerman's name. Pictured above, he's the elder statesman of F1, following an illustrious career with a drive in the midfield and trying to keep up with the young upstarts.
He's described as 'ice-cold' – does that remind you of a certain Finish F1 star who may be in the latter years of his career? Or is that just me?
Zoe Akkerman
Zoe is Cas' wife – hardworking, determined and trying to balance support for her husband and parenthood. It's said that she "is the only person who knows the demons Casper faces competing against the next generation of drivers bursting onto the scene."
Little has been shown of Zoe's involvement so far, so we're eager to find out what role she plays in this story that sprawls across three seasons of racing.
Brian Doyle
Brain has been seen in at least one trailer for F1 2021 already, but it's not until know do we know his name and role.
He acts as a go-between, liaising between drivers, team members and the team principal. We suspect he'll have a lot on his place and take the brunt for when things don't go according to plan…
Aiden Jackson
This is the driver who has just progressed from Formula 2 and into the top-tier. On the outside, he's destined for stardom, but behind the scenes, he's struggling with trying to keep apace of the F1 world.
He's also the teammate to Casper 'Cas' Akkerman, so the dynamic between the two drivers – one young and promising, the other older and near the end of their career – will be fascinating.
Also revealed today was a movie-style poster for the mode – very flash.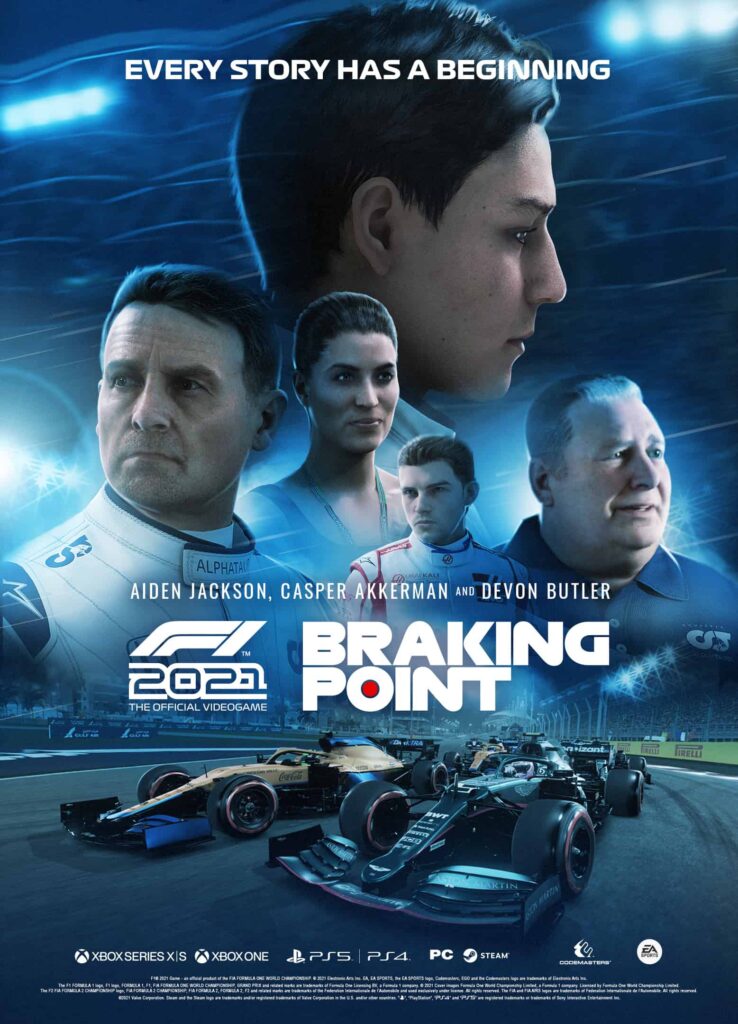 Braking Point will take place across F1 2019, F1 2020 and F1 2021 seasons, with a mixture of gameplay and cutscenes. You will get to select from five F1 teams across the journey: Racing Point/Aston Martin, Alpha Tauri, Alfa Romeo, Haas or Williams.
The game is released on the 16th July 2021, or on the 13th for the digital Deluxe Edition, for PS4, PS5, PC, Xbox One and Xbox Series. We'll have all the details as we approach the launch.