By: Ross McGregor, John Munro, Thomas Harrison-Lord, Rich Hutson and Oasley Beattie
There isn't a bigger racing game right now than Gran Turismo 7, and we mean that both literally and figuratively.
Not only is it popular – topping recent sales charts and dominating social media – but the scope is ginormous.
It's not a racing game to judge purely on the number of tracks, but instead, the intricately paced single-player experience will guide you through a cacophony of car culture and race strategy.
There's more to Gran Turismo 7 than it initially seems, a lot more. With that in mind, here are our tips and tricks to help you maximize your time with Polyphony Digital's latest and greatest.
Be sure to comment below with your tips or details you've spotted in Gran Turismo 7 too to help the community.
Unlocking cars, tracks and game progression
We're going to start with how you obtain vehicles. This sounds obvious, but it's not straightforward in Gran Turismo 7. Simply being able to access all cars from the start simply isn't possible, but it's also the primary appeal.
Café menu books
The quickest way to gain vehicles is by completing Café menu books. Most races here will net you a new car, for free, simply by completing races. Don't forget, you don't need to win, just finish in the top three.
Each menu is themed. You may only receive three slow compact cars to begin with, but this soon ramps up.
If you've started Gran Turismo 7, you probably already know this, but…
You don't need to always race Café events to progress
If you already own one, or two cars from a Café menu book, then you'll only need to complete the race for the one missing car to progress to the next list.
If you're feeling flush, you could simply buy the car instead of finishing in the race's top three. We don't recommend that, because you're missing out on some fun racing, but it's an option.
The events will always stay there in World Circuits even if you already own the related car, so completionists can go back and get all golds at a later date.
Brand Central
Think of Brand Central as a new car supermarket. All vehicles here come with a showroom gloss and an extended warranty – probably.
For those who don't know, all cars in here are from 2001 or later, so any classic race cars are absent. It is, however, where you go to purchase the latest supercars, Vision Gran Turismo concepts and contemporary racing vehicles.
We have a full list of what's included, which runs through which are Invitational, prices and PP.
Invitational cars
Some swanky automobiles, such as the Aston Martin Vulcan or Porsche Carrera GT cannot be purchased from Brand Central without an invite, even if you have the cash.
This is mimicking the real world, where even if you're rich, you must be chosen to buy some of the most exclusive cars.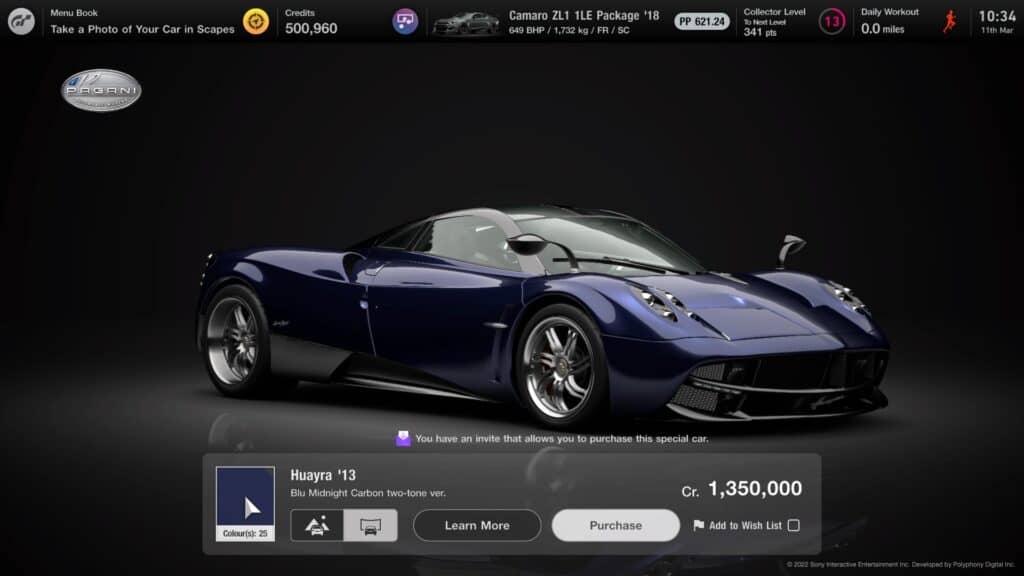 Early in the game, you will receive one invite to buy a random exclusive car simply by progressing through the Café but the rest of the invites you must earn on a Roulette via a four-star or higher ticket. More on those, later.
Fair warning, the invites expire after a set date, so you lose the chance to buy if you don't act quickly.
Used car dealership
Used cars are cheaper than new cars, just as in the real world. So, a cost-effective way of picking up a Nissan GT-R, for example, is purchasing here instead of Brand Central.
However, a used car may need a chassis rigidity refresh and an oil change, for maximum performance, both of which are available at GT Auto for a low cost.
There are only around 17 cars available here at any one time, and the stocklist changes each day based on real-world timing, so keep checking back for new additions and if you want to collect all cars.
If you see a car say 'Limited Stock' that means it's about to disappear from the Used Car dealership, so you best be quick if it's something you desire. If the little book icon is blue, you already own that car.
Legend cars pavilion
Here you will find just five rare, exclusive cars, all for premium prices. You won't find these cropping up in the Brand Central with the plebeian cars, oh no.
Once again, the stock here changes every day, so if you're after than elusive McLaren F1 GTR, you best keep checking back and saving up funds in the meantime.
This dealership has a sponsor, Hagerty – a collector-car insurance provider and automotive media company. A Limited Stock warning means something is about to disappear, and a blue or red arrow next to the car's price is a change in value based upon Hagerty's real-world price valuations.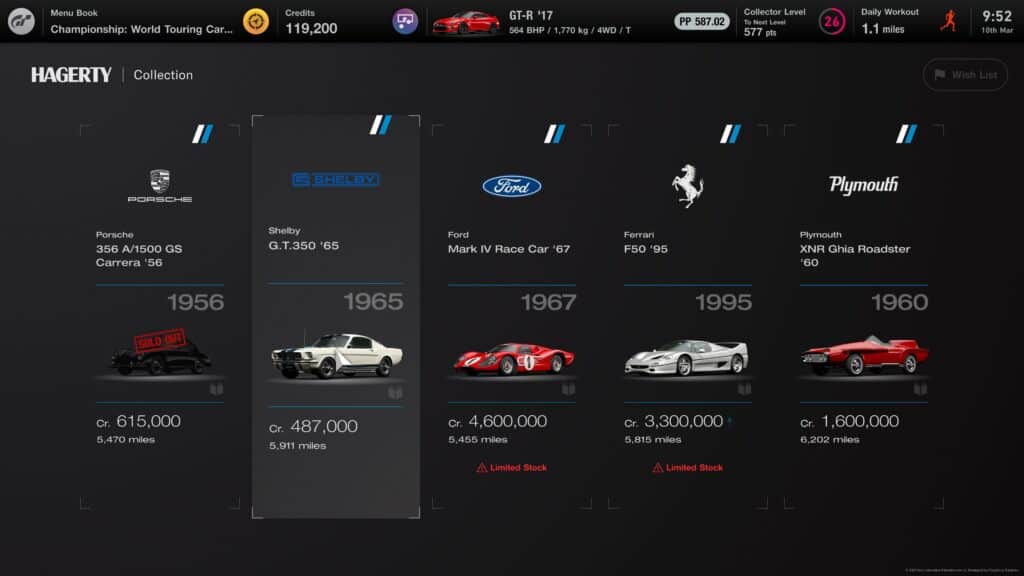 So far, of note, cars that were 20,000,000 Credits in GT Sport are now significantly more affordable. For example, at the time of creating this video, a Ford Mark IV Race Car '67 is a bargain 4,6000,000 credits with just 5,455 miles on the clock within Gran Turismo 7.
Collector Levels and the Car Collection
Each car you acquire earns you XP through the form of Collector Points. This is the main 'XP level' in Gran Turismo 7, with the ultimate goal to be collect all the cars.
Rarer, more expensive cars, deliver more XP. This applies via any form of purchase, so either winning a car or buying one.
Rising through the early Collection Levels unlock free driving gear – expect racing suits and helmets.
It's also how you unlock new sets of Missions, unique challenges located within their own pavilion. Reaching Collector Level 19 will unlock all six blocks.
Each time you earn or buy a new car to you, a new part of the Car Collection, located within your Garage, will unlock. The greyed-out silhouette will turn into a colourful car, selecting one will provide you with detailed information about the vehicle.
Do those daily miles
Simply driving in any game mode more than 26.219 miles, the length of a marathon, each day will complete a Daily Workout. For this, you will receive a Roulette Ticket.
Activate the ticket and you will receive a prize. It could be in-game currency, it could be a tuning part or even a whole car.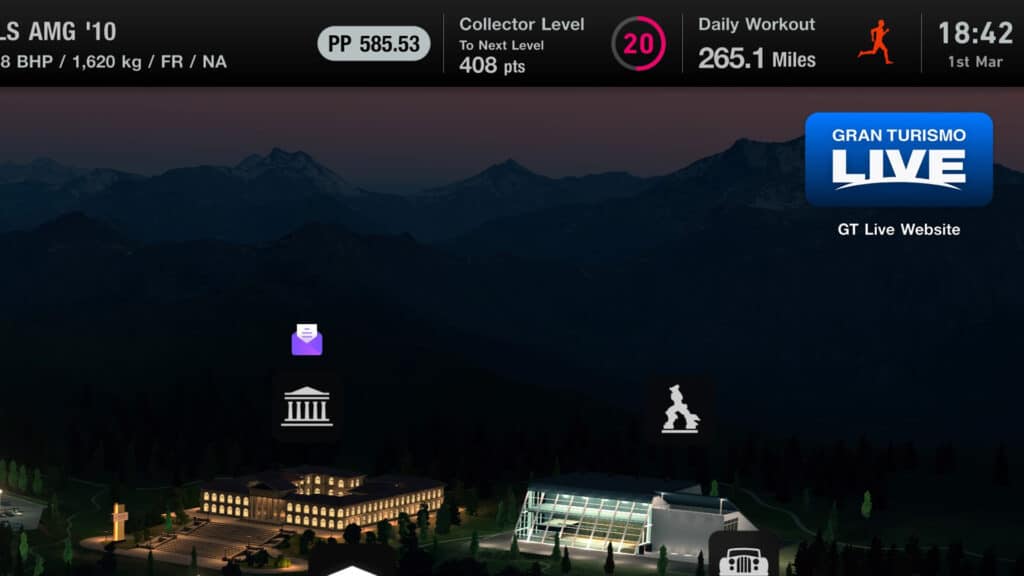 These have a star rating, with six being the max. A six-star ticket earned us 500,000 credits, where a two-star provided just 5,000, for example. It's pot luck which level of ticket you receive for a Daily Workout, but it's always worth booting the game and driving at least something to receive one.
You don't have to use them immediately, but we recommend you do. Unlock them in your Garage area.
You'll get a taste for these Roulette tickets by completing the Café menu books too, as some are prizes, and here they escalate up in star-rating based on the difficulty of each challenge.
Multiplayer needs to be unlocked
If you've just started playing Gran Turismo 7 and are looking for split-screen races or online competition, you won't find it.
That's because multiplayer needs to be unlocked.
It will appear after completing Café menu book No.9 – the Tokyo Highway Parade championship in the top three overall.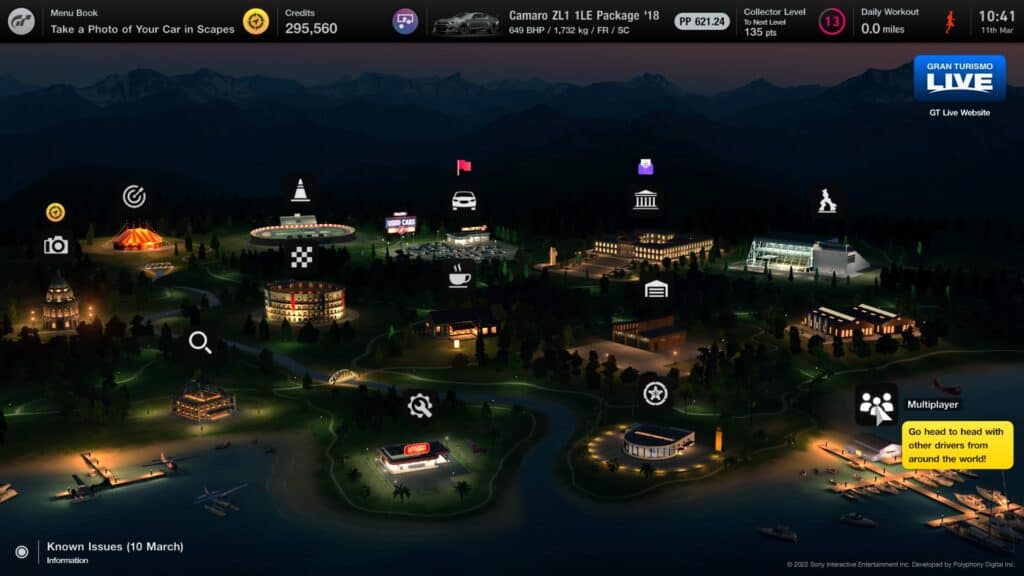 Then the 'Multiplayer' pavilion on the World Map will appear containing two-player split-screen and online lobbies. A separate pavilion for Sport Mode, the competitive online section, will also unlock at this point.
Don't sleep on the Circuit Experience challenges
You'll come across one of these in the Café menu books – No.24 specifically – but don't forget to use them independently.
If you're struggling with a certain track, or are in need of more cash, visit the World Circuits area. Select any track location and there will be a 'Circuit Experience' option.
Here you will drive a set, borrowed, car around sectors of a track against the clock. Beat target times to earn cash, and also learn the venue. Once the sectors are complete, you're ready to complete a '1 Lap Attack', completing it will earn an additional stack of credits.
Some are simply a fun way of experiencing new vehicles, such as the Radical SR3 SL at Brand Hatch or the Gr.1 Audi R18 TDI '11 around Sardegna. Earning all-gold here is tough too, so if you thought the Licences were easy, try these.
Drive clean, get rewarded
For any race you do, in single-player or online multiplayer, if you stay on the track and don't ram into opponents you will receive a Clean Race Bonus that adds an extra 50 per cent on top of your winnings.
This encourages you to not run into walls, cut corners or use rivals as berms as it affects your wallet and that might mean you may not be able to afford some phat rims.
Completing all Café menu books unlocks the 'end game'
Speaking of Café books…
A mild spoiler warning here, so skip ahead to the next but one point if you're averse to knowing how many Café menu books there are in the game.
To unlock the credits, and therefore the 'Finale' Trophy, play through the Café events, completing No.39 the World GT Series Championship. Finish in the top three overall of this Gr.3 car series, and the 'end' unlocks.
Of course, going back to the Mission events, achieving gold in the licence tests, progressing through Track Experience challenges and finishing all the World Circuits events mean that there's still plenty to do.
The Café is also how you unlock all tracks in the game
As you start the game, you may notice that you cannot see and use all tracks immediately. These are unlocked, and once again, playing the Café menu books is how you do so.
There are 34 locations in total, with most offering multiple layout options and variations.
The last track to unlock with be Circuit de la Sarthe by completing Café menu book No. 38 – finishing the Ferrari-related races.
Car setup and tuning advice
It's all about that PP
Performance Points, or PP, govern event entry requirements in Gran Turismo 7, in both single-player and online multiplayer.
PP takes into account several car parameters to determine its overall lap time potential and therefore acts as a balancing measure. A 300 PP car will be considerably slower than one with 627.24 PP, for example.
Parameters such as engine power, tyre choice, gear ratios and downforce levels are all factored into this number, so you'll need to visit the Tuning Shop to either pump up your car's numbers, or the Car Settings screen to tweak settings and reduce the PP level – depending on event demands.
Reducing PP with car settings
Being able to reduce your car's PP level isn't a given. A quick visit to the Tuning Shop will allow you to purchase parts that in turn can be used to tweak certain parameters.
The three items that can help 'down tune' a car to hit a set PP level are a Power Restrictor, Ballast and Fully Customisable Computer.
The first two are pretty self-explanatory. One lowers the engine's power output, the other adds weight to the car. But crucially, it unlocks the 'Performance Adjustment' part of the car settings sheet so you can move to the appropriate levels and hit a PP target.
The Fully Customisable Computer by default will extract more power from your engine and unlock the ECU Output Adjustment section in the settings, a second way of reducing engine output.
A further way of reducing PP is by playing with gear ratios – although this is only applicable if you own a racing car or purchase the expensive 'Fully Customisable Racing Transmission'.
Don't forget aerodynamics
In GT Auto, you can add natty items such as front splitters and rear wings. Not only do these appendages enhance – or reduce, depending on your preference – the vehicle styling, but they unlock the ability to adjust downforce levels in the car settings sheet.
Simply adding a part won't increase your downforce to the maximum levels, so visit the settings to increase their effectiveness.
Of course, these also alter the PP level.
Measure your car tuning changes to see PP changes
Picture the scene. There's a race with a 400 Performance Points entry limit. Your favourite Ford Focus is 420pp, so you visit the Detailed Car Settings option and pull up the settings sheet.
You start tweaking downforce levels, gear ratios and power levels, except, at first, it's not so clear if your changes are altering the PP value.
This is because the PP level doesn't change automatically in line with your adjustments. Mildly irritating, but there is a workaround. Simply hit the Triangle button after making some changes and then the game will re-measure your PP.
If you didn't get the desired number, play with the settings further and keep pressing Triangle to see the updated value. You can also use L1 and R1 to tab through historical changes for comparison.
Opening a new settings sheet will remove all modified parts
If you've lost track of the performance-enhancing parts you've added your vehicles but you'd like to start over, perhaps to help lower the PP of a vehicle or experiment with new parts, opening a new sheet within the car settings screen will then reset all modifications.
You can then go back and forth between sheet pages to compare and contrast which parts or setup options deliver the correct quantities of speed.
To open a new sheet, simply scroll to the top of the Car Settings menu, hit Cross on the three dots next to 'Edit Settings Sheet' and select 'Add Sheet'.
Don't add power, upgrade a car's handling and braking first
In the real world, most road cars can perform admirably on a track, but if you really want to push them, upgraded parts are necessary. Apply that same logic in Gran Turismo 7.
A Ford Focus ST may be an excellent road car, but for track work, at the very least some sticky rubber and brake pads are required. Therefore in the game, it's important to look at these first before adding any further power with ginormous turbochargers or a nitrous kit.
Unless that is, you enjoy understeering into the nearest wall…
Similarly, dedicated race cars already have the requisite suspension and brake modifications installed, so you only need to think about track-specific gear ratios and tyre compounds to be competitive.
You can fit anti-lag systems to some turbocharged vehicles, and it rules
When you have a highly tuned turbocharged engine, it can create what is known as lag. A turbo can take time to spool up, and in that period your car may be lacking in performance.
A racing workaround was the invention of the anti-lag system or ALS. It adds additional fuel, and sometimes air, into the mix alongside delaying ignition timing to help keep your motor at peak levels.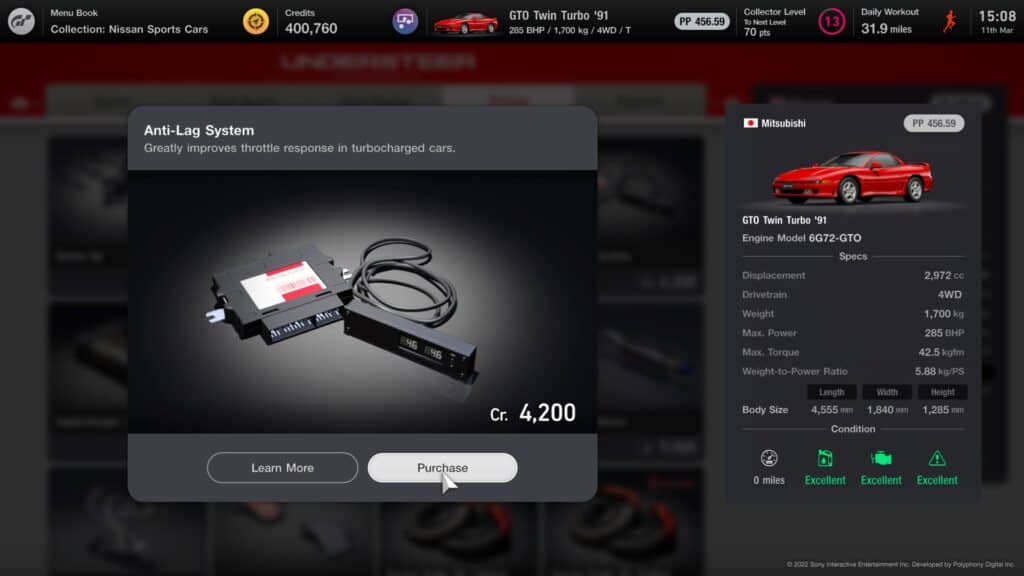 You can add these to certain vehicles within Gran Turismo 7, such as the Toyota Supras, Subaru Imprezas and Nissan GT-Rs. Available as a part within the Tuning Shop, it's not activated by default.
You'll then need to visit your favourite Car Settings page and enable the ALS. But, once working, you will hear a barrage of pops and bangs, plus even blue flames, from your exhaust. How very Barnsley Tesco car park…
Driving advice
Select your race difficulty level
Aha, hidden away in the menu – select the GT Menu at the top left of the game at any time when not in a race, then Options followed by Race Difficulty – you can choose from three 'pepper' levels.
This will affect the difficulty levels when playing through the single-player Café challenges.
At present, two peppers, or chillies, is the 'Hard' setting, with 'Normal' and 'Easy' also available. This doesn't change any price money or Collector Level XP; it simply means the AI will drive quicker.
Using a gamepad
The Countersteering Assistance driving aid is set to 'Strong' by default and tends to lead to overcompensation when correcting slides. Switch to 'Weak' or 'Off' to ensure a bit more control if you're a veteran Gran Turismo player using a controller and not a wheel.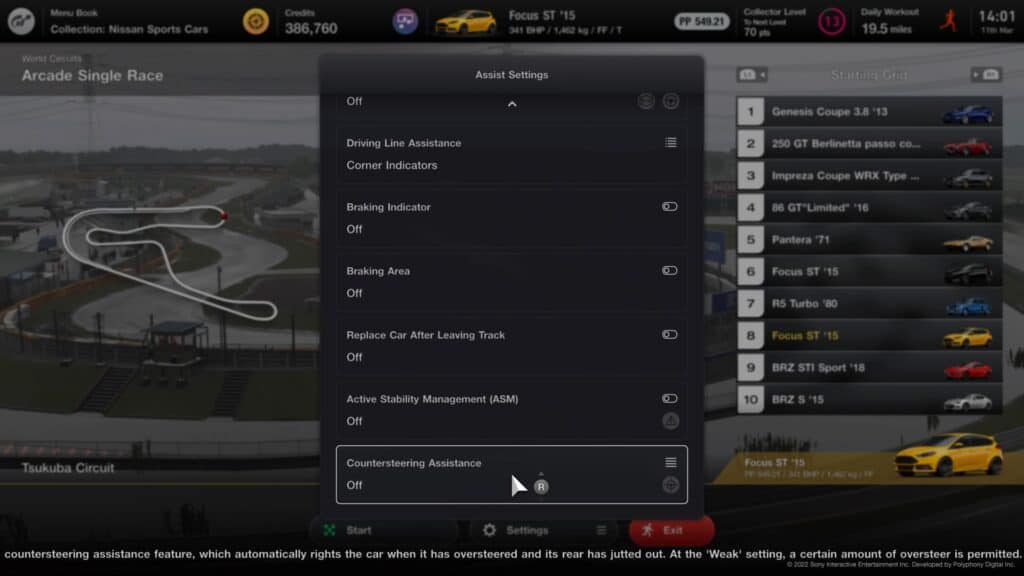 Setting Controller Steering Sensitivity to a higher number will speed up the responsiveness of your car's steering rack, making it easier to catch slides while using a controller. The default setting is zero and increasing this to one or two makes manoeuvring high-downforce mid-engine cars much easier.
If you're on a controller and struggling with the International A-5 licence test with the Nissan R92CP at Circuit de la Sarthe, then tweak this. It makes the world of difference.
The water indicator
Towards the left of the in-race heads-up display, you will notice a water-level indicator. During the majority of your playthrough, this may seem completely superfluous.
But this is a trick bit of kit. When you're in a race that starts wet and then dries out, it's imperative that you stay on the dry part of the track. This indicator will show if you're driving on damper parts of the track, and therefore potentially losing grip, in real-time.
When driving in changeable conditions, keep an eye on this too to decide when to swap from Wet or Intermediate tyres onto slicks as it will provide you with an overall indication of dampness.
You don't always need wet tyres
Speaking of moisture, if it starts to rain and you are on slick tyres – Racing Hard, Medium or Soft – then you are screwed.
Really, it's over, pit for Wets immediately.
But, if you're driving a road car with either Comfort or Sport tyres, they have tread, and you can manage. Clever, because in the real world road-based tyres can still disperse water.
You'll still need to elongate your braking zones and be lighter than a shuttlecock on the throttle, but you won't necessarily need to buy or pit for rain-specific rubber.
How to get Gold in all licence tests
This is not easy but forget going to YouTube or Google for a guide. This is all, quite literally, in the game already.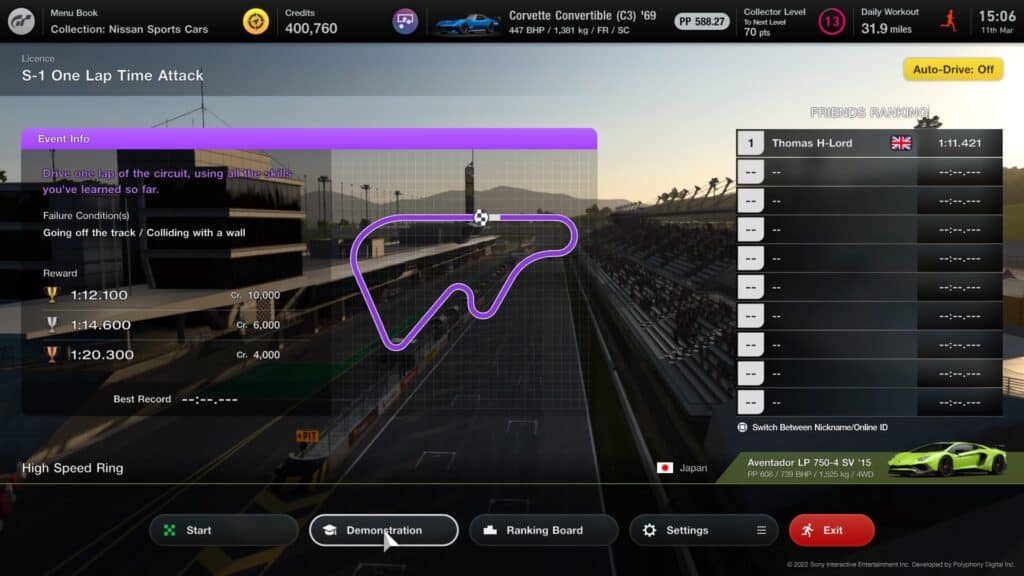 In the Licence Centre, simply load up any of the tests and next to the 'Start' option is ''Demonstration'.
This will show you a Gold-level performance. You can cycle through the different camera angles, pause, or rewind in 10-second intervals. Thank you, Kaz.