Daily Workouts have proved to be a welcome feature in Gran Turismo titles of late, providing players with rewards if they play the game every day.
Initially introduced in 2017's Gran Turismo Sport, Daily Workouts continue in Gran Turismo 7 with a few subtle changes. In the following, we aim to briefly explain the ins and outs of how Daily Workouts function, and how the new Roulette Ticket rewards system works in GT7.
What is the Daily Workout?
The Daily Workout in Gran Turismo 7 is a method whereby you can receive in-game prizes by completing 26.219 miles of driving every day. The mileage can include Café Menu races, Time Trials, Circuit Experiences, Driving Missions, Online Lobbies, Sport Mode or even Licence Tests.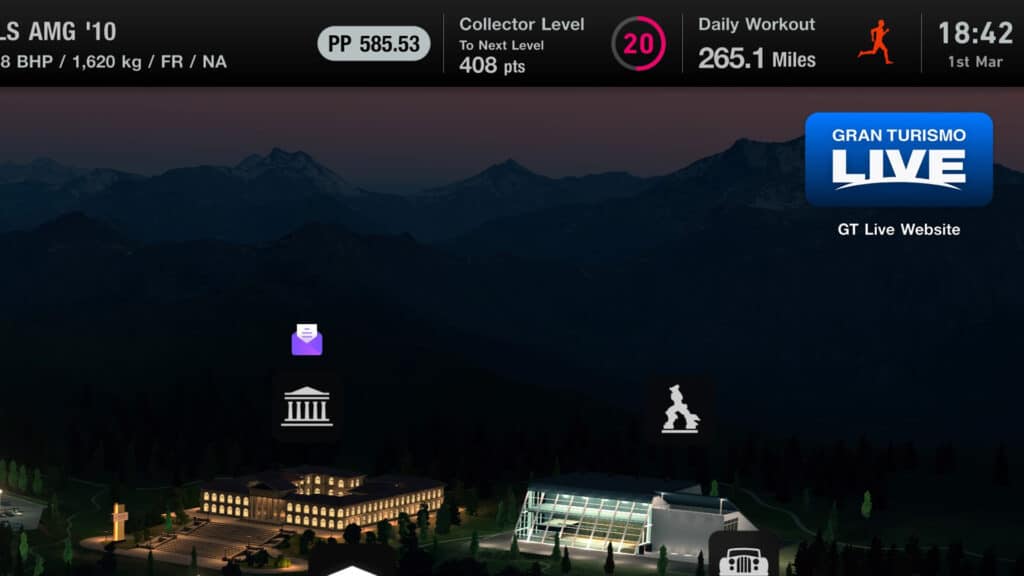 The distance of 26.219 miles refers to the length of an official Olympic Marathon course, equating to 42.195km, or 26 miles and 385 yards, hence why the Daily Workout is also referred to as the Daily Marathon, or simply Marathon.
You can check your status at the top right of the main World Map. In addition, after completing an event, the game will show you your current progress.
Completing a Daily Workout rewards the player with a Roulette Ticket, the distance tracker resets at midnight in every Gran Turismo 7 player's time zone, so make sure you rack up those miles before 23:59 PM!
How does the Roulette Ticket system work?
Roulette Tickets are classed in a Six Star system. One star provides the least valuable prizes, while a Six Star Ticket supplies the most valuable rewards. Prizes can be anything from Credits, cars, invitations to purchase rare cars or car parts.
The winning prize is randomised each time, and so is the level of Roulette Ticket received from completing a Daily Workout.
How to redeem a roulette ticket?
Your Roulette Tickets can be redeemed in the Garage area under the Gifts section. They don't have to be redeemed immediately, but generally, you only get a month before they expire, so it makes sense to redeem them as soon as possible.
To redeem your Roulette Tickets, go to the Garage area, then Gifts, press Cross. There you will see a list of Roulette Tickets ready to be redeemed. Press Cross to claim your prize and an animation will play showing the prizes available, before settling on your randomly selected reward.
You can win car parts – even for cars you do not own – and these will be stored in the player's Garage area under the Tuning Parts menu.
You can also earn Roulette Tickets by playing through Menu Books in the Café. The more Menu Books you complete, the greater the Roulette Ticket Star Rating and the greater the potential rewards. These are in addition to the Daily Workout Roulette Tickets.
Roulette Ticket prize examples
In terms of Credits pay-outs, a One Star ticket offers a maximum of 5,000 Credits, while a Six Star ticket can result in a reward up to 500,000 Credits.
A ticket worth Four Stars and above can result in an Invitation to purchase one of the rarest cars in the game, such as the Pagani Huayra. Roulette Tickets below Four Stars will not produce Invitations as prizes.
We've collated a handy list of all Brand Central cars – including the Invitational cars.
Car parts won via a Roulette Ticket are stored within the Garage, in the Tuning Parts menu.