TT Isle of Man: Ride on the Edge 3 is a brutally realistic take on the infamous Isle of Man TT road race event. With powerful 1000cc Superbikes and 200mph top speeds, it's vital to get on top of the game's set-up options so you can get the best from yourself and your bike.
Thanks to the Snaefell Mountain Course's bumpy, uneven surface (it's made up of public roads, after all), finding the right set-up can be the difference between Senior TT glory and face-planting into the pool table at The Creg-Ny-Baa pub.
Check out our set-up guide for TT Isle of Man: Ride on the Edge 3 below.
Fuel
Altering your fuel load is the single biggest set-up change you can make in TT Isle of Man: Ride on the Edge 3. Although your fuel tank can't be upgraded, you can improve your bike's fuel efficiency by upgrading its engine (see our upgrade guide for more details).
Superbikes have a 16.5l fuel tank while Supersports have a 17l capacity; you can manually adjust the amount of fuel for both. Less fuel equals less weight (17l of race fuel is around 12.5kg, after all), so your bike will accelerate faster, have shorter braking distances and be much nimbler through the corners.
Just make sure you have enough gas in the tank to finish…
Tyre pressures
You can alter tyre pressures in-game too, changing both wet and dry tyre starting pressures for both Supersport and Superbike categories.
Unfortunately, TT Isle of Man: Ride on the Edge 3 doesn't tell you what the optimum tyre pressure is for dry and wet conditions, or give you a real-time readout of the pressures during a race, so it's a setting that is difficult to judge.
Luckily, however, the range of tyre pressure adjustment is quite low, with front tyre pressures ranging from 1.9 – 2.3 bar in the dry and rear pressures from 1.5 – 1.9 bar. In the wet, front tyre pressure range from 1.9 – 2.3 bar, while the rear is 1.7 – 2.1 bar.
As a general rule, tyres inflated close to the maximum allowed levels will make the bike feel livelier while also being more skittish over bumps. Pressures at the lower end of the scale will make your bike feel sluggish and less responsive but should be less lairy over bumps with better grip (as more of the tyre's surface will be in touch with the road).
Higher pressures should also work best in high-speed corners, so conversely lower pressures will work best through tighter corners. As a rule of thumb, if your bike is too oversteery, lower its tyre pressures by a click and see if that helps.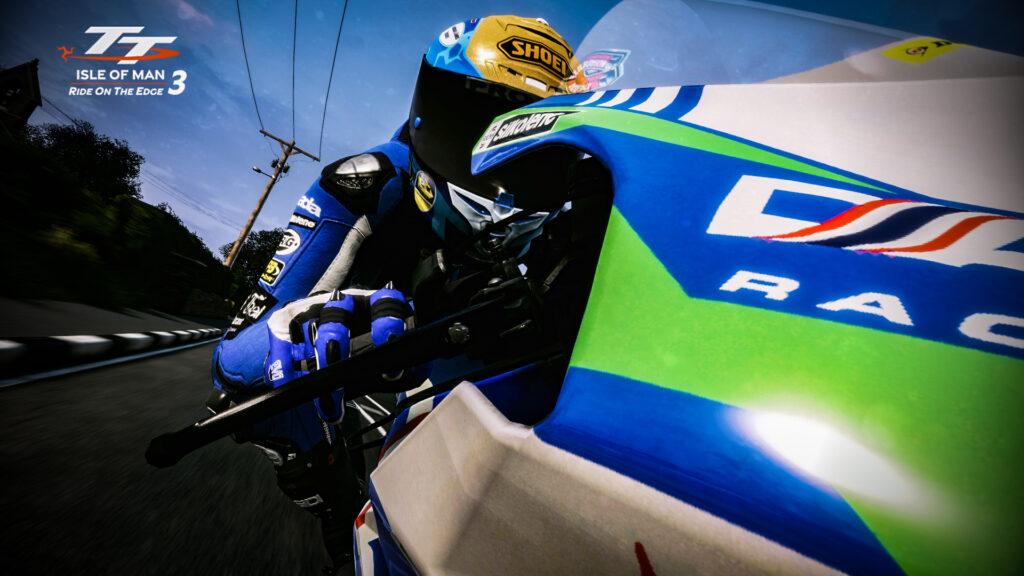 Likewise, if you find your bike is slow to react to steering inputs then raise the tyre pressures a click. However, bear in mind you will have to balance tyre pressures with suspension settings to achieve the best compromise.
From my testing, however, I found using lower pressures made the bike more stable and produced better grip through the corners, so I stuck with the minimum 1.9 and 1.5 bar settings on the front and rear respectively.
Transmission
The transmission component icon relates to the bike's gearing. Not only can each gear ratio be changed (both Supersport and Superbikes have six gears), but so can the final drive ratio, providing an easier way of setting your bike's top speed.
The key to finding the correct gear ratios is to use one of the fastest parts of the track – in my case Sulby Straight thanks to its nearby fast travel point – to judge your final ratio setting. Negative settings equal more top speed and vice-versa for positive settings.
Upgrading your Supersport transmission to Level 5 will allow you to alter its final drive to speeds exceeding 290km/h (180mph) along Sulby Straight. You won't always be able to achieve this final figure at other parts of the track so it's perhaps worth sacrificing top speed for more low-down acceleration.
Generally, however, altering the default final drive by a couple of clicks to the left will improve your bike's top speed while maintaining enough grunt through the slower sections of the TT course.
In this case, moving the final drive figure one click to the left resulted in only a 6km/h deficit on Sulby Straight to the most extreme top speed setting (adjusting it to the shortest final drive ratio means a near 40km/h reduction in top speed, in comparison)
It's important to find the best compromise in the final drive, which, for me, is three clicks to the left.
You can also adjust the individual length of gear ratios to suit certain parts of the track, but in truth, the TT course has so many different corner types and speeds it's nearly impossible to set up your gearing perfectly, so leaving the individual ratios on default values is perfectly fine.
Front and rear suspension
Here, players can adjust the damper rebound and compression (bump) settings, as well as the hardness of the springs and their preload setting.
Bump and rebound settings are usually close together, with rebound nearly always set up to be higher than bump to help keep the tyre in contact with the road surface at all times.
Spring hardness relates to how stiff the springs are; too soft and you'll feel the rear wheel lift under braking; too stiff and your bike will turn into a bucking bronco.
I found a balanced middle ground setting to be more rideable than more extreme suspension set-ups. Essentially, I tried to go 'full esports' and find a set-up exploit, but pleasingly I've yet to find anything obvious.
Preloading
The spring preload setting generates a buffer in the springs to stop the bike from bottoming out through big compressions. Too much preload may make the bike ride too high and too stiff; while not enough can lead to your bike grinding its way through the base of Bray Hill.
Generally speaking, if you want your bike to turn more easily into corners, set the rear preload up to be stiffer than the front. If you want to control some of your bike's snappiness in turns then set the front to be softer than the rear.
As is nearly always the case with set-ups, finding balanced suspension settings is key and I found front bump, rebound, spring hardness and preload settings of 6 or 7 offered a good compromise across the whole of the TT circuit. I'd normally set the rear shock absorber to similar figures but slightly softer settings. Depending on riding style and preference you may feel differently.
What are your motorcycle set-up tips for TT Isle of Man: Ride on the Edge 3? Have you found the magic bullet to help dip under Peter Hickman's 135.452mph record lap? Let us know in the comments below.