Next Level Racing's elite series of cockpits has a new flagship model – the F-GT Elite 160. The new, big brother, to the sim racing equipment manufacturer's previous leading model, the 160 version is bigger, bulkier and supposedly better in every way.
So, it wouldn't be a Traxion.GG review by imparting our experience of using this rig over the past few weeks, and letting you know if it's worth the premium price.
Specs
First, we must consider who this cockpit is for, and we'd say it's designed for the wealthy sim racer or those who are completely committed to getting the most solid and unfiltered virtual driving experience.
We're talking strong direct drive wheel bases with up to, and over, 20Nm of torque, and heavy pedals – we tested it with some Asetek hydraulics, for example. Any peripherals less extreme than this would be wasted on this behemoth.
This top-of-the-range rig boasts an equally top-of-the-range price – £1,149/$1,149, or £1,300/$1,300 for the officially licenced Ferrari edition, both without a seat. 
For these prices you would expect near perfection…
The build process
The Next Level Racing FGT Elite 160 comes in one giant box which is extremely heavy – the first indication of just how sturdy this rig is set to become.
Despite its long journey to our UK-based test area, it arrived in perfect condition with every piece tightly and neatly packaged in polystyrene. So perfectly packaged, in fact, that some pieces were impossible to remove without breaking the polystyrene, so make sure you have a vacuum handy.
The build process took us three-and-a-half to four hours solo in one go. This was on the floor, but if you have a table and a friend to help that would make things easier, for you, and your joints.
Profile tubes are thankfully all pre-drilled and threaded, fitting perfectly the first time without the need for any angle brackets!
A significant help is the manual, clear and concise, it made the build process as seamless as possible. It includes a QR code which links to the build guide from Next Level Racing itself too, so you can also follow along as you assemble the rig.
This is probably the easiest rig build process I have experienced for an aluminium profile set-up, and a key selling point of the Elite series sim racing cockpits.
It's the thought that counts
Whilst building you'll begin to appreciate some of the attention to detail that's gone into the design, starting with the tee nuts themselves. They are far wider and chunkier than any I have seen on a rig before, this should mean each bolt, joint, and connection is more rigid and secure.
They can only be inserted from the end of each piece of profile, but Next Level Racing has you covered and tell you exactly where and how many to add to each extrusion within the instructions.
Another very helpful inclusion from NLR is a ratchet with two hex heads, which makes adding and tightening all the bolts so much easier. However, we would recommend using the standard allen key to do the final turn of tightening, as our ratchet began to slip by the end of the build to overuse.
Thus, I would also recommend buying your own dedicated ratchet set if you plan on regularly adjusting your rig.
Other useful accessories included a spirit level and felt pads for contact areas on the seat rails and wheel deck – keeping your cockpit looking $1000 even after assembly and adjustment.
Ergonomics
After assembly, you're just left to adjust to suit your body and desired driving position. The latter is of course one of the USPs of the F-GT range, giving you the option to be seated like a GT or single-seater racing car; FG-T of course stands for Formula, GT.
The adjustment options of this rig are extensive, and the scope for customisation is massive, thanks again to the F-GT design. While you can alter the driving position from Formula so GT and anywhere in between, this is not a short job and will require tools, bolts and not an insignificant amount of time.
You will likely be setting this rig to my desired position and then leaving it as we think changing position more than a few times a year would end up becoming tiresome.
There should be plenty of adjustment for most people, with the scope for seat height and angle change, along with the pedal angle, height and distance, plus finally steering deck distance and height. Making sure everything is square and symmetrical is also made easy by the printed reference lines on the main rails. 
Getting comfy
One of the main strengths of this rig is its sturdiness, and this is in part due to the number of solid connections each section has. The knock-on effect of this, however, is that setting it up initially could be time-consuming, due to the steering arms, shifter mount and pedal supports all being connected; move one, and the rest follow.
Adjustment of the wheel deck is a little finicky, and it jams easily, so I highly recommend getting a friend to help here as trying to lift, tilt and tighten two bolts simultaneously is quite tricky, I'm speaking from experience…
The pedal support plates don't have one correct position, so you'll also have to figure that out based on your desired seating position, and this may take a few tries to get right, but it's worth it.
The build and adjustment of this set-up is only a small part of why you'd buy it, the most important thing about this rig, of course, is what it is like to drive…
Rock solid
Immediately, you can sense how solid it is, with zero flex despite a high-output wheel base and a very powerful brake pedal. The only flex we saw was in the wheel and wheel base shafts themselves.
The wheel deck is made from steel, attached to the very beefy side pillars which are appreciably thicker than the non-160 F-GT. The same applies to the two transverse pedal-mounting arms, we weren't able to witness any movement of flex, despite a set that can take up to 200kg of pressure and on average using around 60-70kgs.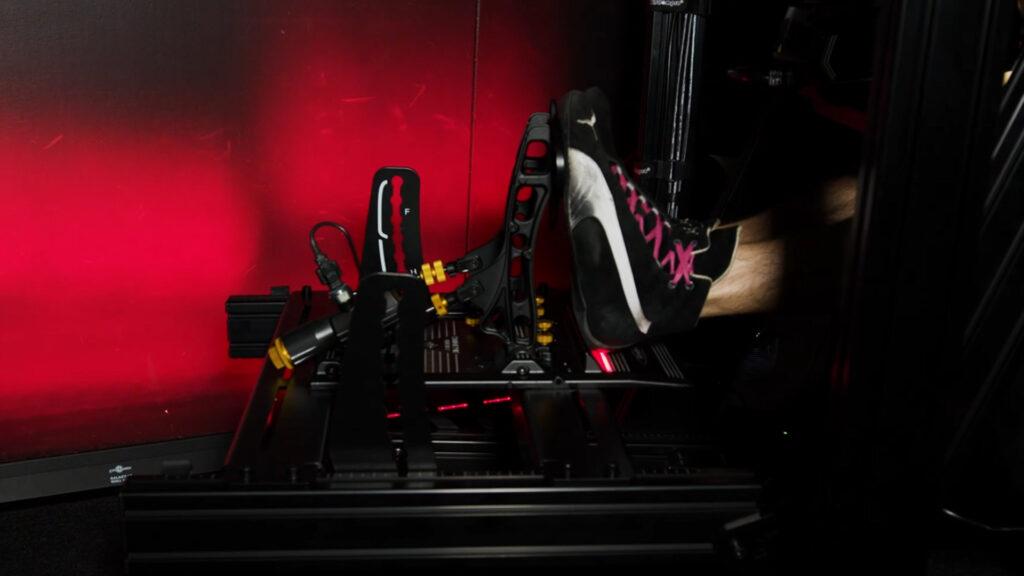 The right-hand side shifter mount was in the ideal spot for us, requiring no further adjustment from the original location. However, should you chose, it can be mounted on the left too, and there's both angle adjustment and fore-and-aft, left-to-right, changes available. Heck, it could even be mounted to the side of your seat.
Stepping away from the practicality, and to the subjective area of design, we happened to think the anodised black finish looked slick and despite moving several elements around, seemed to hold its colour with aplomb – helping deliver a premium experience. Goodbye scuffs.
The layout isn't perfect, in our opinion. While the wheel base-securing arms are more solid than a rugby player and covered in the desirable anodised finish, they do reach up rather high, and in our testing at least, overlap with your field of view near the bottom of the monitors.
We found it also restricts being able to bring the screens closer to the driver, something to bear in mind with smaller monitor sizes.
ERS2 seat
Now, to go with the Elite 160, we were able to test the ERS2 sim racing seat too. Handily, it has an easy-to-use adjustable rail system, great for use across multiple users, and it can recline too for extra comfort.
That reclining rear ability, however, does add in some flex or movement during heated sim racing moments, but understandable for a seat of this type and we didn't find it a distraction.
The value proposition is strong too, at £299/$299.
However, if you want the maximum Formula 1-style experience, might we recommend the moulded, and fixed rear, ES1? Worth bearing in mind, however, that it's £150/$150 more expensive.
Market-leading
Make no mistake. The Next Level Racing F-GT Elite 160 is the most solid rig I have ever used, and flex isn't even a consideration here. The build process is as easy as you'll get for a product of this type, with the instructions helping make this as pain-free as possible.
As an added bonus, we think it looks great, with every piece is perfectly finished in that alluring anodised black. The Ferrari branded option for an extra £150/$200 is also an attractive proposition.
As promised, it really does allow for a Formula or GT driving position, and with almost unlimited tuning possibilities, you will find a position that works for you.
On the track, you feel every detail of the force feedback and even the heaviest of lead feet will be contained. The long steering arms are an inconvenience for triple monitor users and may be deal breakers for some, but it's a minor quibble.
The premium price is balanced by value added through the attention to detail, overall quality and additional extras that most other rigs don't come close to. It's the details like the finish, tools, cable management and excellent instructions that justify the cost, not just its concrete-like construction.
Full disclosure: This product was provided by the manufacturer for review purposes. Here is our review policy.