The Showdown esports event will take place in Amsterdam, The Netherlands, and will witness the debut of Fanatec sim racing equipment for the first time during a World Series competition.
Following a series of qualifying rounds within Gran Turismo 7, we now know the lineup for one-half of the competitions set to take place next month – the Nations Cup.
This championship sees three drivers team up to represent their nation across 12 representative states. The 2023 Showdown event will debut a new format for the series, as since 2018 this has traditionally been fought out by solo drivers.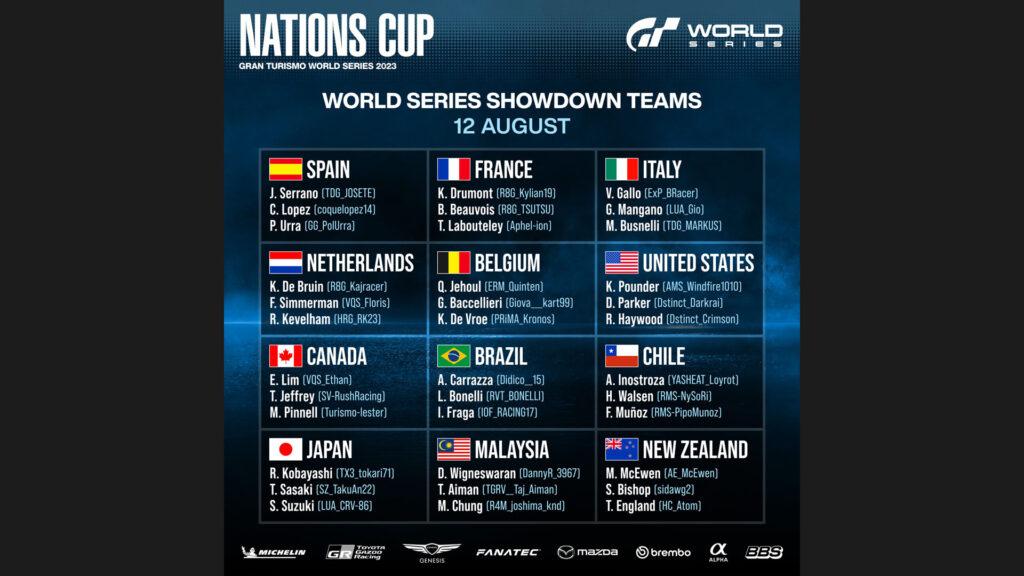 Reigning champion for Spain, Coque Lopez (who took the title in dramatic fashion in Monaco last year), returns, to be joined by Jose Serrano and Pol Urra. Fresh off the back of an Olympic Esports Series victory, Kylian Drumont represents France once again, following a stunning debut victory at the 2022 Showdown event in Salzburg. He will be joined by Baptiste Beauvois and Thomas Labouteley.
2021 champion Valerio Gallo will also be present for Italy alongside Giorgio Mangano and Marco Busnelli.
Of note, Malaysia has made it to the Showdown for the first time, but the likes of the United Kingdom, Hungary and Argentina will not be represented this time.
The line-up for the adjacent Manufacturers Cup is yet to be announced. It will be run on the 11th August, with the Nations Cup on the 12th. Tickets are available to see the event in person starting from €15.