BeamNG.drive, developed and published by BeamNG GmbH, was originally released as a tech demo back in 2013, moving to Steam Early Access in 2015. As of 22nd September, the game is on version 0.26.1, and generally receives major updates every three months or so.
Impressing fans with its sophisticated damage model, the game has gained a massive following thanks to its popularity with streamers and video creators, helping highlight the game's advanced physics.
What is BeamNG?
BeamNG is a freeform driving sim featuring a soft body physics model that creates realistic damage and vehicle dynamics. BeamNG.drive features hundreds of fun driving missions and challenges, with a degree of customisation which allows players to use their imaginations and create their own driving scenarios.
What does 'BeamNG.drive' mean?
'Beam' refers to the way the game's crash physics work. Two mass nodes are connected via a horizontal beam. These beams transfer and store energy, and can expand and contract based on the forces acting on them, featuring spring, damping and rebound properties.
'NG.drive' refers to the 'Next Generation of driving', hinting at the game's bold approach to simulating vehicle physics. The way the thousands of beams and mass nodes work together on each car creates the fabulous crash physics that makes BeamNG.drive one of the most popular driving games on PC.
Does BeamNG have online multiplayer?
No, BeamNG does not natively support multiplayer. There are unofficial multiplayer mods available, however, but the experience gets increasingly laggy the more players who join.
Does BeamNG have a career mode?
Yes, BeamNG has an early preview version of its career mode right now (as of 19th September 2022). You can access it by clicking on the greyed-out 'Career' button on BeamNG.drive's main menu six times in succession. It is by no means a clear representation of the finished product, however, and will likely change in future.
Can you use mods in BeamNG?
Yes, you can use mods in BeamNG. BeamNG.com has a repository of developer-approved mods available for free download. These include extra cars, maps, scenarios and sounds.
Where can I buy BeamNG.drive?
BeamNG.drive can be purchased for PC from the Steam Store.
Is BeamNG available on Xbox or PlayStation?
BeamNG is not available on Xbox, PlayStation or Nintendo Switch. BeamNG.drive is only available for Windows PCs at the moment.
Why is BeamNG.drive so popular?
BeamNG.drive is popular because of its superlative physics model and soft-body collisions. This translates very well to YouTuber streams, generating plenty of interest and entertainment.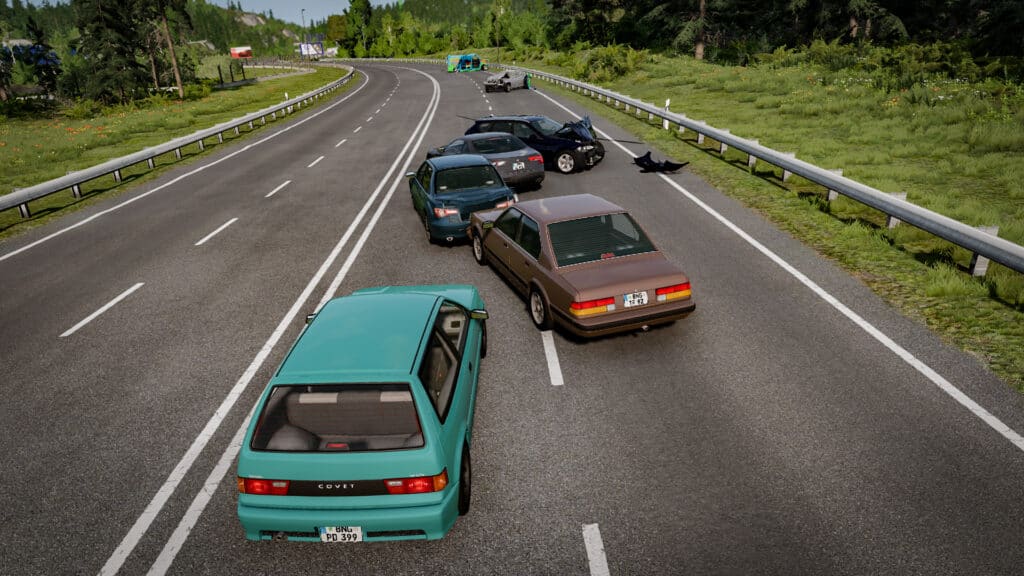 Can you create your own stunts in BeamNG.drive?
Yes, BeamNG.drive has a built-in World Editor, allowing players to edit and place objects, AI paths, terrain and other parameters. Simple stunts, such as jumps created with ramps and parked cars, can be created quickly and easily.
Does BeamNG.drive have licensed cars and tracks?
No, BeamNG.drive does not feature licensed cars and tracks.
Do I need Automation to play BeamNG.drive?
You do not need Automation to play BeamNG.drive. You can create vehicles in Automation and export them to BeamNG.drive, however.
How much is BeamNG.drive?
BeamNG.drive can be purchased from the Steam Store for £19.49/20,99€/$24.99 (prices correct as of 27th September 2022).