One of the main aims in Gran Turismo 7 is to collect cars. But to fill up your car Collection Book you will not only have to win cars by completing Menu Books and Daily Workouts, but also purchase cars from Brand Central, the Used Car pavilion and the subject of today's article, the Legend Cars pavilion.
What is the Legend Cars dealership?
The Legend Cars dealership is located on Gran Turismo 7's main World Map Home screen and is where you will find rare and expensive cars available to purchase. These cars tend to be old classics or vehicles of historical significance.
The oldest car so far is the Mercedes-Benz S Barker Tourer '29, while the latest is the Nissan GT-R GT500 Super GT racecar from 1999.
How to unlock the Legends Cars pavilion
The Legend Cars dealership in Gran Turismo 7 unlocks after players complete Menu Book 17, by placing in the top three of the Trial Mountain Cup.
What is Hagerty?
The Legend Cars Pavillion is sponsored by Hagerty, a specialist classic car insurance firm and media outlet, lending an air of authenticity to proceedings.
When you first visit the Legends Cars area, you will be treated by a message from McKeel Hagerty. This is the real-world Hagerty, as you can probably guess from his name.
What do the blue and red arrows mean?
Legend Cars tend to be kept by collectors as investments in the real world, hence why they will often have low mileages and increase in value.
If a car has a blue arrow next to its price, it means that according to Hagerty, its real-world status is increasing. If it's a red arrow, it means that demand in the real-world is falling and so the next time it appears in the Legends Car pavilion, it may be cheaper.
WHAT DOES LIMITED STOCK MEAN?
A car marked as Limited Stock indicates it will be removed from sale soon. In fact, at midnight in your region the car could shift its status to Out of Stock, at which point you will be unable to purchase it.
WHEN DOES THE LEGEND CAR DEALERSHIP STOCK CHANGE?
The Legend Cars dealership will change stock depending on how many cars are marked as Out of Stock. Vehicles marked as Out of Stock will usually be replaced by fresh cars at midnight in your time zone.
HOW DOES THE WISHLIST WORK IN GRAN TURISMO 7?
Players can also add cars to their Wishlist by checking the box on the bottom right of the car's showroom screen. A red flag will appear above the Legend Cars dealership on the Home screen of the World Map when a Wishlisted car is back in stock.
A handy reminder if you missed the car first time round due to a lack of funds. Like the Used Cars dealership, if you missed a Legend Car previously it will return at some point. Please note, however, that it could increase or decrease in value.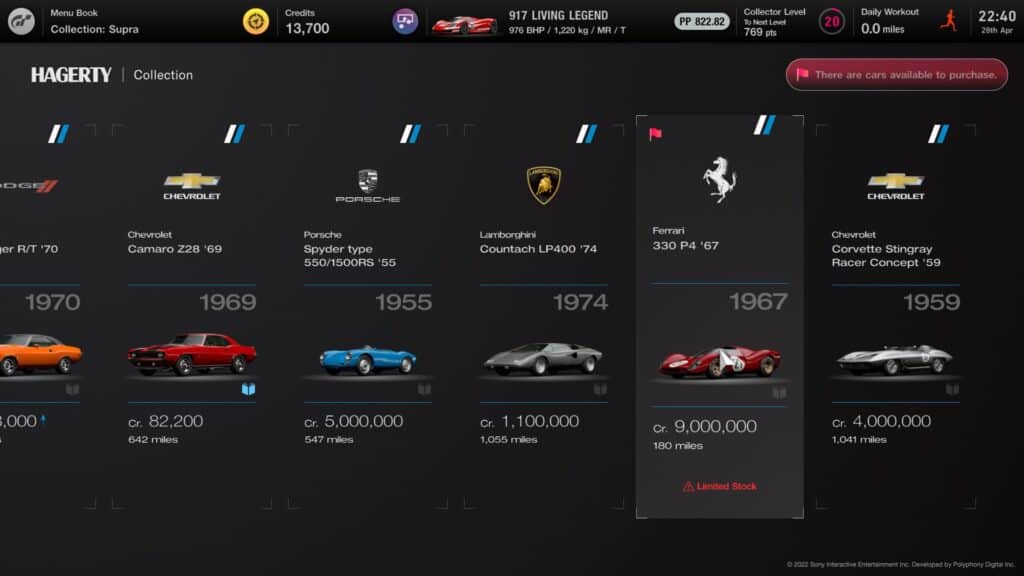 HOW MANY CARS ARE IN THE LEGEND CARS PAVILLION?
At any given time there are 10 cars in the Legend Cars dealership, including those marked as Out of Stock or Limited Stock.
GRAN TURISMO 7 LEGEND CAR LIST SO FAR
Alfa Romeo
Alfa Romeo 8C 2900B Touring Berlinetta '38 – 377.04 PP – 20,000,000 Credits
Alfa Romeo 155 2.5 V6 TI '93 – 673.99 PP – 800,000 Credits
Alfa Romeo Giulia TZ2 carrozzata da Zagato '65 – 471.61 PP – 3,100,000 Credits
Abarth
Abarth 1500 Biposto Bertone B.A.T 1 '52 – 266.58 PP – 900,000 Credits
Alpine
Alpine A220 Race Car '68 – 605.00 PP – 300,000 Credits
AMG
AMG CLK-LM '98 – 830.82 PP – 8,500,000 Credits
Aston Martin
Aston Martin DB3S '53 – 475.00 PP – 5,000,000 Credits
Aston Martin DB5 '64 – 439.89 PP – 970,000 Credits
Audi
Audi Sport quattro S1 Pikes Peak '87 – 683.26 PP – 2,000,000 Credits
Chaparral
Chaparral 2J '70 – 874.74 PP – 2,500,000 Credits
Citroën
Citroën DS 21 Pallas '70 – 335.37 PP – 49,600 Credits
Chevrolet
Chevrolet Camaro Z28 '69 – 439.40 PP – 82,200 Credits
Chevrolet Corvette (C1) '58 – 430.34 PP – 126,000 Credits
Chevrolet Corvette (C2) '63 – 482.69 PP – 178,000 Credits
Chevrolet Corvette Stingray Racer Concept '59 – 516.00 PP – 4,000,000 Credits
Dodge
Dodge Challenger R/T '70 – 478.84 PP – 253,000 Credits
DeTomaso
De Tomaso Mangusta '69 – 476.08 PP – 245,000 Credits
De Tomaso Mangusta (Christian Dior) '69 – 476.08 PP – 500,000 Credits
Ferrari
Ferrari 250 GT Berlinetta passo corto '61 – 464.49 PP – 8,200,000 Credits
Ferrari 250 GTO '62 – 524.46 PP – 20,000,000 Credits
Ferrari 330 P4 '67 – 732.33 PP – 9,000,000 Credits
Ferrari 365 GTB4 '71 – 537.00 PP – 555,000 Credits
Ferrari 500 Mondial Pinin Farina Coupe '54 – 463.91 PP – 4,000,000 Credits
Ferrari F40 '92 – 603.13 PP – 1,350,000 Credits
Ferrari F50 '96 – 609.28 PP – 3,300,000 Credits
Ferrari GTO '84 – 547.17 PP – 2,500,000 Credits
Ford
Ford GT40 Mark I – 549.94 PP – 5,600,000 Credits
Ford Mark IV Race Car '67 – 708.53 PP – 4,600,000 Credits
Ford Mustang Boss 429 '69 – 486.66 PP – 259,000 Credits
Ford Roadster – 410.43 PP – 450,000 Credits
Honda
Honda RA272 '65 – 628.27 PP – 2,500,000 Credits
Jaguar
Jaguar D-type '54 – 495.78 PP – 6,000,000 Credits
Jaguar E-type Coupé '61 – 430.53 PP – 162,000 Credits
Jaguar XJ13 '66 – 704.53 PP – 12,000,000 Credits
Jaguar XJ220 '92 – 592.62pp – 615,000 Credits
Jaguar XJR-9 '88 – 894.72 PP – 2,500,000 Credits
Jeep
Jeep Willys MB '45 – 195.62 PP – 27,800 Credits
Lamborghini
Lamborghini Countach LP400 – 543.95 PP – 1,100,000 Credits
Lamborghini Miura P400 Bertone Prototype '67 – 547.93 PP – 2,500,000 Credits
Maserati
Maserati Merak SS '80 – 422.29 PP – 75,000 credits
Maserati A6GCS/53 Spyder '54 – 502.08 PP – 2,900,000 Credits
Mazda
Mazda 787B '91 – 877.38 PP – 1,875,000 Credits
Mazda RS500 – 474.31 PP – 600,000 Credits
McLaren
McLaren F1 '94 – 642.02 PP – 18,500,000 Credits
McLaren F1 GTR – BMW '95 – 772.10 PP – 10,500,000 Credits
McLaren F1 GTR Race Car '97 – 840.76 PP – 9,500,000 Credits
McLaren MP4/4 '88 – 895.23 PP – 8,000,000 Credits
Mercedes-Benz
Mercedes 300 SEL 6.8 AMG '71 – 510.87 PP – 550,000 Credits
Mercedes-Benz S Barker Tourer '29 – 345.33 PP – 13,000,000 Credits
Mercedes-Benz 300 SL Coupé '54 – 402.07 PP – 1,100,100 Credits
Mercedes-Benz 300 SL (W194) '52 – 427.27 PP – 11,000,000 Credits
Sauber Mercedes C9 '89 – 878.35 PP – 3,000,000 Credits
Nissan
Nissan Fairlady Z 432 '69 – 401.14 PP – 190,000 Credits
Nissan GT-R GT500 '99 – 727.55 PP – 2,500,000 Credits
Nissan R92CP '92 – 880.60 PP – 2,000,000 Credits
Nissan Skyline Hard Top 2000GT-R (KPGC10) '70 – 376.56 PP – 121,000 Credits
Nissan Skyline 2000GT-R (KPGC110) '73 – 386.53 PP – 542,000 credits
Nissan Skyline Super Silhouette Group 5 '84 -728.15 PP – 1,150,000 Credits
Peugeot
Peugeot 205 Turbo 16 Evolution 2 '86 – 678.46 PP – 1,000,000 Credits
Plymouth
Plymouth XNR Ghia Roadster '60 – 424.59 PP – 1,600,000 Credits
Plymouth Superbird '70 – 434.17 PP – 347,000 Credits
Pontiac
Pontiac GTO 'The Judge' '69 – 448.90 PP – 201,000 Credits
Porsche
Porsche 356 A/1500 GS Carrera '56 – 351.97 PP – 615,000 Credits
Porsche 356 A/1500 GS GT Carrera Speedster '56 – 378.97 PP – 1,500,000 Credits
Porsche 911 Carrera RS (901) '73 – 487.09 PP – 745,000 Credits
Porsche 911 GT1 Strassenversion '97 – 635.18 PP – 3,000,000 Credits
Porsche 917K '70 – 755.51 PP – 18,000,000 Credits
Porsche 959 '87 – 557.43 PP – 1,750,000 Credits
Porsche 962 C '88 – 877.36 PP – 1,500,000 Credits
Porsche Carrera GTS (904) '64 – 511.64 PP – 2,500,000 Credits
Porsche Spyder type 550/1500RS '55 – 439.07 PP – 5,000,000 Credits
Renault
Renault R8 Gordini '66 – 351.13 PP – 28,500 Credits
Shelby
Shelby Cobra 427 '66 – 558.18 PP – 2,500,000 Credits
Shelby Cobra Daytona Coupe '64 – 552.91 PP – 20,000,000 Credits
Shelby G.T.350 '65 – 449.86 PP – 487,000 Credits
Suzuki
Suzuki V6 Escudo Pikes Peak Special '98 – 846.27 PP – 1,700,000 Credits
Toyota
Toyota 2000GT '67 – 368.73 PP – 685,000 Credits
Toyota Celica GT-FOUR Rally Car (ST205) '95 – Gr.B 599.65 PP – 250,000 Credits
Toyota Supra GT500 '97 – 729.42 PP – 1,500,000 Credits