Gran Turismo 7 is heavily weighted towards collecting cars. We've already covered the vehicles available in the game's Brand Central dealerships, but what about Used Cars?
Here's an evolving guide to every car that appears in the used car dealership, with PP values and costs.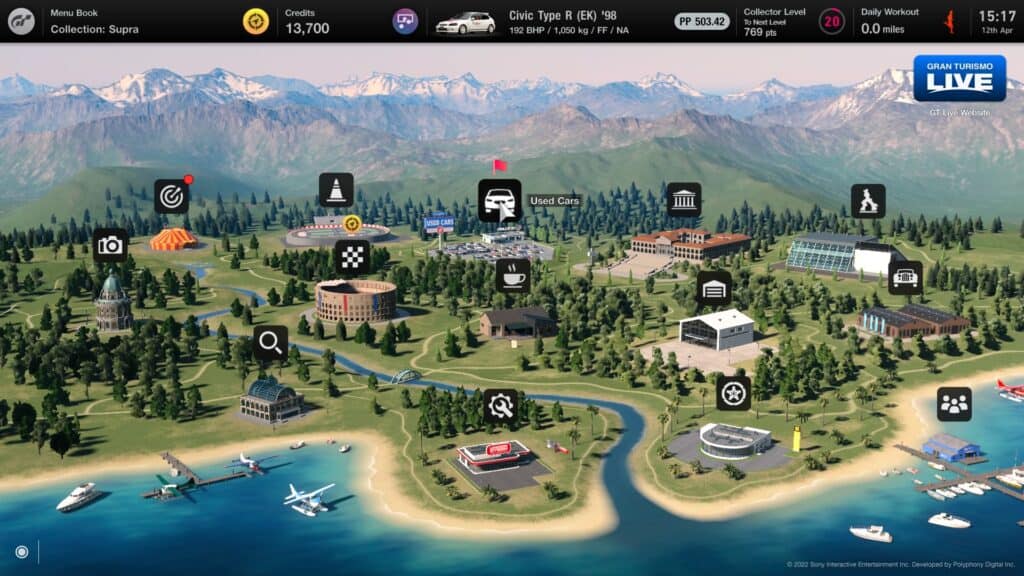 What is the Used Car Dealership?
The Used Car dealership pavilion in Gran Turismo 7 is where you can purchase second-hand vehicles including those that are older than 2001.
Some cars from the Brand Central, post-2001, will appear here, but all used cars have got miles placed upon them, and so will be cheaper here.
Not every single car will appear here, though. Rare and expensive older vehicles will be in the Legend cars pavilion.
When does the Used Car Dealership stock change?
The Used Cars stock in Gran Turismo 7 updates daily, so you need to move quickly to pick up that sweet Suzuki Swift you've been eyeing up.
It won't be gone forever though, as Used Cars appear on a rotational basis, with a number of cars appearing more than once since Gran Turismo 7 was released on 4th March 2022.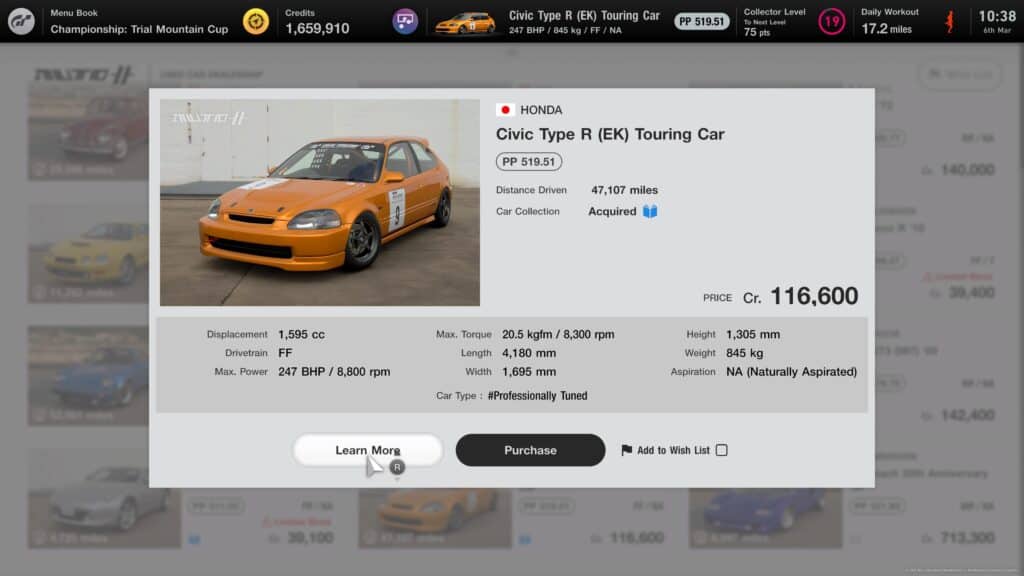 What does Limited Stock mean?
Limited Stock in Gran Turismo 7's Used Cars pavilion indicates that this car will be removed from sale soon, usually the next day. If you're after a rarified 22B and it's flagged as Limited Stock, you best run some races and earn enough to purchase it before tomorrow.
Cars marked as 'Limited Stock' will be listed as 'Out of Stock' the following day. The day after this – midnight in your time zone -it will be replaced by a fresh car choice.
Unusually, cars that appear more than once change in value, so where this is the case we've gone with the most recent valuation as of May 2022.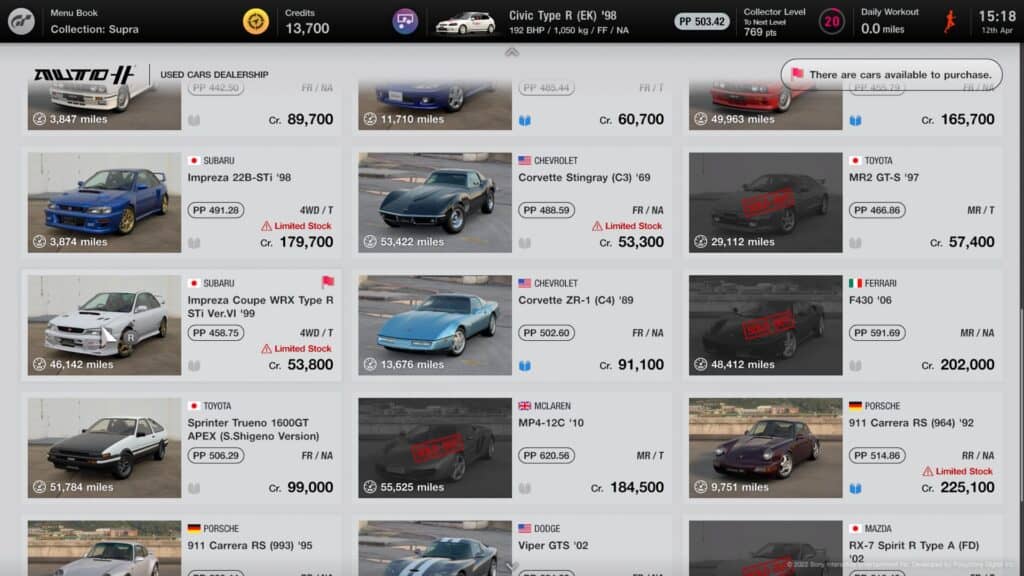 While some fans were disappointed by the lack of variety of Brand Central's cars initially, the eclectic mix found in Used Cars more than makes up for it. Here you can find historic classics like the Lancia Stratos and Lamborghini Countach, or Gran Turismo fan favourites such as the Toyota Supra or the Nissan R32 GT-R.
How does the Wishlist work in Gran Turismo 7?
Players can also add cars to their Wishlist by checking the box on the bottom right of the screen. A red flag will appear above the Used Cars dealership on the Home screen when a Wishlisted car is in stock. A handy reminder if you missed the car first time round due to a lack of funds.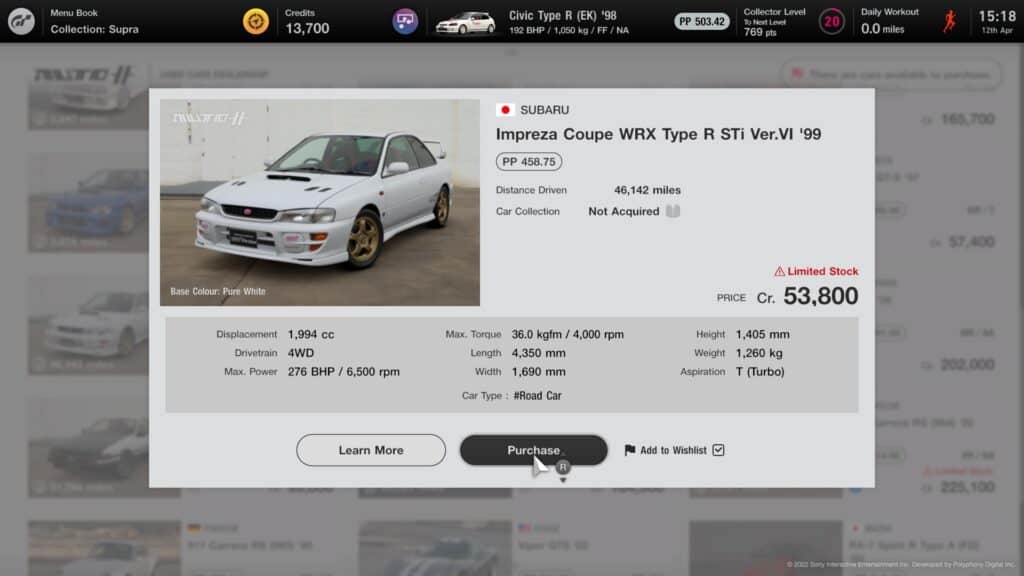 How many cars are in the Used Car pavilion?
Following the version 1.11 update in April 2022, 30 cars are shown each day in the Used Car pavilion. This is further augmented if you are still progressing through the Gran Turismo Café Menu Books, as the top row may have additional cars related to those events.
Gran Turismo 7 Used Car list so far
Abarth
Abarth 500 '09 – 377.54 PP – 24,500 Credits
Abarth 595 SS '70 – 184.94 PP – 47,900 Credits
Alfa Romeo
Alfa Romeo Giulia Sprint GT Veloce '67 – 334.81pp – 180,000 Credits
Alfa Romeo MiTo '09 – 396.62 PP – 24,400 Credits
Alfa Romeo 8C Competizione '08 – 555.72 PP – 289,200 Credits
Alpine
Alpine A110 '72 – 405.77 PP – 131,000 Credits
Audi
Audi R8 4.2 '07 – 558.54 PP – 137,500 PP
Audi TT Coupé 3.2 quattro '03 – 462.75 PP – 41,600 Credits
Autobianchi
Autobianchi A112 Abarth '85 – 299.78 PP – 31,100 Credits
BMW
BMW M3 '89 – 442.50 PP – 83,000 Credits
BMW M3 Sport Evolution '89 – 455.79 PP – 165,700 Credits
BMW M3 '03 – 522.92 PP – 62,100 Credits
BMW M3 '07 – 533.76 PP – 80,700 Credits
BMW 3.0 CSL '71 – 399.31 PP – 138,400 Credits
BMW 3.0 CSL '73 – 408.68 PP – 203,800 Credits
BMW Z8 '01 – 535.74 PP – 267,200 Credits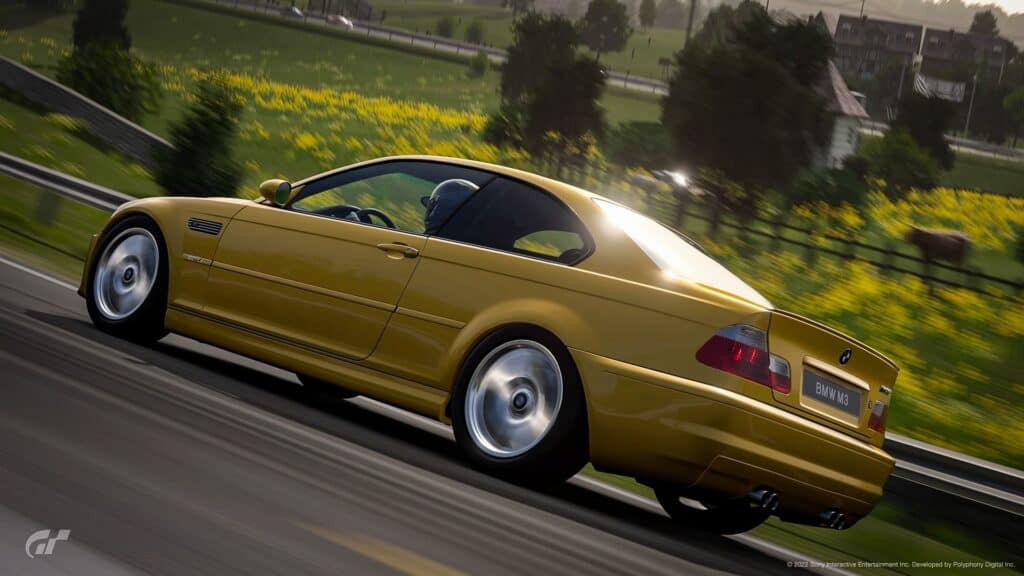 Chevrolet
Chevrolet Corvette Stingray (C3) '69 – 488.59 PP – 51,600 Credits
Chevrolet Corvette Convertible (C3) '69 – 439.59 PP – 46,800 Credits
Chevrolet Corvette ZR-1 (C4) '89 – 502.60 PP – 91,100 Credits
Chevrolet Corvette ZR1 (C6) '09 – 603.81 PP – 97,800 Credits
Daihatsu
Daihatsu Copen '02 – 279.66 PP – 14,300 Credits
DeTomaso
DeTomaso Pantera '71 – 467.43 PP – 173,000 Credits
DMC
DMC DeLorean S2 '04 – 434.20 PP – 442,600 Credits
Dodge
Dodge Super Bee '70 – 428.66 PP – 71,200 Credits
Dodge Viper GTS '02 – 554.20 PP – 103,000 Credits
Dodge Viper SRT10 Coupe '06 – 571.63 PP – 113,900 Credits
Ferrari
Ferrari 308 GTB '75 – 471.89 PP – 169,000 Credits
Ferrari 512 BB '76 – 519.02 PP – 290,800 Credits
Ferrari Dino 246 GT '71 – 441.48 PP – 343,200 Credits
Ferrari F430 '06 – 591.70 PP – 202,000 Credits
Ferrari 458 Italia '09 – 609.35 PP – 252,200 Credits
Ferrari Testarossa '91 – 513.09 PP – 367,000 Credits
Fiat
Fiat 500 F '68 – 81.18PP – 16,700 Credits
Fiat 500 1.2 8v Lounge SS '08 – 267.65 PP – 13,300 Credits
Ford
Ford GT '06 – 597.47 PP – 396,800 Credits
Ford Mustang Mach 1 '71 – 428.96 PP – 44,500 Credits
Ford Sierra RS 500 Cosworth '87 – 468.10 PP – 200,000 credits
Honda
Honda Beat '91 – 305.21 PP – 15,900 Credits
Honda Civic Type R (EK) '97 – 413.38 PP – 57,000 Credits
Honda Civic Type R (EK) '98 – 414.35 PP – 49,300 Credits
Honda Civic Type R (EK) Touring Car – 519.51 PP – 113,800 Credits
Honda Fit Hybrid '14 – 328.06 PP – 13,000 Credits
Honda Integra Type R (DC2) '95 – 431.35 PP – 57,700 Credits
Honda Integra Type R (DC2) '98 – 436.24 PP – 61,700 Credits
Honda NSX Type R '92 – 522.68 PP – 402,700 Credits
Honda NSX Type R '02 – 526.83 PP – 430,100 Credits
Honda S2000 '99 – 475.45 PP – 99,700 Credits
Honda S800 '66 – 272.69 PP – 47,300 Credits
Lancia
Lancia Delta HF Integrale Evoluzione '91 – 401.85 PP – 104,800 Credits
Lancia Stratos '73 – 434.30 PP – 532,100 Credits
Lamborghini
Lamborghini Countach 25th Anniversary '88 – 521.93 PP – 690,200 Credits
Lamborghini Diablo GT '00 – 593.28 PP – 817,300 Credits
Lamborghini Murcielago LP640 '09 – 608.79 PP – 340,800 Credits
Maserati
Maserati GranTurismo S '08 – 539.40 PP – 137,900 Credits
Mazda
Mazda Eunos Roadster (NA) '89 – 364.32 PP – 27,000 Credits
Mazda Demio XD Touring '15 – 310.94 PP – 12,500 Credits
Mazda RX-7 GT-X (FC) '90 – 437.14 PP – 61,100 Credits
Mazda RX-7 Spirit R Type A (FD) '02 – 516.40 PP – 217,700 Credits
McLaren
McLaren MP4-12C – 620.56 PP – 185,000 Credits
Mercedes
Mercedes SLR McLaren '09 – 595.33 PP – 493,500 Credits
Mercedes SLS AMG '10 – 587.86 PP – 319,800 Credits
Mini
Mini-Cooper 'S' '65 – 251.10 PP – 38,000 Credits
Mini Cooper S '05 – 419.01 PP – 20,500 Credits
Mitsubishi
Mitsubishi GTO Twin Turbo '91 – 456.59 PP – 48,900 Credits 
Mitsubishi Lancer Evolution III GSR '95 – 474.33pp – 100,000 Credits
Mitsubishi Lancer Evolution IV GSR '96 – 462.92 PP – 49,400 Credits
Mitsubishi Lancer Evolution V GSR '98 – 475.59 PP – 75,800 Credits
Mitsubishi Lancer Evolution VI GSR Tommi Mäkinen Edition SCP '99 – 499.52 PP – 179,700 Credits
Nissan
Nissan 180SX Type X '96 – 442.77 PP – 53,500 Credits
Nissan Fairlady 240ZG (HS30) '71 – 385.17 PP – 99,100 Credits
Nissan Fairlady Z 300ZX TT 2seater – 468.28 PP – 52,900 Credits
Nissan Fairlady Z (Z34) '08 – 511.03 PP – 26,958 Credits
Nissan Fairlady Z Version S (Z33) '07 – 518.03 PP – 27,200 Credits
Nissan GT-R NISMO (R32) '90 – 508.43pp – 400,000 Credits
Nissan R32 GT-R V-Spec II '94 – 502.16 PP – 171,200 Credits
Nissan R33 GT-R V-spec '97 – 504.82 PP – 154,400 Credits
Nissan R34 GT-R V-Spec II Nür '02 – 518.89 PP – 388,000 Credits
Nissan Sileighty '98 – 449.80 PP – 78,600 Credits
Nissan Silvia K's Dia Selection (S13) '90 – 399.88 PP – 56,800 Credits
Nissan Silvia K's Type S (S14) '94 – 476.86 PP – 60,000 Credits
Nissan Silvia K's Aero (S14) '96 – 476.26 PP – 60,000 credits
Nissan Silvia Q's (S13) '88 – 365.20 – 34,200 Credits
Nissan Silvia spec-R-Aero (S15) '02 – 485.44 PP – 60,700 Credits
Pontiac
Pontiac Firebird Trans Am '78 – 397.99 PP – 87,800 Credits
Porsche
Porsche 911 Carrera RS (964) '92 – 514.86 PP – 225,100 Credits
Porsche 911 Carrera RS (993) '95 – 530.44 PP – 224,700 Credits
Porsche 911 Carrera RS CS (993) '95 – 528.78 PP – 437,300 Credits
Porsche 911 Turbo (930) '81 – 494.43 PP – 219,700 Credits
Porsche 911 GT3 (996) '01 – 551.66 PP – 155,400 Credits
Porsche 911 GT3 (997) '09 – 579.76 PP – 142,500 Credits
Renault
Renault Clio V6 24V '00 – 451.38 PP – 75,700 Credits
Renault R5 Turbo '80 – 392.38 PP – 146,700 Credits
RUF
RUF CTR3 '07 – 661.05 PP – 777,000 Credits
Subaru
Subaru Impreza 22B-STi '98 – 491.28 PP – 171,600 Credits
Subaru Impreza Coupe WRX Type R STi Ver.VI '99 – 458.75 PP – 53,800 Credits 
Subaru Impreza Sedan WRX STi '04 – 491.591pp – 50,000 Credits
Suzuki
Suzuki Cappuccino '91 – 292.35 PP – 20,000 Credits
Suzuki Swift Sport '07 – 386.73 PP – 14,500 Credits
TVR
TVR Tuscan Speed 6 '00 – 566.32 PP – 69,200 Credits
Toyota
Toyota Aqua S '11 – 349.25 PP – 14,300 Credits
Toyota Celica GT-Four (ST205) '94 – 450.55 PP – 68,800 Credits
Toyota Corolla Levin 1600GT APEX (AE86) '83 – 356.96 PP – 48,200 Credits
Toyota MR2 GT-S '97 – 466.86 PP – 62,700 Credits
Toyota Prius G '09 – 369.85 PP – 18,600 Credits
Toyota Sprinter Trueno 1600GT APEX (AE86) '83 – 356.77 PP – 48,200 Credits
Toyota Sprinter Trueno 1600GT APEX (S.Shigeno Version) – 506.29 PP – 99,000 Credits
Toyota Sports 800 '65 – 231.56 PP – 45,100 Credits
Toyota Supra 3.0GT Turbo A '88 – 466.13 PP – 113,600 Credits
Toyota Supra RZ '97 – 498.82 PP – 191,500 Credits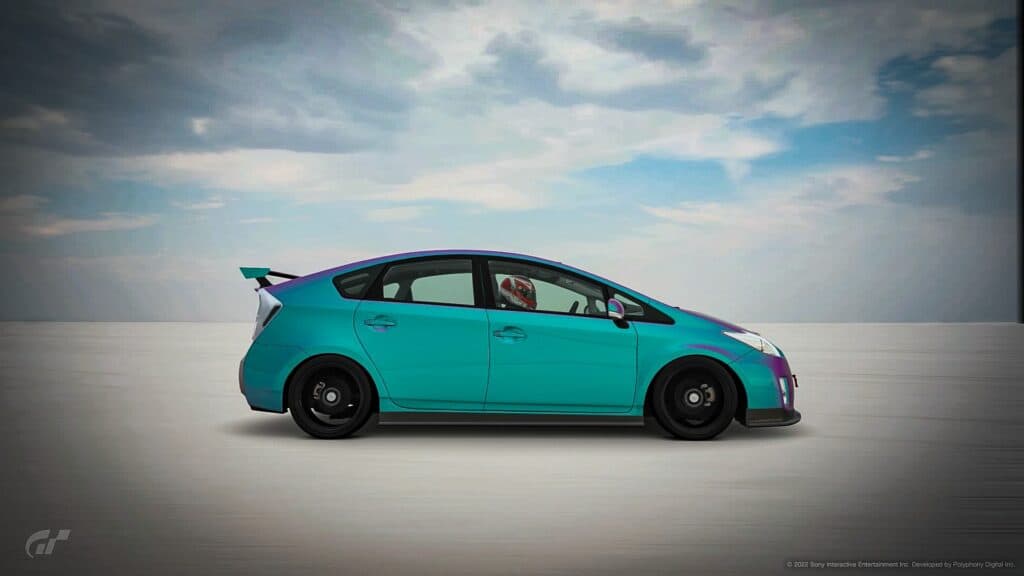 Volkswagen
Volkswagen Beetle 1200 '66 – 177.02 PP – 35,100 Credits
Volkswagen Golf I GTI '83 – 346.95 PP – 48,300 Credits
Volkswagen Sambabus Typ 2 '62 – 119.71 PP – 67,000 Credits
Volkswagen Scirocco R '10 – 498.07 PP – 46,100 Credits