Online racing is something that I have a great affinity for, and I have been doing it ever since network-connected racing came to consoles.
Gran Turismo has been especially great for that over the years in its different iterations, starting with Gran Turismo 5 Prologue, and although the Gran Turismo 7 online system is still a little way off from being perfect (with features still missing that were present in GT Sport and general instability) you can still find a close race and a fun community. Hopefully, things can improve over upcoming patches.
The latest game in the Polyphony Digital-created series has its amazing ranked Sport mode, but if you want to play more casually with friends or anyone else online, you may prefer to visit the online lobbies instead.
It's here where you can set up your own room with your prefered settings or join existing lobbies that others players have set up.
This is something that I do on a weekly basis on Mondays with a group of friends and it's a much more relaxed way of competing against rivals.
I also personally find this useful for testing different cars or tracks now that Polyphony has finally added the option to change the lobby settings in the 1.17 patch, as you can create a private lobby and then change cars or tracks at will without having to go out and reload. Similarly, the 1.18 update added a Race Shop so you can easily buy the right tyres to match the regulations set.
It can also be a tad confusing with all the options available when setting up a lobby so this is a handy guide to help guide you through it if you are new to the Gran Turismo series.
How to unlock online multiplayer lobbies
In Gran Turismo 7, to unlock the option of playing online in multiplayer lobbies, you must first complete the single-player campaign Café Menu Book No.9 – Championship: Tokyo Highway Parade.
This is a three-race Menu Book in the early stages of the game. Upon completion, the Multiplayer pavilion appears on the World Map.
How to find online lobbies
Firstly, go to the 'Multiplayer' pavilion of the main 'World Map', which is separate from Sport mode and located at the bottom right in the marina area.
Here, you can choose between 'Lobby' or '2P Split Screen'. Yes, Gran Turismo 7 does support split-screen local multiplayer too, something I am pleased that games continue to support, but select 'Lobby' and you'll enter the online multiplayer portion of the game.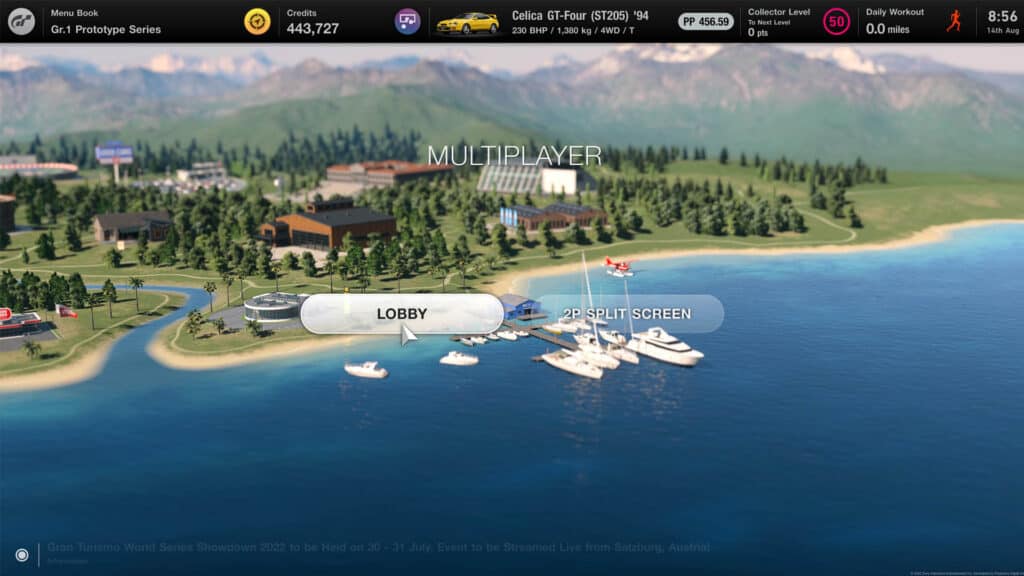 How to join lobbies
Once you choose the Lobby option you are presented with a screen that allows you to join an existing room or search for one that is already open. Here you can simply browse through available lobbies by scrolling down the list and pick one that looks good.
You will see the lobby name, set by the host, which track is currently in use and how many people, out of a total of 16, are currently inside. For further details, scroll to a lobby and hit Square. To refresh the main lobby list, hit Triangle. To join a lobby, simply hit the Cross button on one that looks appealing.
How to use lobby search filters
Once in the Lobby section of the game, on the left-hand side is a set of filters. These include the track, car performance levels (PP) and rules such as Balance of Performance and Tuning.
Simply cycle through and select your preferred filters and the lobby list on the right will automatically update.
How to join online lobbies with friends
Unlike most games on PlayStation, in Gran Turismo 7 you cannot use the platform-native invite system.
Instead, visit the Lobby section of the game and tick the box at the top of the page that says "Show Only Rooms With Friends."
This allows you to see if any of your PS4 or PS5 Friends are currently online in a lobby. The main screen will refresh, and if there's a lobby with one of your PSN friends inside, you can join them. Similarly, if you are hosting a lobby, your friends use this option to join you.
If, however, you want to race with a set group of people but not add them, tough. In GT Sport, each lobby has a unique code, or ID number, but this feature is not present in Gran Turismo 7 as it stands.
How to create a new lobby
If you want to be in control of the lobby settings then you can choose the yellow 'Create New Room Button' in the top left of the main Lobby menu.
This allows you to create a room to your liking using the multitude of settings available. Hitting Cross on the 'create' button pop-up a separate menu from where you can select various parameters. You must name the room in order to create it.
Lobby room mode
After christening your lobby, it's a good idea to check the options at the top left first before you do anything else.
Room mode allows you to choose between the following:
Free Run – you don't actually race it's just an open track.
Practice/Race – a practice period, which is also essentially a qualifying period, before a race with a set number of laps.
Practice/Endurance – a practice period, which is also essentially a qualifying period, before a race with a set time period to race to, as opposed to a number of laps.
How to make a lobby private or public
The 'Room Privacy' option allows you to change who can enter your lobby.
If you would like anyone to be able to join your lobby then you leave it as public but if you just want a friends-only lobby then you select that – otherwise it will appear open to all.
Cross-platform play
It's worth remembering that Gran Turismo 7 has cross-generational online multiplayer – meaning those on PlayStation 4 can race those on PlayStation 5 and vice versa. Any combination of PS4 and PS5 players can join the same lobbies and all settings in this article apply to both consoles.
Race Type
This is simply a little indicator for those joining a lobby what type of racing to expect, but they don't change any of the fundamental race settings.
Race for Fun
Free Run
Drift
Race for Real
Most of the rest of the lobby options are self-explanatory, but a few can be a bit tricky if you're new to them. Read on to find out more…
Time/Weather Lobby settings
Next, you select the weather and time of day options:
Preset Weather – will give you a choice of conditions that will stay constant throughout the race
Custom Weather – allows you to choose different weather for different parts of the race. The longer the race is the more variation you can have. Only appears as an option if the track chosen has variable weather conditions
Variable Time Speed Rate
Also, you can choose the 'Variable Time Speed Rate' which will dictate how quickly the time of day moves.
So, if you set this really high you could run through a race from morning to night. This is dependent on the track, as some of them don't have a night-time setting, but many of them do have a darker time of day around dusk.
Custom weather
Working with the 'Variable Time Speed Rate', if the track selected supports various weather conditions, you can set what the weather is like at various stages of the race. The more laps or time, the more custom weather slots appear here.
The relatively limited number of tracks that include rain can be frustrating as it's something that Gran Turismo 7 does so well, both in terms of the visual effects and gameplay. As it stands you can only have rain at the following venues:
Autopolis
Circuit de la Sarthe (Le Mans)
Circuit de Spa-Francorchamps
Dragon Trail Gardens
Fuji International Speedway
High Speed Ring
Nurburgring
Red Bull Ring
Suzuka Circuit
Tokyo Expressway
Tsukuba Circuit
As for the rest of the options, I will list them below in each category and then explain any that may need some elaboration.
Race Settings
From here you move on to the Race settings where you can adjust a number of things that will affect how the race will pan out.
Start Type
Grid Order
BOP/Tuning Forbidden
Tuning
Boost
Slipstream
Visible Damage
Mechanical Damage
Tyre Wear Rate
Fuel Consumption Rate
Refuelling Speed
Initial Fuel
Grip Reduction Off Track
Race Finish Delay
Start type
You have three options here as to how the race will begin:
Grid Start – Standing start, when the lights go out, the race begins.
Grid Start with False Start Check – Standing start, when the lights go out, the race begins although it's up to the drivers as to when they start moving. Hold the car on the brakes or with the handbrake. Move before the lights go out and you will receive a penalty
Rolling Start – The grid is automatically driven around the track and the race starts while the cars are already moving
Grid order
There are two self-explanatory options here:
Fastest First – The grid is set in order of lap times set in the pre-race practice session.
Slowest First – The grid is set as a reverse of the lap times set in the pre-race practice session.
A reverse race-result grid or custom grid order options as in GT Sport are sadly absent in Gran Turismo 7 at present.
BoP/Tuning Forbidden
BoP, which stands for Balance of Performance, should balance different cars by increasing or decreasing the weight and/or power so cars are equally matched. This works best for racing cars such as Gr.4 or Gr.3, for example.
Switching BoP to on then unlocks the 'Tuning' option, so you can balance the field with BoP and allow settings such as suspension or gear ratios to be tweaked, or not.
Boost
Boost is a way to let cars that have issues or are a bit slower to catch up, as it makes the cars at the back a bit quicker as they close to help keep things closer. A form of 'rubber-banding'. Although, this is far less effective than it used to be in GT Sport.
Slipstream Strength
There are three options to choose from – Strong, Weak, Real – and again, just like Boost, a stronger setting will help those at the back but it's not as effective as in the previous Gran Turismo title.
Tyre Wear and Fuel Consumption rate
Tyre wear rate and fuel consumption levels can be adjusted to help vary a race by adding strategy.
Do you drive flat out and pit for new tyres and fuel or do you drive more conservatively and try to finish without pitting? These options, with 50x being the mag for both, will help you determine how a race could play out.
Setting the Fuel Consumption Rate will also allow to you tweak the speed of refuelling during pitstops and the initial fuel cars start a race with.
Grip Reduction Off Track
Grip reduction off track is how treacherous the grass or gravel is when you touch it. When set to 'Low' it isn't too bad, whereas if it is set to 'Real' then you can spin a car by just putting an errant wheel off track.
Regulation settings
Here you can specify the class of car by selecting a preset such as Gr.1 or Gr.B etc, or alternatively, you can set a restriction by putting a limit on the overall PP level, which takes into account power and weight and is used for road-based cars.
You can also dictate which tyres are to be used including a mandatory tyre that must be used which is useful if doing a longer race. In my experience so far, this option is broken as when I last tried it, I was running last so deliberately didn't use the mandatory tyre as a test and the game applied no penalties for it.
You can also ban nitrous here as it isn't covered on the PP and gives anyone who has it an added free boost of power but you may want to allow it if everyone is using it.
Also, the option to have a Kart Race is a dedicated option within this section. I wish we could race karts against cars, just for fun, but Gran Turismo games have never allowed this…
Below are all of the regulation settings you can tweak:
Filter by Category
PP Limit
Max. Power Output
Minimum Weight
Tyre Type
Useable Tyres
Required Tyres
Nitrous
Kart Usage
Penalty Settings
The Penalty Settings allow you to customise how harsh or lenient you want penalties against drivers to be. Most of these are self-explanatory.
Shortcut Penalty – Don't be cutting the inside of those corners, o with this switched on, you shall be receiving a penalty.
Pit Lane Cutting Penalty – refers to crossing the line on the track at either pit entry or exit.
Flag Rules – whether or not you have Yellow flags and Blue Flags active.
Ghosting During Race – means that contact between cars will not result in a spin as the cars will just pass through each other.
Below is a full list of the various penalty options:
Shortcut Penalty
Wall Collision Penalty
Correct Vehicle after Wall collision
Car Collision Penalty
Pit Lane Cutting Penalty
Ghosting During Race
Flag Rules
Driving Option Limitations
The 'Driving Option Limitations' are simply whether you allow drivers to use the assists or not. So, for example, if you disable the traction control then no one is allowed to use it and it will be automatically turned off for everyone, even if their regular settings include it. The same can apply to any of the other assists in this list.
Countersteering assistance
Active Stability Management
Driving Line Assist
Traction Control
ABS
Auto-Drive
Host Menu
Once you're set up your room, you can change the settings mentioned above simply by being off the track and navigating to the 'Host Menu' at the bottom-left of the lobby screen. Selecting this brings up the same menu you've used already. Big changes to the settings will boot other participants off the track to re-load the event.
Entering an online race
Once you're in a lobby, or have set one up, to actually participate in the event you must either select 'Enter' or 'Go To Track'.
Enter – Registers you for the race, but keeps you off the track in the lobby menu. Once the race is started by the host, you will be placed on the grid.
'Go To Track' – This allows you to practice on track before the race starts and simultaneously automatically registered you for the race. Once the race is started by the host, you will be placed on the grid.
Starting a race
If you are the host, during a practice session and while being on track, simply pause your game and select the 'Start Race' option. This will provide all competitors with a 10-second countdown and then the race will begin.
Race Shop
Let's say you've entered a race with a road car, but you're above the PP limit set by the host. In the Race Shop, accessible from inside an online lobby along the lower icons, you can purchase ballast and/or a power restrictor without having to leave and visit GT Auto.
You can then adjust your car's weight and/or power output to hit the PP limit.
The Race Shop also sells tyres, particularly handy if tyre wear has been set, or you need rain tyres.
So, there you go. That should be everything you need to get going in the world of Gran Turismo 7's online lobbies. Happy racing!