Austria's Red Bull Ring will play host to the fifth, and penultimate, round of the 2022 DTM Esports championship – and it's Kevin Siggy in the plum seat.
However, despite a healthy points lead, the Team Redline driver has not won the championship just yet as there are still four races to complete.
Held within RaceRoom Racing Experience, the races will be broadcast live later today, 21st April 2022, on the Traxion.GG YouTube channel from 6.05 pm BST / 7.05 pm BST.
Last time out at Spa-Francorchamps, Siggy dominated to win both the Sprint and Feature race. However, the on-paper results don't tell the whole story as he was made to fight for the victories, and his closest championship rival, reigning champion Moritz Löhner still managed two podium finishes.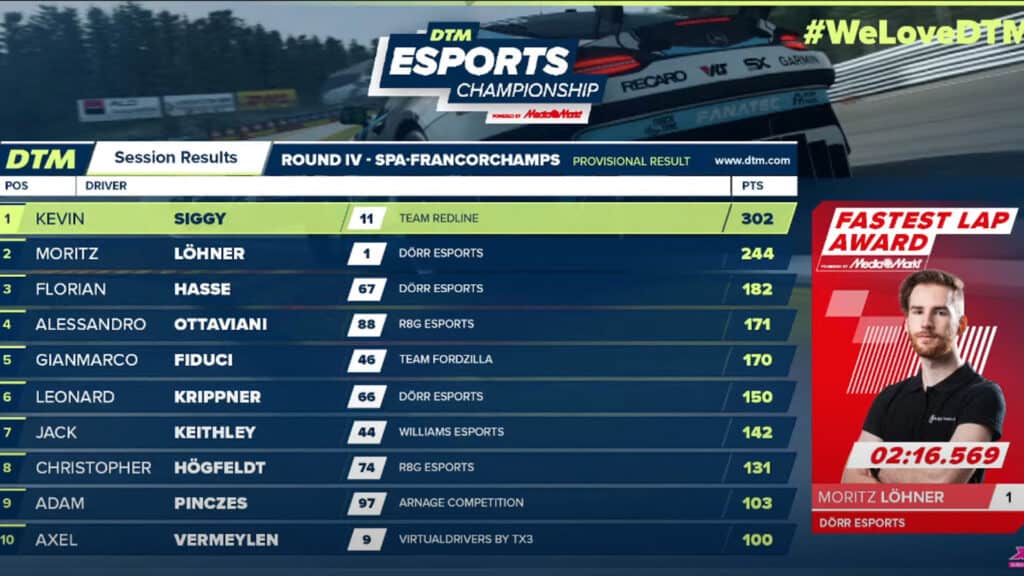 With a packed GT3-based grid, more car variety than ever thanks to new McLaren and Ferrari models plus a close championship battle, tune into the live stream tonight on the Traxion.GG YouTube channel.
2022 DTM ESPORTS CHAMPIONSHIP STANDINGS AFTER ROUND 4
Kevin Siggy – 302 points
Moritz Löhner – 244 points
Florian Hasse – 182 points
Alessandro Ottaviani – 171 points
Gianmarco Fiduci – 170 points
2022 DTM ESPORTS CHAMPIONSHIP SEASON SCHEDULE
Race #1 Imola 10th March 2022
Race #2 Norisring 24th March 2022
Race #3 Lautsitzring 7th April 2022
Race #4 Spa-Francorchamps 10th April 2022
Race #5 Red Bull Ring 21st April 2022
Race #6 Portimão 28th April 2022
2022 DTM ESPORTS CHAMPIONSHIP SEASON ENTRY LIST
Adam Pinczes – Arnage Competition – Ferrari 488 GT3 Evo 2020
Alessandro Ottaviani – R8G Esports – Ferrari 488 GT3 Evo 2020
Alexander Dornieden – MRS Esports – BMW M6 GT3
Attilla Diner – MRS Esports – Ferrari 488 GT3 Evo 2020
Axel Vermeylen – Virtualdrivers by TX3 – Ferrari 488 GT3 Evo 2020
Christopher Högfeldt – R8G Esports – Ferrari 488 GT3 Evo 2020
David Nagy – M1RA Esports – Ferrari 488 GT3 Evo 2020
Florian Hasse – Dörr Esports – BMW M6 GT3
Gianmarco Fiduci – Team Fordzilla – Ferrari 488 GT3 Evo 2020
Isaac Price – Privateer – BMW M6 GT3
Jack Keithley – Williams Esports – Mercedes AMG GT3
Kevin Siggy – Team Redline – Ferrari 488 GT3 Evo 2020
Leon Rüdinger – Arnage Competition – BMW M6 GT3
Leonard Krippner – Dörr Esports – BMW M6 GT3
Luciano Witvoet – Ballas Esports – Ferrari 488 GT3 Evo 2020
Manuel Rodriguez – Topes de Gama Racing Team – Porsche 911 GT3 R
Marc Gassner – MRS Esports – BMW M6 GT3
Marko Pejic – Veloce Esports – Mercedes AMG GT3
Matija Markovic – MRS Esports – Ferrari 488 GT3 Evo 2020
Max Pfeifer – MRS Esports – Mercedes AMG GT3
Michael Rächl – Dörr Esports – Mercedes AMG GT3
Moritz Löhner – Dörr Esports – BMW M6 GT3
Petr Pliska – Team Fordzilla – AMG GT3
Ralf Piringer – Privateer – Audi R8 LMS Evo GT3
Tim Jarschel – MRS Esports – AMG GT3
Alex Mosin – Ballas Esports – Ferrari 488 GT3
Florian Bodin – Privateer – Ferrari 488 GT3
Julien Fox – TR Powered by Geekz Energy – BMW M6 GT3