A new balance of power, thrilling racing, controversial incidents and two different race winners. The GT Pro Series was well and truly back. After a trip to the temple of speed two weeks ago, attention turned to a Sebring circuit drenched in water, adding yet another variable to the already crowded mixture.
Qualifying
For the majority of qualifying, it appeared to be a straight fight between Burst Esports and Red Bull Racing Esports as all four drivers looked to master the tricky conditions best. Ultimately, Michi Hoyer would climb on top of the pile with teammate and joint championship leader Simončič seconds away from securing a front-row lockout but for the heroics of Marcell Csincsik who would be hoping for a less tumultuous event this time around.
Alex Siebel and Dennis Jordan meanwhile would round out the top five with Monza race winner Jiri Toman not able to break the top ten. Fellow early victor Jakub Brzezinski was a no show.
Sprint Race
Despite the treacherous task of braking into a drenched first corner, it was a relief to see more restrained driving standards than two weeks ago. Csincsik would have been delighted to take the early lead over Hoyer. Jordan lost out a number of positions but was replaced in the top five by the fellow Red Bull Racing Esports driver of Yuri Kasdorp.
The lead duel was enthralling as Hoyer would briefly retake first before a sharp Csincsik response. This tense situation would rumble on for a large chunk of proceedings until Simončič would take over attacking duties with four minutes left.
The final lap would hold all the drama as this new threat was testing Csincsik to the limit. Contact between himself and the chasing Czech driver was desperately unfortunate and set up a straight shootout between Burst Esport and Red Bull Racing Esports. The madness wasn't over yet, however, as Kasdorp and found himself facing the wrong way in the Sunset Bend.
The gold and white took home gold and silver as Simončič claimed the championship lead, letting Hoyer through for the victory across the line. Siebel would pick up the final piece of podium whilst Ibrahim Khan was no doubt shocked to see fifth place next to his name.

"It was an amazing experience to put the car on pole position in those tricky conditions which was key to the race performance. In the race, it was perfect teamwork that worked out really nice. The victory really means a lot to me. Finishing the race in P1 and P2 is awesome and I hope we can keep this performance during the season on this level," explained Hoyer.
Michi Hoyer – Burst Esport – 7 LAPS
Jernej Simončič – Burst Esport
Alex Siebel – Red Bull Racing Esports
Marcell Csincsik – Varga SimRacing
Ibraheem Khan – Rocket Simsport
Peyo Peev – Buttler-Pal Motorsport
Dennis Jordan – Red Bull Racing Esports
Jiri Toman – Varga SimRacing
Arne Schoonvliet – Zansho Simsport
Petar Brljak – Williams Esports
Main Race
Khan would have fancied his chances after that Sprint result with a front row start for the Feature Race behind Risto Kappet, who had sadly endured yet another miserable 15 minutes. Unfortunately for the Englishman, his start didn't go as planned with the Porsche of Peyo Peev rocketing up to second. The Dutchman surely had confidence following a Sprint victory at this circuit the previous season.
Tomotej Andonovski was under the careful scrutiny of the stewards this round as the ex-GT Challenge champion found himself on probation. It didn't stop him from performing some marvellous racing to wrestle a podium off Khan who continued to fight hard. That vigour would cost him another place to Kasdorp whose surge of speed didn't stop there; Andonovski was also behind him the same lap.
Simončič began making money moves as Csincsik and Siebel were dispensed with within minutes of each other. Kappet, on the other hand, was dropping time – the lead gap vanishing rapidly to give both Peev and Kasdorp hopes of a win. As it happened, Red Bull Racing Esports's challenger would be handed a double overtake on a plate after contact between Peev and Kappet opened the door for Yuri. Peev would lose out further down to a touch with Andonovski who would surely be sweating over his involvement.
With the exception of Khan, the top ten were dragging their first stints out as far as possible. Kappet's lap times continued to deteriorate and sensing an opportunity, the now third-placed Simončič dived into the pits with fourteen and a half minutes left on the clock. The Estonian along with Andonovski and race leader Kasdorp would all follow suit a lap later to try and defend the undercut. Both would lose out to not just the Burst but the Varga of Csincsik as well whose earlier stop was masterfully timed.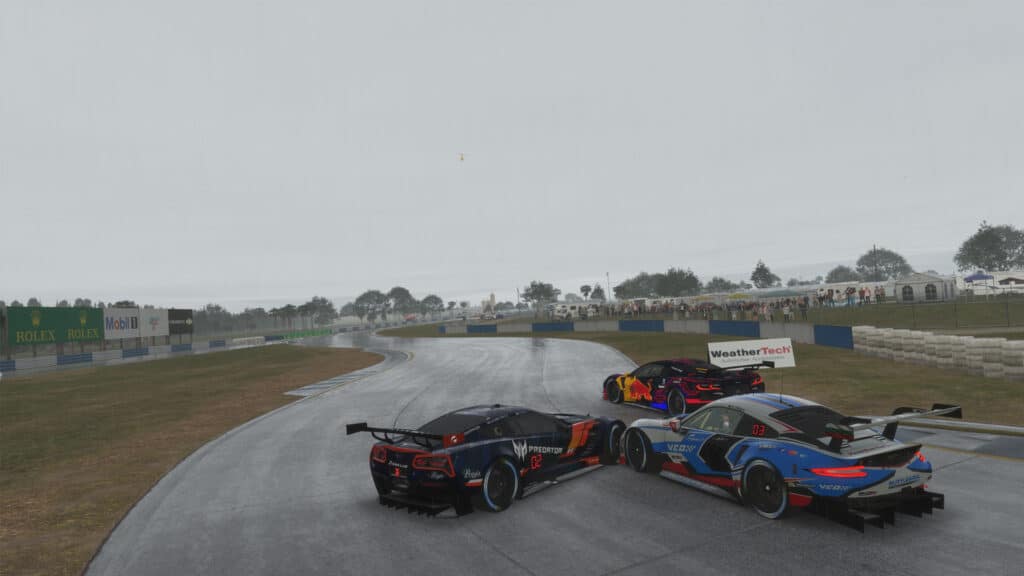 The final stroke of tactical genius would lie in the brains of Red Bull Racing Esports who chose the final six minutes as the time to stop Jordan and Siebel. The much shorter fuel intake time allowed both to gain places; Alex up to fourth and Dennis up to second by the slimmest of margins.
The leading German would not be able to hold it with Simoncic's form simply too irresistible. Neither were anywhere near to Yuri Kasdorp however as the Dutchman cruised home to victory some eight seconds clear.
"It feels nice to get the race win after being so close so many times, especially at Sebring which has historically been my best track," explained the Red Bull Racing Esports driver.
"After [coming so close to] a podium position in the Sprint Race, I knew I had to get a good result. With a reverse top 10 grid, I started in front of my rivals but I dropped a few positions at the start and found myself behind Alex. There was a big fight ahead and I made two quick overtakes to go up to third and started to quickly close the gap to the leaders.
"Once I caught the leaders I pretended to do a late overtake on [the driver in] second that made him miss the corner and collide with the leader which gave me the lead with a small gap. That's all I needed for a smooth cruise to the finish.
"It's always nice to get the first race win and as a team we know we can win races, events and championships. All three of us are in the top five now. On to the next one!"
Yuri Kasdorp – Red Bull Racing Esports – 21 LAPS
Alex Siebel – Red Bull Racing Esports
Dennis Jordan – Red Bull Racing Esports
Marcell Csincsik – Varga SimRacing
Timotej Andonovski – Cetrez Nitor Velox
Michi Hoyer – Burst Esport
Risto Kappet – R8G Esports 
Jernej Simončič – Burst Esport*
Ibraheem Khan – Rocket Simsport
Peyo Peev – Buttler-Pal Motorsport
*Jernej Simončič was penalised 10 seconds post-race
In Conclusion
Honours shared no more, Jernej Simončič was well and truly on top of championship affairs with three consecutive podiums just rewards for an excellent start to his Season 4 campaign. With Jan von der Heyde seemingly struggling again, could there be a fourth different king of GT Pro Series?
On 6th September we head to Lime Rock Park for Round 3. You can watch it live on our YouTube channel.
GT Pro Season 4 Championship Standings After Round 2
Jernej Simončič – Burst Esport – 396 pts
Alex Siebel – Red Bull Racing Esports – 375 pts
Jiri Toman – Varga Simracing – 373 pts
Dennis Jordan – Red Bull Racing Esports – 370 pts
Yuri Kasdorp – Red Bull Racing Esports – 362 pts
NOTE: These points were accurate before the 10-second penalty levied to Jernej Simončič post-race.