Here, then, are the best we discovered at the rain-hit 2023 event. From the weird and wonderful, to the seriously exclusive and everything in between.
Hyundai IONIQ-5 N Goodwood Challenge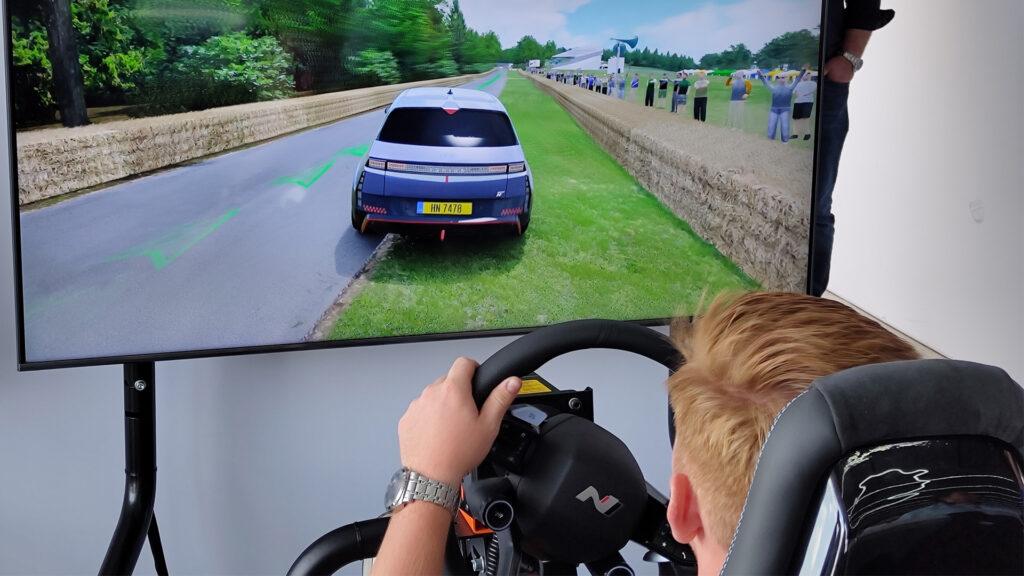 The Korean car manufacturer chose Chichester's premier motoring event to launch a new road car – the IONIQ 5 N. A 600bhp electric car that is trying to imbue the sort of hooliganism that is usually associated with petrol-powered hot hatches.
It has a fake eight-speed paddle shift gearbox, a faux clutch kick to initiate tyre evisceration and several synthesized 'engine' noise options. Simultaneously, Hyundai took the covers off a simulator lap time challenge, which involved a commissioned mod for Assetto Corsa to include the new vehicle and the Hillclimb course.
All very impressive, and expensive. Even more intriguing was the hardcore nature of the equipment, each rig equipped with a set of Heusinkveld's finest load cell pedals and a Simucube direct drive wheel base.
These were married to, rather incongruously, a real-world carbon bucket seat and steering wheel from the road-going '5 N'. It worked too, even the 'manual' shifts were an option for this virtual derivation of the spicy BEV.
If you needed proof that sim racing is now an essential component of performance car marketing, look no further. We're here for it.
BBC Children in Need showcases sim racing benefits
While playing F1 23 itself isn't exactly a novelty, for many, they may never have driven it in a low-slung Formula 1-style cockpit. At Goodwood, you could do that on several stands, including Williams and Sky Sports.
So, in that respect, the heycar set-up wasn't unique to this year's Goodwood event.
However, unlike the other installations, the BBC's Children in Need were involved, providing the opportunity to donate if you fancy supporting the charity, naturally.
Interestingly is that the top 50 (valid) lap times were entered into a ballot, from where two lucky entrants will be part of a live BBC television show later in 2023 that will highlight the social benefits of gaming.
Having sim racing involved in programmes such as this is a win for everyone involved as it throws a large spotlight over our favourite niche.
Hands-on with Rennsport's latest build
There's a lot to discuss about the upcoming sim racing platform, Rennsport, of late. Be that modding support, a Closed Beta or even whether or not it can live up to the promise.
Earlier this week it announced the Porsche 963 LMDh/GTP will be heading its way at some point later this year, alongside the Goodwood Festival of Speed Hillclimb venue. The venue is something we tested over a year ago, but since then it's been spruced up with great trackside detail.
While Porsche's latest racing sportscar isn't playable, you can test Rennsport for yourself at the event and on The Duke of Richmond's driveway.
For those who haven't received a Beta code yet and were curious about cutting through the hype, there were two VRS-equipped simulators running a time trial with a Porsche 911 GT3 R on a Porsche stand next to Porsche Avenue with Porsche esports drivers on hand. That's a lot of Porsche.
Testing our mettle alongside BTCC drivers
On the Kwik Fit stand there was a bank of four simulators running rFactor 2 and the official British Touring Car Content.
If you're a fan of the tin-top racing series but don't own a powerful PC, or the degree in computer science needed to run rF2, you could recreate your favourite moments using any car in the real-world 2023-season grid. The quickest times set by visitors over the event are also set to receive race-day tickets for later in the year.
As an added bonus, BTCC star drivers took part in Alan Hyde-commentated sim races twice a day throughout the Festival of Speed. In the races we watched, the first was intensely competitive, with the settings-twiddling Tom Ingram winning in a determined style.
The second, was, well, Ricky Collard started cutting the track and all hell broke loose, much to the amusement of the assembled crowd.
MotoGP's motorcycle experience
Apart from Raw Thrills' MotoGP arcade machine, it's rare to see a motorcycle gaming experience that isn't simply a screen, console and gamepad.
Unlike four-wheeled sim racing, peripherals are nigh on impossible to create for a vehicle that uses a combination of handlebars and rider weight to turn.
Having said that, a company called Devotion Sim has given it a shot, and you could sit on it within Dorna's MotoGP display.
Running the MotoGP 22 game, turning the bars first would then initiate the chassis tilt. This is combined with a twistgrip throttle and even the option, should you choose, to use your feet to apply the rear brake and even zip up and down the gears.
The Spanish outfit makes the set-up in various different motion configurations, with up to four-axis movement. A little strange at first, but after a lap or so you acclimatise. Expect lots of crashing at first, before it 'clicks'. At which point you feel, if just a small percentage of the way, as if you're headed towards motorcycle grand prix stardom.
The €100,000, Dallara carbon fibre, simulator
Motion simulators are almost derivative these days, with more companies than ever seemingly offering ever-more realistic cockpits with numerous axis of movement.
In the case of the Tech & Sym Virtuoso, however, no one else can boast about a carbon fibre chassis made by real-world motorsport experts Dallara.
Why carbon? Well, it looks cool, and you can tell your mates that it has a legitimate racing pedigree. But, on a technical level, it can be rigid enough to withstand high forces, yet light enough for the motion systems to react quickly. Tech & Sym will also provide engineering advice and driver training to match. Spectacular.