Developed by Italian studio Kunos Simulazioni, Assetto Corsa features high-quality real-world vehicles and tracks; including sportscars, rally cars, supercars and racecars.
The default game – not including mods – available on PC, PlayStation 4 and Xbox One – features 178 cars in total, 88 of which are base content with a further 90 arriving as part of paid-for DLC packs.
Assetto Corsa: Ultimate Edition, available across PC, PlayStation 4 and Xbox One, includes all of Assetto Corsa's base content and DLC packs.
Cars in Assetto Corsa range from small hot hatches like the Abarth 500 EsseEsse, supercars like the Ferrari 458 Italia, sportscars such as the Porsche 718 Cayman S and 24 Hours of Le Mans prototypes like the Toyota TS040 Hybrid.
The game also showcases rally and drift cars like the Toyota Celica ST185 and the BMW M3 E30 Drift.
The full range of vehicles Assetto Corsa is listed below.
ALL OFFICIAL BASE GAME ASSETTO CORSA CARS
Abarth 500 EsseEsse 
Abarth 500 EsseEsse S1 
Abarth 595 SS 
Abarth 595 SS S1 
Abarth 595 SS S2 
Alfa Romeo 33 Stradale 
Alfa Romeo Giulia QV 
Alfa Romeo Mito QV 
Alfa Romeo Giulietta QV 
Alfa Romeo Giulietta QV Launch Edition 2014
Audi S1 
Audi R8 V10 Plus
Audi Sport quattro 
Audi Sport quattro S1 E2 
Audi Sport quattro S1 
BMW 1 Series M Coupe 
BMW 1 Series M Coupe Stage 3 
BMW M3 E30 
BMW M3 E30 Drift 
BMW M3 E30 Gr.A 92 
BMW M3 E30 Group A 
BMW M3 E30 Step 1 
BMW M3 E92 
BMW M3 E92 Step 1 
BMW M3 E92 Drift 
BMW M3 GT2 
BMW Z4 E89 35is 
BMW Z4 E89 Drift 
BMW Z4 E89 Step 1 
BMW Z4 GT3 
Chevrolet Corvette C7 Stingray 
Classic Team Lotus Type 49  
Classic Team Lotus Type 98T 
Ferrari 312T 
Ferrari 458 GT2 
Ferrari 458 Italia 
Ferrari 458 Italia S3 
Ferrari 599XX Evo 
Ferrari F40 
Ferrari F40 S3 
Ferrari LaFerrari 
Ford Mustang 2015
KTM X-Bow R 
Lamborghini Huracán Performante 
Lamborghini Miura 
Lamborghini Sesto Elemento 
Lotus 2 Eleven 
Lotus 2 Eleven GT4 
Lotus Elise SC 
Lotus Elise SC S1 
Lotus Elise SC S2 
Lotus Evora GTC 
Lotus Evora GTE 
Lotus Evora GTE Carbon 
Lotus Evora GX 
Lotus Evora S 
Lotus Evora S S2 
Lotus Exige 240R 
Lotus Exige 240R S3 
Lotus Exige 240 
Lotus Exige S 
Lotus Exige S Roadster 
Lotus Exige Scura 
Lotus Exige V6 CUP 
Lotus Exos T125 
Lotus Exos T125 Stage 1 
Maserati Alfieri 
Maserati Levante S 
Maserati Quattroporte GTS 
Mazda 787B 
McLaren MP4-12C 
McLaren MP4-12C GT3 
Mercedes-Benz C9 1989 LM  
Mercedes-Benz SLS AMG 
Mercedes-Benz SLS AMG GT3 
Nissan GT-R Nismo GT3 
Pagani Huayra 
Pagani Huayra BC 
Pagani Zonda R 
Porsche Cayenne Turbo S 
Porsche Macan Turbo 
Porsche Panamera Turbo 
RUF CTR Yellowbird 
RUF RT 12R AWD 
Scuderia Glickenhaus P4/5 Competizione 
Shelby Cobra 427 S/C 
Tatuus FA01 
Toyota GT-86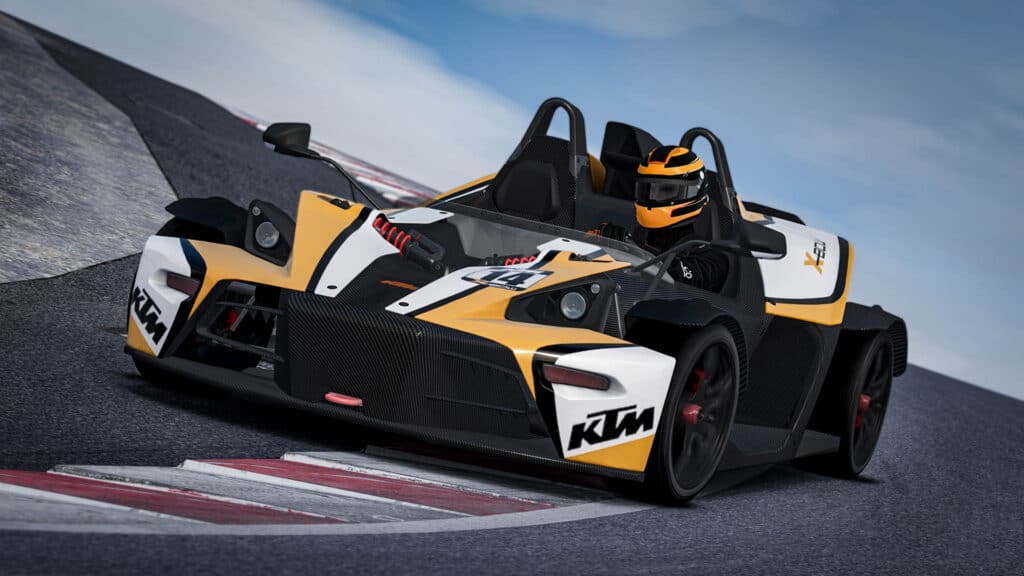 ASSETTO CORSA CARS AVAILABLE IN DREAM PACK 1 DLC
Alfa Romeo 4C
Alfa Romeo 155 Ti V6 '93
Alfa Romeo GTA
BMW M235i Race car
Chevrolet Corvette C7R GTE
McLaren F1 GTR
McLaren P1
Mercedes-Benz 190E EVO II
Mercedes-Benz Sauber C9
Nissan GT-R Nismo
ASSETTO CORSA CARS AVAILABLE IN DREAM PACK 2 DLC
Audi R8 LMS Ultra 2014
BMW M4 Coupé
BMW M4 Coupé Akrapovic Edition
Ford GT40 MKI
Lamborghini Countach
Lamborghini Countach S1
Lamborghini Huracán GT3
RUF RT12 R
Scuderia Glickenhaus SCG003
ASSETTO CORSA CARS AVAILABLE IN DREAM PACK 3 DLC
Abarth 500 Assetto Corse
Ford Escort RS 1600
Classic Team Lotus Type 25
Classic Team Lotus Type 72
Lamborghini Gallardo SuperLeggera
Lamborghini Huracán SuperTrofeo
McLaren 650S GT3
Mercedes-Benz AMG GT3
ASSETTO CORSA CARS AVAILABLE IN JAPANESE PACK DLC
Mazda MX-5 2015
Mazda MX-5 CUP
Mazda RX-7 Spirit R
Mazda RX-7 Tuned
Nissan 370Z NISMO
Nissan GT-R R34 Skyline V-Spec
Toyota AE86
Toyota AE86 Drift
Toyota AE86 Tuned
Toyota Supra MK IV
Toyota Supra MK IV Drift
Toyota Supra Time Attack
ASSETTO CORSA CARS AVAILABLE IN RED PACK DLC
Ferrari 488 GT3
Ferrari F138
Ferrari SF-15T
Maserati 250F 6C
Maserati 250F T2 12C
Maserati GranTurismo MC GT4
Lamborghini Aventador SuperVeloce
ASSETTO CORSA CARS AVAILABLE IN TRIPL3 PACK DLC
Ferrari FXX K
Ferrari 488 GTB
Praga R1
ASSETTO CORSA CARS AVAILABLE IN PORSCHE PACK 1 DLC
Porsche 718 Cayman S
Porsche 911 Carrera S
Porsche 911 Carrera RSR 3.0
Porsche 918 Spyder
Porsche 917/30 Spyder
Porsche 935/78 'Moby Dick'
Porsche Cayman GT4 Clubsport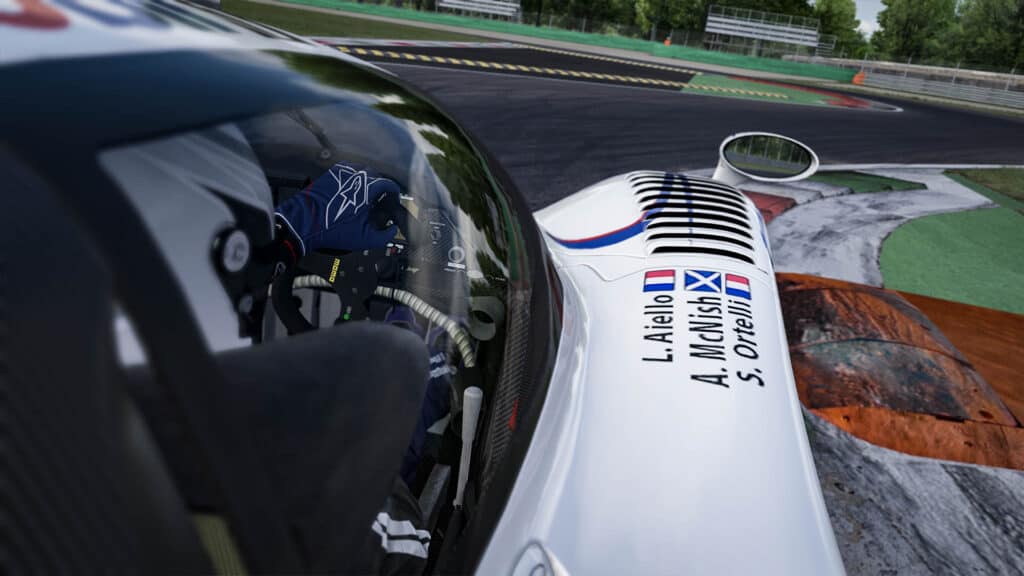 ASSETTO CORSA CARS AVAILABLE IN PORSCHE PACK 2 DLC
Porsche 718 Boxster S
Porsche 718 Boxster S PDK
Porsche 718 Spyder RS
Porsche 911 GT1
Porsche 911 GT3 RS
Porsche 919 Hybrid 2015
Porsche 962c long tail
Porsche 962c short tail
Porsche Cayman GT4
ASSETTO CORSA CARS AVAILABLE IN PORSCHE PACK 3 DLC
Porsche 908 LH
Porsche 911 GT3 Cup 2017
Porsche 911 GT3 R 2016
Porsche 911 RSR 2017
Porsche 911 R
Porsche 911 Turbo S
Porsche 917 K
Porsche 919 Hybrid 2016
ASSETTO CORSA CARS AVAILABLE IN READY TO RACE PACK DLC
Audi R8 LMS 2016
Audi R18 e-tron quattro
Audi TT Cup 2016
Audi TT RS (VLN)
Lotus 3-Eleven
Maserati MC12 GT1
McLaren 570S
McLaren P1 GTR
Toyota Celica ST185 Turbo
Toyota TS 040 Hybrid
ASSETTO CORSA CARS AVAILABLE IN FERRARI 70TH ANNIVERSARY PACK DLC
Ferrari 250 GTO '62
Ferrari 312/67
Ferrari 330 P4
Ferrari 812 Superfast
Ferrari F2004
Ferrari GTO
Ferrari SF70H